Teaching for civic engagement is rewarding, challenging, and uncertain work. Civic engagement is some of the most important and vital work I do as a teacher, but it's also difficult to define, assess, and break down for students. Ultimately, it's these challenges that make the work worthwhile. This series is an effort to document, share, and collaborate with the larger teaching community to try and make sense of the complicated work of teaching for civic engagement.
To me, civic engagement means young people feeling empowered to advocate for themselves and their community and working with others to try and implement their vision of the future. Civic engagement requires a number of traditional academic skills, like discussion and problem solving, along with other skills and dispositions that aren't always valued in the era of high stakes testing, such as hope, optimism, resiliency, and creativity.
Teaching for civic engagement also gets at the heart of the purpose of school. Schools should serve the students and their communities and help students envision and create the world they want to live in. As an educator, teaching for civic engagement is deeply nourishing to me and fuels me to work hard and remember why I teach, even on those long weekend nights of grading. As Yuri Kochiyama, the civil rights educator and activist once said, "Our ultimate objective in learning about anything is to try to create and develop a more just society." Teaching for civic engagement is my attempt to apply what I've learned and to challenge my students to do the same, so that together we can create a more just society.
Similarly, I have a quote posted in my classroom from the poet and scholar Audre Lorde, where she reminds us that "the master's tools will never dismantle the master's house." If we are to make change in our society and education system, we can't continue business as usual. We need to develop a new language, new methods, and new approaches to identifying and addressing the problems that plague our society. Teaching for civic engagement is one way I'm trying to develop new tools to dismantle the problems in our society and help rebuild a more equitable one.
One way I incorporate civic engagement in my classroom is by encouraging my students to take action. Check out this video, included in Teaching Channel's Educating for Democracy in the the Digital Age video series.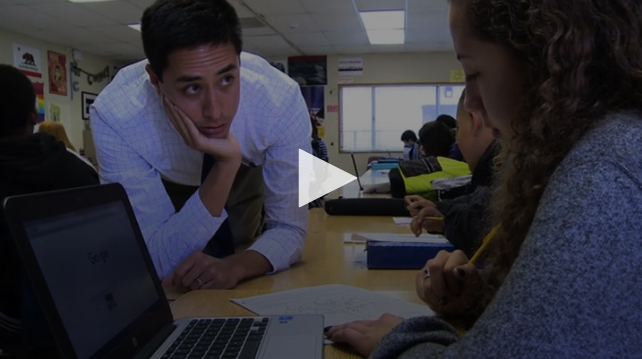 VIDEO: Encouraging Students to Take Action
In my ninth grade English and History block class, the year ends with a six-week-long Taking Action Project. This project asks students to research a contemporary problem in our society that concerns them, develop an action step to address the problem in some way, implement that action step, and then reflect on the whole process and share their work with their classmates. Throughout this series, I'll explain some specific steps I'm taking to work towards this final project, as well as my questions and reflections about what's happening in my classroom. By reading along, you'll see my process for scaffolding civic engagement throughout the year and gain ideas for how you might implement these lessons in your own teaching practice.
I hope these blog posts will inspire others to teach for civic engagement and provide a space for conversation for others to share their thinking, work, and insights.