Teaching tips and instructional strategies flood teacher professional learning sites and blogs, responding to the continuous need to better engage students and improve instruction. There's no doubt that teachers need many tools to take multiple approaches to get to a particular learning goal. But here's something surprising: teachers are usually given very little time to dig deep and understand the impact of those strategies they spend so much time planning and implementing.
The core of our work at Mills Teacher Scholars is to focus teachers' collaborative time on the question, "What is happening for students?" Teacher-led collaborative inquiry is the method that drives this question. While there are several components to inquiry work, perhaps the most overlooked is the effort to make student thinking and learning visible. Being able to "make student thinking visible" sounds easier than it is. Video is a fantastic tool for gathering this process data.
What a student says, does, or writes is insight into how they're making sense of the content. It's impossible to take this deep dive with all students, but a focal student approach, where a teacher focuses on two or three students, allows this careful looking to generate deeper understanding.
In Oakland Unified School District, Mills Teacher Scholars partnered with the English Learner and Multilingual Achievement Office to use collaborative inquiry as a method to improve teaching to newcomer students. As teachers put language acquisition theories to use in their classroom through best practices, they simultaneously made student thinking visible for two purposes: 1) To find out what was happening for students, and 2) To clarify the teacher's own understanding of what they want to have happen. It's this second aspect of making student thinking visible that's often overlooked. The field of teaching assumes that learning targets and goals are clear and precise. But what does it look like and sound like for a newcomer to understand complex text in a ninth grade classroom in Oakland? This is a question that needs professional investigation, because learning is individual and learning is context-specific.
Sometimes the best way to find out how students are thinking is to ask them! Teachers have used audio recorders and video apps, including the Tch Recorder app, to have students think aloud as they engaged in an activity linked to their inquiry focus. We've had teachers ask students to do their independent reading in front of an iPad, so both the teacher and student can understand how long the student can stay focused on the text.
Jade, a high school teacher in our inquiry group, uses video of students engaging with each other to first gain clarity about what her learning goals for these conversations are. She realizes upon seeing the first round of data that she wants them to go beyond reading out of their conversation journals. By making their experience with the warmups visible, she's able to consider how students engage with the instructional routine with colleagues who help Jade to clarify the goals.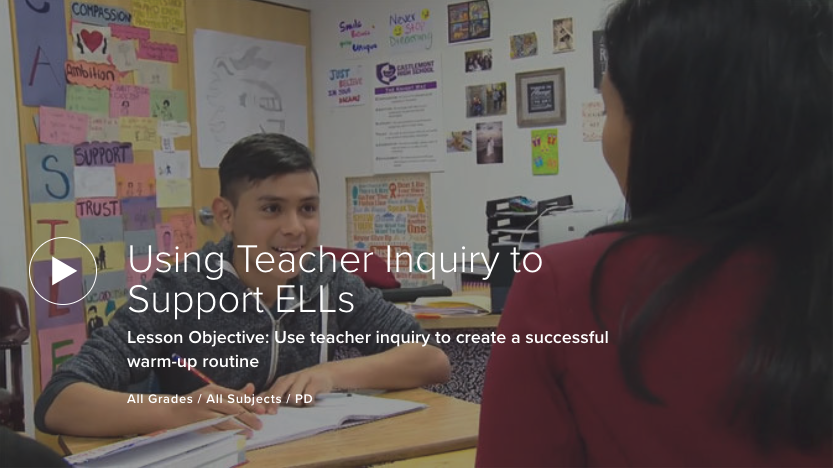 VIDEO: Using Teacher Inquiry to Support ELLs
If you want to see what your students are thinking, try these 5 tips for making thinking visible:
Notice whether the class assignment/turned-in work tells you how your students are thinking. If it doesn't, brainstorm with a colleague how you can identify and gather data that is a more accurate reflection of student thinking.
Find a colleague you can have a thinking partnership with, who will help you surface what you really want to know.
Considering having a 3-5 minute individual conversation with a range of students (less proficient/more proficient) to have them talk you through what and how they're thinking. Record the conversations.
Share your students' recorded thinking conversations with colleagues. There's research that suggests we see what we believe. If we already hold certain assumptions and biases about the student, it'll be hard to accurately see their thinking.
Share their development over time with both colleagues and students. So many of the assessments that receive attention are focused on proficiency at a particular time. These are important data to look at, but since learning happens over time, consider organizing an over-time look.
Teacher-led collaborative inquiry assumes that teaching isn't technical work (if you do x, y will happen), but professional work, fraught with uncertainty, contextual complexity, and human diversity. Making student thinking visible is the first step forward in acknowledging and addressing this complexity.