Whether this is your first, tenth, or maybe even your last year of teaching, you're probably still settling into your classroom and getting to know your learners. Each year, a new set of students brings new challenges and opportunities. Most likely, your class has at least one English Language Learner (ELL). In fact, one out of every ten students in public schools is an English Language Learner. And, in reality, all of your students are learners of language!
Teaching Channel is here to support you by adding more new video series about teaching and learning with ELLs to our library and our ELL Deep Dive. In this first series, we take you to Banting Elementary in Waukesha, Wisconsin, where Jessica Hegg and Kris Carey co-teach in a fifth grade, dual language classroom. They open up the walls between their two rooms and share the teaching of 45 students in a class where 75% are ELLs. Watching Jessica and Kris in action, we not only see effective strategies for bridging content and language, but also a model for how two teachers collaborate and share their strengths to create an amazing learning environment.
Bridging from Spanish to English
In order to help their students gain mastery of content in two languages, Jessica and Kris use a strategy called the "bridge." See Marisa Nathan's blog post for more details on this practice.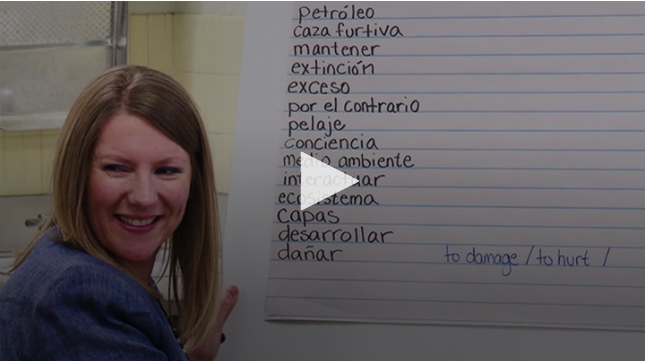 In Bridging Content in a Bilingual Classroom, we see how Jessica guides her students in the "bridge," helping them take a co-created summary of learning from a scientific investigation conducted in Spanish and translate it to the English language.
Watch as students work in bilingual pairs to "translanguage" the learning from Spanish to English, using their language strengths and knowledge of cognates. Because Waukesha is lucky enough to be a 1:1 district, students have technology at their fingertips, enabling them to use tools such as Google Translate and Docs for collaborating.
While these tools are certainly helpful, the real power is in the collaboration between the strategically grouped students. They're given multiple opportunities to turn, talk, and share in a classroom built for conversations, with flexible and cozy seating arrangements throughout the two rooms. Check out this behind the scenes tour of their classroom for a closer look at the space.
One of the collaborative activities Jessica uses with her students is called Parallel Lines. In this strategy, students line up (or when space is tight, circle up) and share their written work aloud, giving each other a glow (positive feedback) and a grow (something they could work on). The lines rotate so there are more opportunities to share with a new audience. By having all of the students share in one area, Jessica is able to hear and assess, making Parallel Lines a nice end-of-lesson formative assessment strategy.
Learning Through Discourse
Just as in any other subject, it's important for students to have multiple opportunities to talk and to write during their math instruction.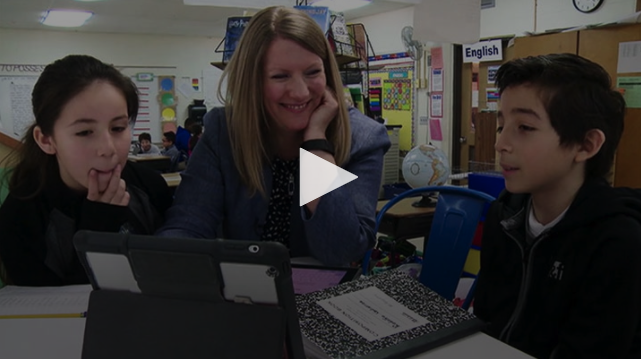 VIDEO: Making Sense of Fractions Through Discourse
In Making Sense of Fractions Through Discourse, Kris Carey leads her students through some challenging work with fractions. This lesson is chock full of strategies to bridge language and content, from starting with a number talk, to work in bilingual pairs, to work in larger collaborative groups. You'll notice that the students have many tools to support their work besides the technology, such as sentence stems, multiplication charts, the encouragement to draw out their ideas, and of course, the support of their peers.
While the collaborative work is going on, both Jessica and Kris circulate the room, checking in and making notes on their clipboards.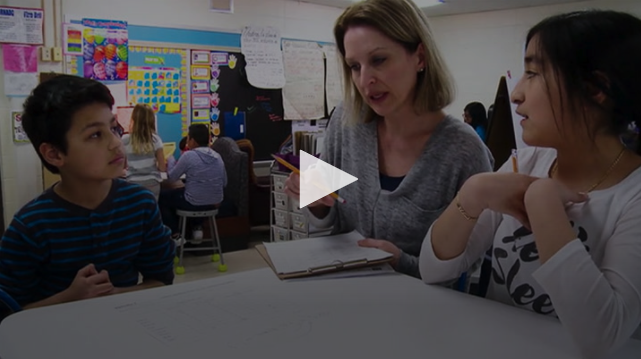 VIDEO: Sharing Formative Assessment Notes
In Sharing Formative Assessment Notes, you'll see how Kris and Jessica use a list of their intentional pairs as a place to take notes as they confer with students. They make notes on their clipboards throughout the day and then compare notes at the day's end to prepare for the next lessons. The notes become an easy formative assessment strategy for co-teaching.
Another strategy you'll see is the use of math journals. The math journal is the highlight of My Thinking Logs, where Jessica and Kris have taken a common practice used in ELA or other humanities classes and brought it over to math. At the end of the lesson, students are given a sentence stem and asked to explain their thinking around a problem. This gives students a chance to take what they've talked about with others and move the oral language to written work, making their thinking visible to Jessica and Kris, who then use this log as another useful formative assessment tool.
While the dual language program at Banting is truly a model for helping students become biliterate and bicultural, you don't have to teach in a dual language program to learn from these videos. The practices and strategies highlighted are great for all learners. And, Kris and Jessica show just how powerful co-teaching can be!
This work was made possible through support from the Leona M. and Harry B. Helmsley Charitable Trust.