In this new series, in partnership with San Francisco Unified School District, we step inside classrooms where teachers are using strategies to engage and support all learners, especially their English Language Learners (ELLs). In Part One of the series, we visit two elementary classrooms to see how teachers use the district's recommended five essential practices to teach their students during designated English Language Development (ELD) time, as well as to integrate ELD into content. For more information on these practices, read Lisa Kwong's blog post about the district's ELL work.
Integrating ELD Into Content
We first visit the kindergarten classroom of Elizabeth Iwaszewicz at Lafayette Elementary, where students have been learning about American symbols during social studies. Elizabeth believes in the importance of academic discourse throughout the day, even at this early age, and you'll see that as you watch her videos.
In Fact or Opinion: An Integrated ELD Lesson, we see how Elizabeth begins the day with focused academic language study designed to help her students understand a key concept in the social studies lesson to follow. In this lesson, she gives students multiple opportunities to practice discussing and determining facts and opinions through strategies such as modeling, sentence starters, and a twist on "turn and talk" called Second Set Partners. While this focused language study certainly helps all students, it especially helps her ELLs feel confident in the later group activity.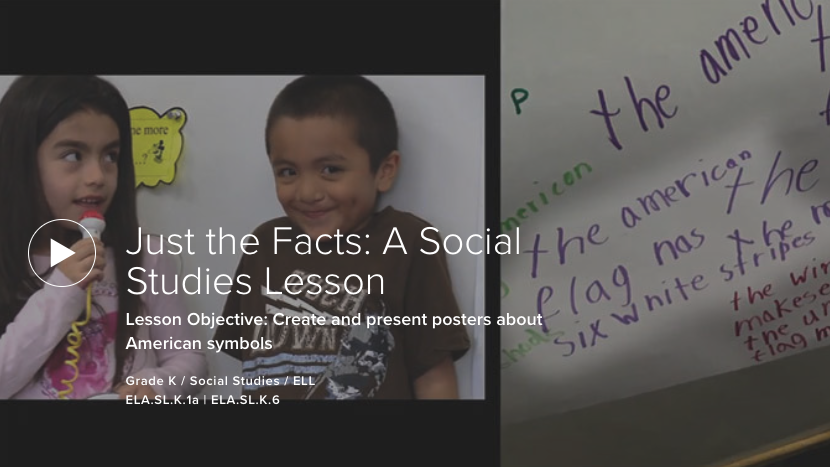 VIDEO: Just the Facts: A Social Studies Lesson
In Just the Facts: A Social Studies Lesson, we now see Elizabeth's kindergartners using their knowledge of fact and opinion to create and present posters about American symbols. Students work collaboratively in heterogeneous groups where each student is responsible for writing and presenting one fact in order to foster equitable participation. As you watch, notice all of the scaffolds Elizabeth provides to ensure her students are ready for the final presentation, including her use of warming up students with rug partners, as featured in this strategy video.
It's clear that Elizabeth intentionally plans for ways to support her ELLs each day. She also has some terrific ideas for classroom management, including a great line up strategy!
Designated & Integrated ELD
Next, we visit Anna Dearlove and her second graders at Glen Park Elementary where students are investigating insects and plants in their science class. Each day, Anna begins with small group instruction with her English Language Learners. This designated time is essential for supporting her ELLs with academic language, especially discipline-specific language.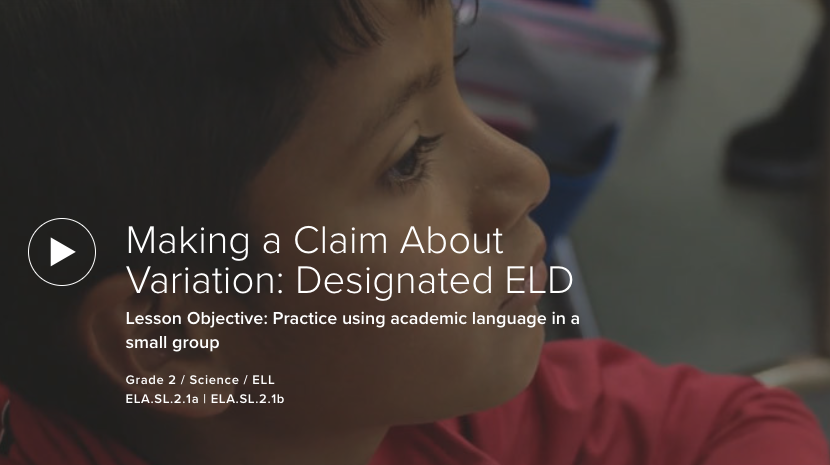 VIDEO: Making a Claim About Variation: Designated ELD
In Making a Claim About Variation: Designated ELD, we observe Anna working with a small group of ELLs to prepare them for their later science lesson on the topic of variations. As you watch, notice how Anna uses a variety of strategies to clarify the new language and concepts for her learners — including the use of hand gestures — as featured in this strategy video.
In Finding Variations in Living Organisms, Anna's ELL students transition the skills they learned in the small group to the full class activity. In this lesson, Anna integrates the ELD into the science content as students work in groups to research, discuss, and make claims about variations. Since her ELLs learned the language of making claims in the small group, the repeated practice in a new setting further builds their skills, and they go into the activity feeling prepared.
Anna is able to hear her students' progress while she circulates the room, as well as through group conversations she records on her phone. When she listens to the recordings after class, Anna thinks about how she'll plan the next designated and integrated ELD lessons. Be sure to watch Using Technology to Collect Classroom Data to learn more about how Anna uses technology as part of her formative assessment practices.
By taking the time to carefully plan and integrate language study into their lessons, these teachers set up all of their students for success. It's wonderful to hear young students participate in such rich academic conversations.
Stay tuned for Part 2 of the series, which will feature two high school classrooms.
The videos in this series were produced thanks to the generous support of the Evelyn and Walter Haas, Jr. Fund.