Several years ago, a mentor approached me with an opportunity for which she thought I had just the skill set. It was a far stretch from my comfort zone and my knee-jerk reaction was to reply with a "thanks, but no thanks." You see, this was at a time when I was just a little seedling of a teacher leader. I was growing, absolutely, but I was still nestled safely beneath the surface, not yet ready to push through the ground and share with the world who I am, what I know, and what I think.
Despite my reluctance, and inspired by the confidence of someone I respected immensely, I applied to be part of a cohort of teachers who were tasked with blogging about standards for learning, instructional best practices, assessment strategies, and basically anything to do with the how-to's of being an effective practitioner. As a fourth year teacher, what I didn't know far exceeded what I did, but I was obsessed with learning about learning and I had an insatiable appetite for books, articles, and blogs that discussed how to be a better teacher. Because of this, I accepted the position and felt mildly confident (at the time, that was a big deal) in my ability to put something out into the world that at least one person could find beneficial.
Until it came time to write my first post.
I can't remember the exact topic without digging through the archives of nearly four years of work, but I can remember how painful it was.
The Scene: Me, hunched over and scribbling frantically on a piece of notebook paper. The only light in the room was the nearby desk lamp, mocking me with its unforgiving brightness that spotlighted my inadequate words. Words that, no matter how many times I wrote and rewrote them, failed to satisfy me or truly capture what I wanted to share. Mountains of crumpled up papers littered the ground at my feet as I unceremoniously tossed my next failure to the floor.
Ok, you caught me. What can I say? I was always more of a creative writer anyway.
Replace the desk with my couch and the paper and pen with a laptop, but the feeling that scene depicted was accurate. I restarted that post more times than I'd care to admit, all while trying to figure out why writing about something that I was knowledgeable and passionate about was so unbelievably difficult. Exasperated and losing hope (and literally time) each passing minute, I shared my frustrations with a colleague. Her advice was as simplistic as can be: just write a story.
Escaping the Boxes
It can be easy to lock various forms of writing (or communicating, for that matter) in the boxes from which we initially introduce them to our students. We either write to inform, to persuade, or to entertain. Therefore, we either write expository articles, opinion/argumentative essays, or narratives. But teaching author's purpose can be much more complicated than it seems. For example, while teaching a lesson on author's purpose, Karrie Fansler's students discover that a text can take many forms and have a number of different purposes. It's up to the audience — in this case, the students — to interpret the main purpose of the text.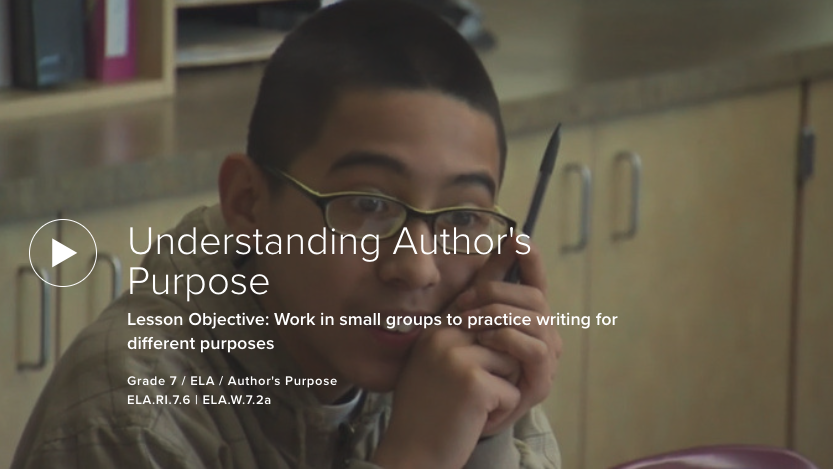 VIDEO: Understanding Author's Purpose
For an even more complex and interesting look, check out Tch Laureate Sean McComb's video, Author's Purpose: Analyzing and Adapting Texts.
The reality is, our purpose as authors isn't so black and white. Skilled writers often blend these genres into shades of gray; accomplishing multiple goals with one thoughtful piece.
Write A Story
As my colleague Chris Bronke shared in his post last week, teacher leaders use narratives, or the act of storytelling, to engage others as they share knowledge or ideas (expository) and to inspire or affect change (opinion/argumentative). Chris also mentioned that stories are comforting. Storytelling knows no specific country, culture, or time. As somewhat of a universal language, one that I spoke and wrote fluently, it became clear to me that sharing the narrative of my experiences in the classroom was the vehicle from which I was to share my teacher voice; my passion for instruction and the ideas I thought worth spreading.
Almost four years later, I'm still storytelling. Thankful that I took a risk on a new opportunity and sought the insight of respected colleagues when the next step wasn't quite clear, my seedling self has blossomed into a confident (but still growing) teacher leader. Writing is the method with which I impart my voice in the conversation. I teach, I question, I more often than not bestow a call of action upon those who read my work. Most importantly, regardless of purpose, I communicate through story, because that act in itself is one of the single most effective elements of my craft. And let's face it, as a teacher who has spent the majority of her days in the classroom with sixth graders, my narratives are almost always entertaining as well.
If you need help finding and crafting your story, or are simply seeking a thought-partner in your storytelling journey, reach out to National Blogging Collaborative. We can help!
Editor's Note: This post is part of a collaboration between Teaching Channel and National Blogging Collaborative. Check out the entire series, Leading Out Loud: Teacher as Storyteller.