Have you seen Leah Alcala's My Favorite No? It happens to be one of the most popular videos on Teaching Channel, so we recently checked in with Leah to see what else she's been up to. Leah was excited to share with us what sounded like My Favorite No, Part II: The Grading Version. Lucky for us, she teaches in our own backyard in Berkeley, California, so we jumped at the chance to visit and bring you her newest thoughts on encouraging students to learn from mistakes.
In Highlighting Mistakes: A Grading Strategy, you'll see Leah passing back tests to her students. You won't see students immediately ask about how many points she took off or how much a problem was worth, because the tests don't show grades. It's not that the the students' tests aren't graded (students can check their score later on the school's student portal), it's simply that Leah doesn't want class time to be focused on grades — she wants it to be about the learning. So, when the students get their tests back they see highlights.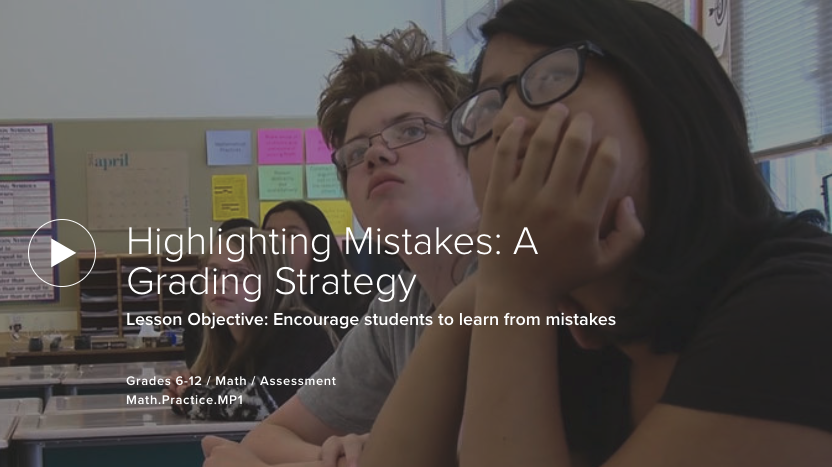 VIDEO: Highlighting Mistakes: A Grading Strategy
In the video, you'll hear Leah explain how she approaches tests, and how this method is actually more enjoyable and less time consuming for her than traditional ways.
Instead of marking or commenting, Leah highlights where in the work students made a mistake, so they can see at what point they went astray in the process.
When she passes back tests, her class spends time discussing the test as a whole, in groups with their peers.
Instead of showing the correct answers, Leah shows common Favorite Nos for the class to examine. Test-back day becomes a learning day, not a grade competition or a day to feel bad about math.
Later that week, students have a chance to retake the test based on everything they learned from examining mistakes.
By not putting grades on the tests, Leah is able to spend class time working through the math with her students, letting them ask and answer questions about the concepts they're studying, rather than fielding questions about points or scores. Students get a chance to learn from their own and each other's mistakes. Leah says she wants every interaction with students to be a learning moment. This feedback method definitely makes that wish a reality. It's clear that Leah embraces a growth mindset and encourages her students to do the same.
Leah Alcala's classroom walls speak to her beliefs about learning math.
Leah helps students feel comfortable making mistakes because she turns mistakes into opportunities to learn together. Highlighting Mistakes and My Favorite No demonstrate that Leah embraces prioritizing process over product. She wants her students to learn and understand concepts, not perform and regurgitate. And she wants them to be creative as they do so — to explore different ways of solving problems.
What are your thoughts on Leah's method for utilizing tests? How do you like to give feedback on assessments? Watch the video and let us know how you might adapt this method for your own classroom. And if you haven't seen My Favorite No, be sure to check that out, too!