As education leaders, we've all heard it: Younger employees, especially Gen Zs and Millennials, are looking for feedback—and lots of it.
In a survey by Inc., "sixty-six percent of Gen Z say they need feedback from their supervisor at least every few weeks in order to stay at their job." And Gallup's comprehensive millennial survey says: "Simply put, Millennials have engaged in a constant feedback loop from an early age. Given their perspective, it's understandable that this generation has an ingrained expectation for ongoing communication."
However, in the book Nine Lies About Work, the authors, Marcus Buckingham and Ashley Goodall, push back on the idea that feedback is all that Gen Zs and Millennials want. In fact, they call "people need feedback" a lie. The truth, they argue, is that people need attention—moreover, attention to what they do the best.
I would argue that this—the inconsistency of intentional positive attention to individual teachers—is one of the main roots of the teacher retention crisis many districts are facing.
Why Teacher Retention Matters
In my work in supporting school districts in growing year-round, relationship-driven recruitment and retention systems, I almost always get the following question from district leaders: Our data is clear—we're losing more teachers than we like each year. But what do we do to stop the trend?
Backing up for a moment, we know teacher retention is incredibly important—hence many district leaders' anxiety over their district's rising attrition rates. Here are just a few reasons why it matters.
1. Retention saves money and resources.
By retaining effective teachers, districts can save thousands of dollars every year—up to $21,000 per teacher in some areas (Learning Policy Institute, 2017).
2. Student achievement can increase with strong teacher retention.
One decade-long study of New York City elementary school students found that students in "grade-levels with higher turnover score lower in both ELA and math," and eliminating teacher turnover entirely "increased student achievement in math by 2 percent to 4 percent of a standard deviation" (Ronfeldt, Loeb, & Wyckoff).
3. Teacher retention impacts climate and culture in a positive way.
Consistency in staffing provides stability and a place where teachers want to stay. Researchers Deal and Patterson (2016) detail that a positive school climate includes having a safe school campus; a supportive academic, disciplinary, and physical environment; and respectful, trusting, and caring relationships throughout the school community.
What Does It Look Like to Pay Attention
There are many recommended practices that district and school leaders need to consider in building a system in which teacher retention is a top priority.
While all the practices in the graphic are critical to an effective retention system, let's focus on three intentional opportunities to provide teachers with the positive attention they need to want to stay.
Practice #1: Create a culture of connection and belonging—especially from the beginning of a new hire's employment in your district.
When employees feel like they belong and are connected, they are happier and tend to stay in organizations. And we know that this work begins at the beginning of our new hires' journey in a district. The best districts provide strong onboarding support right from the beginning, including teacher orientation, mentoring, and plenty of connection opportunities.
Authors Liz Fosslien & Mollie West Duffy share in an article: "Transition moments, like an employee's first day on the job, are particularly anxiety-inducing—which makes them great opportunities to create a sense of belonging."
In Waco, Texas, the district is implementing new strategies to tackle its high teacher-turnover rates, including hiring teacher aides and behavior intervention specialists to address their approach to discipline and hosting a cookout every six weeks to open lines of communication and provide opportunities for staff to voice questions and concerns. It's making a difference: Waco High School has increased its teacher retention from 56% to 82% over the past three years (Iasevoli, 2017).
In surveys with Insight Education Group's Empowering Educators to Excel districts, the number one reason teachers said they remained in their districts was because of relationships with colleagues.
Practice #2: Select school leaders who will prioritize building a strong climate and culture in their buildings.
In a national survey conducted by EdWeek of more than 500 K-12 teachers, leadership was cited as the number one reason that teachers decided to stay or leave any given school, with 18% of participants citing leadership as a deciding factor (Viadero, 2018).
According to research from the University of Chicago, culture is the number one way that leaders can impact a school, both for teachers and students (Weiner, 2018). In addition, school leadership quality and teacher autonomy/efficacy are strong predictors of teacher turnover (Barnum, 2016).
Interestingly enough, researchers Boyd, Grossman, Ing, Lankford, Loeb, and Wykoff (2009) found that in New York City, teachers' opinions of their principals directly impacted attrition rates.
Creating a positive school culture and climate lessens teacher burnout rates and increases retention numbers (Zakrzewski, 2013).
Practice #3: Build a multi-channel instructional coaching program, including in-person, asynchronous video, and live video.
We know professional development and teacher mentoring programs can be important levers for teachers to feel supported (Harper, 2018). But there's one type of support that rises above the others: instructional coaching.
Instructional coaching is the primary lever that provides the differentiation, support, and accountability that can help teachers get to that next level and provide the individual attention from their coaches and principals they are seeking.
Dr. Atul Gawande, an acclaimed surgeon and research scientist, wrote in a 2011 New Yorker article, "Coaching done well may be the most effective intervention designed for human performance." In contemplating his own professional development, Gawande researched instructional coaches—providers of job-embedded support—and found compelling evidence of the positive impact that coaching can have on growth in any industry.
What makes coaching so powerful—especially when video is used—is that it provides a powerful tool for teachers to "be seen."
Speaking of video, recorded video, in particular, provides something unique: a common piece of evidence between a teacher and coach that is captured in time.
Many coaches are using video coaching platforms like ENGAGE Feedback as a way to provide just-in-time feedback for specific moments of challenge a teacher may face in their practice. Feedback like this provides that relief and feeling of support that teachers crave.
More importantly, they are also using platforms like ENGAGE Feedback to take time to celebrate the critical bright spots—which frankly often get missed if they aren't captured on video. These moments of celebration can be critical to a teacher's decision to stay or leave a school (or even the profession).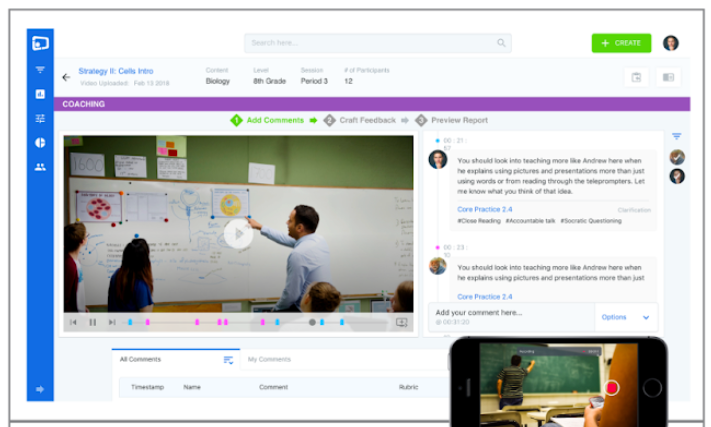 In Closing
As Buckingham and Goodall have taught us, people need attention. In fact, "positive attention…is thirty times more powerful than negative attention in creating high performance on a team…twelve hundred times more powerful than ignoring people" (page 117).
We know that teachers stay in a school or district because they feel valued, seen, and are given opportunities to grow. We can set up detailed retention plans and goals. At the end of the day, however, what matters is how we are paying positive attention to each and every one of our teachers.
Reflection Questions for Leadership Teams
Below are a few reflection questions that you and your leadership team may try using as you seek to improve your retention system.

(Many of these questions were taken from the Recruitment & Retention Playbook for School & District Leaders by Jill Nyhus & Jason Culbertson).
District-level Questions
How much does it cost to hire one teacher in your district? In other words, how much does it cost to lose one teacher in your district?
What percentage of your teachers exit your district each year?
Do you know why they're leaving? What are the reasons why specific generations of teachers are leaving (Gen Z, Millennial, Gen X, & Baby Boomer)? How have you addressed those reasons as a leadership team?
Have you conducted a teacher retention survey and/or focus groups to find out why teachers are staying?
How would you define a good retention rate?
Have you created a plan for retaining your most effective teachers?
Practice #1: Building a Culture of Connection & Belonging
How are new hires welcomed into the district? Is it consistent? What is a typical experience now? What should it be?
Have you tried teacher-led onboarding teams or a teacher ambassador program to fill in the gaps that other programs may miss?
How are principals creating cultures where teachers feel like they belong and have opportunities for connection?
Practice #2: School Leadership
Have you recently asked your teachers for their perceptions of their school leaders?
How do you support your school leaders? Do your leaders receive regular coaching in specific to teacher retention and school culture?
How are you addressing the culture of your schools/district?
What are examples of principals who do a good work of retention? What are their secrets to success?
Practice #3: Instructional Coaching
What incentives can be put in place to retain your best teachers?
What is your instructional coaching model? Is it consistently implemented across your school or district?
How can video be a vehicle to provide the feedback your teachers need during this season?
If you enjoyed this blog post, you might also appreciate these other blog posts by Jill Nyhus.