"High school students hate history. When they list their favorite subjects, history always comes in last. They consider it "the most irrelevant" of 21 school subjects, not applicable to life today. "Borr-r-ring" is the adjective they apply to it. When they can, they avoid it, even though most students get higher grades in history than in math, science, or English. Even when they are forced to take history, they repress it, so every year or two another study decries what our 17-year-olds don't know… "
And so begins James W. Loewen's Lies My Teacher Told Me: Everything Your American History Textbook Got Wrong.
The study of society and our collective past is important. It helps us understand ourselves, how we got to the present, and the world around us. It's interesting that, as a society, we show a great interest in our culture and history. Whether it be historical novels and nonfiction, games, television programs, feature films, museum exhibits, or Broadway shows, American audiences — young and old — are fascinated with the "story of us."
Yet our students sleep through the classes that present it.
Social studies classes are largely dominated by textbooks full of too much information to be covered in too little time. A bland chronology excluding all the memorable, juicy bits — controversies, ethical dilemmas, suspense, failure, and the stories of the people… humanity. Details are incomplete and the nuances and variables students need to understand cause and effect or to construct their own knowledge are absent. It's no wonder our students are bored!
Teachers who are fortunate to have the time, resources, and support may recreate their courses from the bottom up, but the reality is not everyone has that luxury. So here are a few ways you can think about the structure of your social studies class next year to make its value a bit more "self-evident."
Engage or Enrage
Independence Day is just a few days away, marking the 241st anniversary of the Declaration of Independence. So how can we make this founding document a little more relevant for our students today?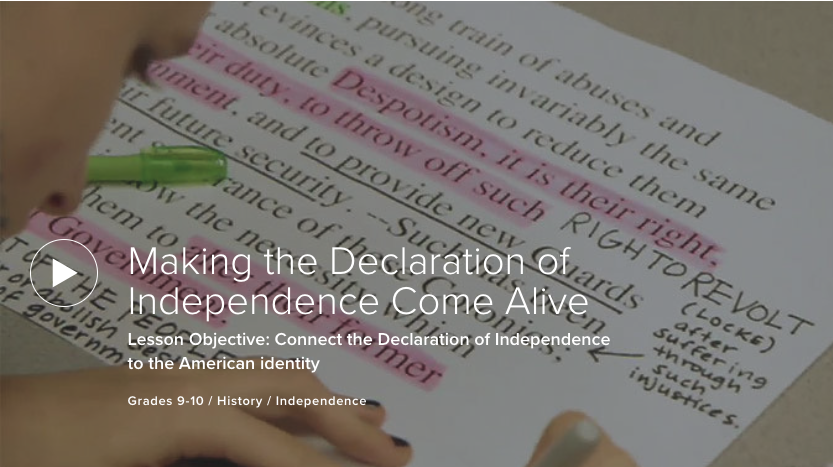 VIDEO: Making the Declaration of Independence Come Alive
Making the Declaration of Independence Come Alive capitalizes on the metaphor that this founding document is "the greatest breakup letter in the history of mankind." Establishing a concrete connection between the Declaration and the ups and downs of dating is an excellent way to engage students in the work of understanding the themes within the document and in constructing their own knowledge about this important piece of what it means to be American.
Once you capture your students' interest, let them speak! In Inquiry-Based Teaching: Powerful Ideas, students explore powerful and sometimes controversial concepts by interpreting ideas and engaging in thoughtful discussion. You might also try "opening the floor" and providing an opportunity for students to apply the information they've learned through a rigorous, academic debate.
The Medium is the Message
Social studies is often centered around nonfiction, which can be intimidating, challenging, and downright boring for some of our young scholars. In Comic Book Templates: An Entry Point into Nonfiction, Sarah Brown Wessling recognizes that a text is easier to understand if we first understand its structure. To this end, she invites students to view nonfiction through a more familiar and more captivating lens — comic books!
Teachers hold different views on how much is too much when it comes to adorning classroom walls. In Teach From the Walls, Sherwanda Chism's students use "Walk Around Research" to actively increase their knowledge, learn from their peers, and contribute to the classroom scholarship by adding their own work to the mix.
Back to the Future
Social studies textbooks don't do a very good job when it comes to using the past to illuminate the present or, conversely, using the present to illuminate the past. However, there's something very powerful about stepping into the shoes of another, building empathy and understanding — in context.
The American Revolution is one of my favorite time periods to study, but it involved more players than just the British and American sides. The French were instrumental in the Colonists' victory over the British, and the American's success served as inspiration for the revolutionary spirit that later swept its way through France. In Making the French Revolution Meaningful, students take on the role of French citizens during the Revolution, interpreting the events depicted in historical sources as if they were current events, as opposed to historical narrative. Students use perspective, analyze sources, and come to their own conclusions. This activity could easily be adapted to work just as beautifully with the American Revolution as its subject.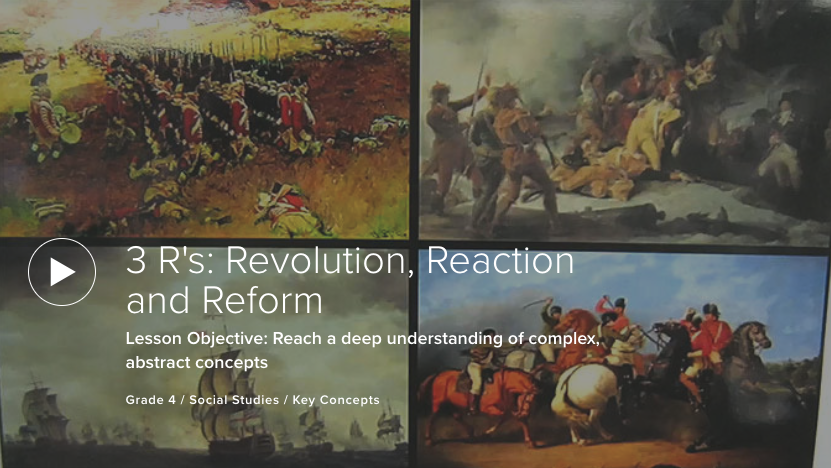 VIDEO: 3 R's: Revolution, Reaction and Reform
3 R's: Revolution, Reaction, and Reform will show you a few strategies to give your students a 30,000-foot view of concepts like revolution, reaction, and reform as they explore context, meaning, modality, and personal connections.
Make it POP with Pop Culture
There are countless ways to infuse your classroom with popular culture. With a focus on American History, Tch celebrated Independence Day last year with a blog post outlining just a few of the many ways teachers can use Hamilton: An American Musical in the classroom.
An exciting addition to the list this year is the Hamilton History Task Collection from the Literacy Design Collaborative, which uses "lyrics from Hamilton as a springboard for studying important topics and texts in United States History, such as the Revolutionary War, the Federalist Papers, and more."
Another excellent resource to tap into is the Crash Course collection of short, engaging courses. Topics run the gamut from U.S. History, to U.S. Government & Politics, to Economics, Sociology, Psychology, and more!
And what pop culture infusion would be complete without a little bit of music? History Teachers is one of my favorite resources to lighten up some of the darker moments of world history. Topics covered range from the French Revolution to the plague to the crusades, all set to contemporary pop music.
Learn more about what inspired Amy Burvall and Herb Mahelona to create these fun and engaging videos in this TEDxTalk and check out the full collection here.
Be a Rebel!
Sometimes real change takes more than creativity and passion. Sometimes the work calls for us to be a little more bold. If you're ready to challenge a few conventions and invite your students to do the same, this Rebellious Teacher's Edgy Summer Reading List is a must see! Or perhaps you can draw inspiration from these 12 Books That Will Help You Change The World.
Rise Up! Power To The People
Speaking of changing the world, it isn't only adults who can be changemakers. What could be more powerful than for students to discover how history and social forces impact their lives and what they can do to create positive social change?
In Civic Engagement in the Digital Age, you'll see students learning that they have agency and voice and in Infographics for Change, students begin to see themselves as agents of change and a part of the solution to some of our most pressing societal problems.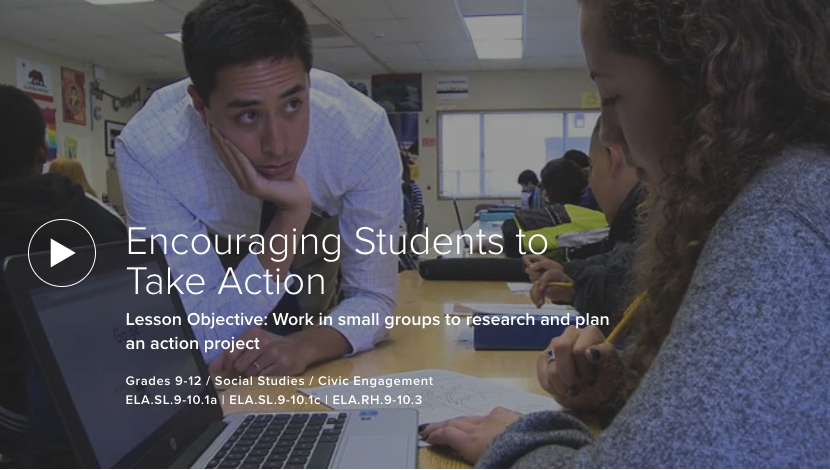 VIDEO: Encouraging Students to Take Action
Be sure to check out Encouraging Students to Take Action to see students research and plan an action project that addresses a contemporary social justice issue. Interested in teaching for civic engagement and social justice? Take a peek at the Classroom Resources at Teaching Tolerance, learn from Catherine Thompson, and let the exceptional work of Matthew Colley be your guide.
What are some other ways you make your social studies instruction engaging?