Each school year is a chance for a fresh start! While it's exciting to get to know all the new faces in your classroom, it can also be challenging as you learn how to connect with each student and discover what they need to connect to learning.
Because each student will have different needs, expanding your tool belt of connection-creating strategies will help start this year off on the right foot. From classroom videos to continuing ed courses, lay the foundation for learning and start creating meaningful classroom connections with the resources in this month's round-up.
BLOGS | VIDEOS | PODCASTS | COURSES | RESOURCES
BLOGS
5 Get-To-Know-You Activities For Building Community and Connection This Fall
— Betsy Butler, Learners Edge
Teachers Who Stay Connected Teach Longer
— Meagan England, Teaching Channel
'The Human Connection Is Everything': Dave Eggers on What He's Learned From Tutoring Students
— Tom Berger, Edutopia
The Power of Building Positive One-on-One Relationships With Students, According to Teachers
— Meghan Mathis, We Are Teachers
PODCASTS
Teaching Channel Talks 41: Creating Classroom Connections
—Teaching Channel Talks
Brave New Teaching: 111-113 Classroom Management Series:
111: Our 3 R's and 3 C's of Classroom Management
112: Organic Community (Interview with John Rodney)
113: Relationships and Behavior (Interview with Dr. Deonna Smith)
VIDEOS
Free Webinar Recording: School Year Success! Strategies to Instill Positive Behavior in the Classroom
— Learners Edge, EdWeb.net
Christopher Emdin: Teach Teachers How to Create Magic
— TED Talk
Creating Community Connections
—Teaching Channel
CONTINUING EDUCATION COURSES 
Building Strong Relationships in the Classroom: Care to Connect
Course 5058 | 3-Credit | K-12+
Building relationships in a classroom with and among students of different cultures, languages, and life experiences can be a challenge for many teachers, but this course can help! Students are universally social beings who are hard-wired with the need to connect. By taking time to cultivate deep, authentic connections, educators can make a positive impact on student confidence and ultimately achievement. In this course, educators will examine the role that relationships play in creating the ideal learning environment and explore research-based strategies for developing strong individual and community connections as well as managing behavior challenges with non-punitive interventions.
Course 5109 | 3-Credit | K-12+ 
One of life's universal truths is the need for connection. In Connection in the Classroom, you will learn how emotionally connected classrooms support students in achieving their goals and you will discover what neuroscience research says about why emotional connections are key to students' success. This course will teach you how to create an emotionally connected learning environment that is safe, healthy, and nurturing.
The Practice and Power of Vulnerability in the Classroom
Course 5101 | 3-Credit | PK-12+ 
Whether you are a teacher, leader, or learner, the revolutionary research by Dr. Brene Brown has transformed the way we view vulnerability in our relationships at home, at work, and at school. Learn how to nurture healthy emotions like trust and courage while combating shame and fear. Discover fresh ideas for cultivating a classroom community that supports all students and expand your understanding about how trauma impacts learning. Consider your process for providing feedback and gain new practices for growing gratitude for a greater sense of well-being.Teach your students that vulnerability is not always comfortable, but it is never a weakness," as you explore how vulnerability empowers the way we teach, lead, and learn.
OTHER RESOURCES
Building Community in the Classroom…Because Connection Matters Most
A Free Downloadable Guide from We Are Teachers
A Proactive Guide to Positive Behaviors Across Learning Environments
A Free eBook from Learners Edge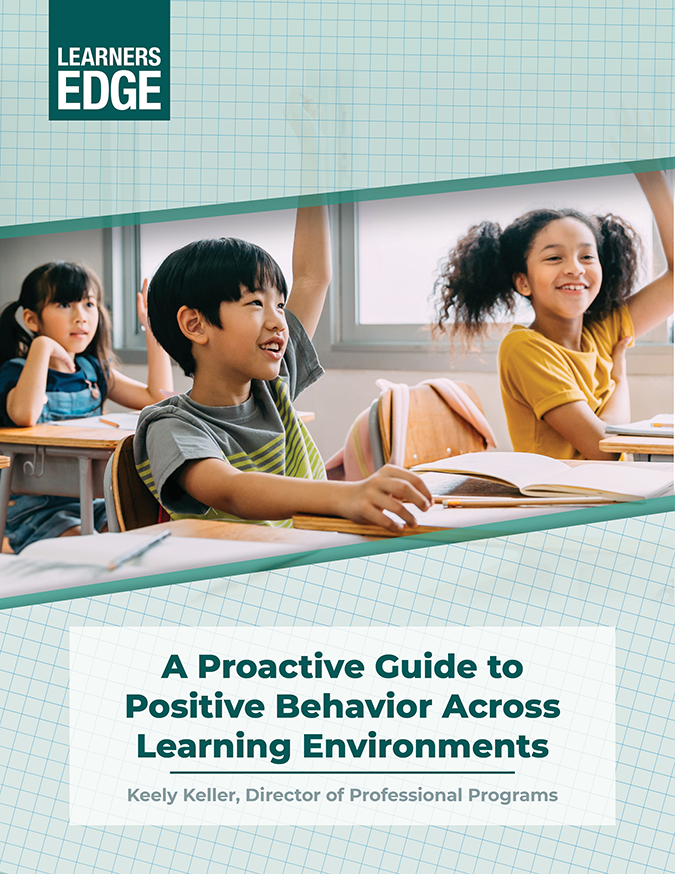 Never-Ending Random Acts of Gratitude Giveaway
Learn More and Enter to Win at LearnersEdge.com
With Never-Ending Random Acts of Gratitude, Learners Edge will randomly select one teacher every month to win a $250 gift card for self-care, simply because we know that teaching is selfless and heroic. Winners can use the $250 however they wish. Self-care is what you say it is!