As an educator, you'll be expected to collaborate with your colleagues. In fact, research shows that when teachers collaborate, the rate of teacher turnover decreases. But while new teachers may be eager to collaborate, the process is sometimes intimidating.
Collaborating with new colleagues will be different than working with your college peers. Teachers will come to the table with different teaching practices and philosophies and a vast amount of experience that may overwhelm a new teacher, making it difficult to decide when to stand firm in your convictions and when to try something new.
Here are three tips to help you navigate collaboration as a new teacher:
Share Openly
When I began teaching at a new school last year, several teachers admired some of the work I was doing with Adobe Illustrator and were eager to try out my ideas with their students. I was happy to modify and share my lessons with my colleagues and, since I'm proficient, I also offered to help teachers new to Illustrator learn the basics so they could put these lessons to work in their classrooms right away.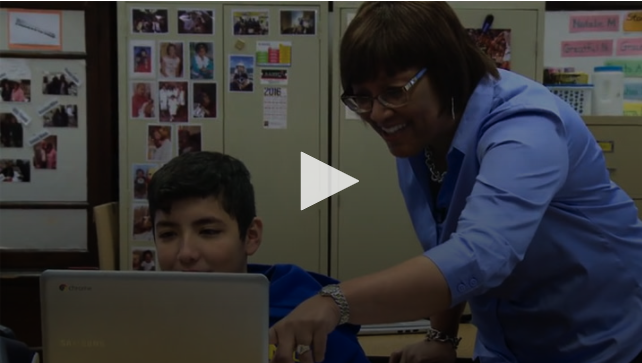 VIDEO: Taking a Leap Into Blogging
I believed that I had knowledge and experience to bring to the table, and you do too! When brainstorming as a team, don't be afraid to add your ideas to the mix. When my team came together to exchange ideas for Google Extensions, I suggested Doctopus, which I found very useful in my classroom, and I offered some tips for teachers thinking about implementing it. In that same meeting, I was excited to learn about Online Rubric. Collaborating in this open manner provided valuable choices for the entire team and allowed me to establish myself as an open teacher — ready to share, learn, and experiment.
You're new to the classroom, but you bring unique knowledge and skills to your collaborative team. As a new teacher, you may even have valuable tricks up your sleeve that your more seasoned colleagues haven't even heard about yet! Acknowledge your strengths and be willing to share your ideas.
Stay Honest
Experimenting and implementing new ideas will bring struggles. Bring honesty to your collaboration efforts and be prepared to fail.
This past year was my first experience with a 1:1 classroom. I had two ways of accessing my gradebook: through an app and on the desktop. The app on my iPad was handy, and I rarely used the desktop. To enter final grades each semester, though, I had to use the desktop. I took copious notes and watched videos.
I also made mistakes both times. My two neighbors kindly helped me, no judgment.
And, when my neighbor struggled to create a word cloud for a vocabulary activity, I helped out.
Even though we might've been slightly embarrassed, we were honest with each other about our problems. We had enough respect for one another to know that although we're both smart people, we'll struggle with new processes. This honesty led to a stronger collaborative relationship.
Collaborate with Purpose
Teachers are busy, and collaboration won't happen if it's not done intentionally. Hopefully, as a new teacher, your administrators and co-workers will provide you with some space and time to work. Still, you may be reinventing that lesson or missing out on solving crucial problems if you don't collaborate.
VIDEO: Improving Practice: Collaboration & Mentoring
Collaborate on topics that matter to you, ideas that you want to explore further, or on initiatives that your department would benefit from your knowledge. But manage your time wisely and don't collaborate at every turn during your first year. Here are four mindsets when collaborating with purpose:
Know when to say yes and when it's best to say no.
Have an open demeanor so that your coworkers know you'll willingly participate when it's good for you and good for the team to do so.
Share what you can.
Don't be afraid to ask for help.
As you finish your first year teaching, seek out opportunities to collaborate more. Working with other teachers will reinvigorate your lesson plans and your passion for teaching. As your years of teaching continue, collaboration will change as you do.
VIDEO: Collaborative Lesson Planning
This is my second year at a "new" school. I'm teaching Creative Writing — a class I've never taught before. I'm lucky because I have the opportunity to collaborate with the teacher who has taught this class for years. We discuss the merits of using certain programs, find additional writing samples for our students, and create activities together. We build solid lessons — two sets of eyes and two brains develop each day's content. I'm still a newbie, and he is seasoned with this class. We both bring excitement to our collaboration, and our students see the benefits.
I'm willing to bet your students will too!
How are you collaborating as a new teacher? How are you overcoming the challenges you face?