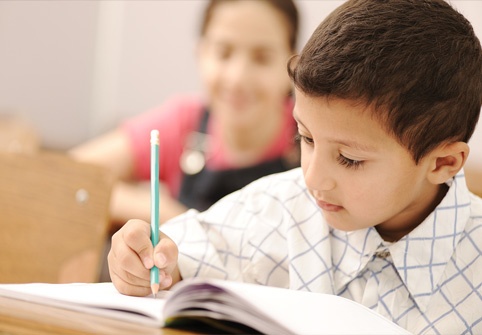 "Writers learn by working through all their struggles – including selecting topics and being stuck sometimes – as well as by the writing they accomplish,"
-Carol Avery
Author, 6+1 Traits of Writing
Writing. A fundamental skill that is critical to student success both now and in the future. Good writing is a skill that can be carried over into all aspects of a students schooling. As a first grade teacher from Pennsylvania, this educator understands the importance in implementing a comprehensive student-writing program in her classroom and after enrolling in Course 608, The Write Foundation, one of our continuing education courses for teachers, she shared insights and lessons learned through this course.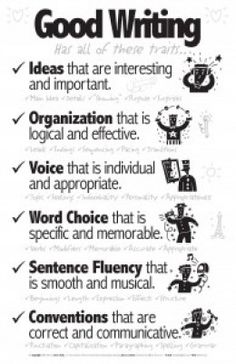 This course is centered on the powerful 6 Traits of Writing model, a centerpiece of many districts' literacy programs. One of the 6 traits discussed is Ideas.There are 3 key traits of Ideas listed and explained below:
1) Finding the Right Topic
To help students become good writers, they need to find topics that interest them and are more meaningful to them. Teachers should refrain from giving topic sentences all the time, and instead, help prompt students with ideas or suggestions to guide them in their writing.
2) Selecting Interesting, Relevant Details
When the students meet a road block, teachers need to guide them into writing by taking their topic and showing them how to expand on it, making it sound more interesting.Modeling is a strategy that will help the children in this area.
3) Making the Content Clear
Help students narrow down the main idea and then build upon that idea.Often time students want to ramble on and write about things that may not be related to the topic. As teachers, we need to show them how to stay on the topic; keeping them focused and guiding them into adding more details that are specific to their writing piece.
Ideas are the writers thoughts. By allowing students to freely write on a topic that they are interested in, it turns their writing from ordinary to extraordinary.Children have many wonderful ideas and when we begin to teach them how to look at the world through a writer's eye, we will begin to help them become better observers as well as writers.A great activity to engage students in writing while allowing their creativity to bloom is the "Picture This" activity. An outline of how to implement this activity in your classroom is below.
Picture This Activity:
Cut, mount and laminate several pictures from magazines and allow your students to choose which picture they want to write about.
Direct the students to look at the picture, think about creating a story from that picture, and use details whenever possible.
Put on "quiet thinking music" (instrumental), allow them to find a quiet spot and let them go.Walk around the room and offer support when needed, but really try to let them work on their own.
Each child has their own personal dictionary to use for words that they need to spell correctly when writing.
Students brainstorm with a partner ideas based on the picture they choose and then begin to write.
After they finish their story, they share it with the classmates.The writing "picture" is placed on an overhead projector where they read their story aloud to the class.
Afterwards, the writer asks if anyone has a suggestion on how they could make it better.No criticism is allowed – only positive comments and ideas for improvement are offered.
It was amazing not only to watch as they prepared to write, but to listen to them talking about what they wanted to write and what they saw as important. Not giving them a prompt was the best thing!They were so much more creative when they had the freedom to write their own way with their own style.An interesting thing to see was how different some of their stories were, using the same picture.There were different interpretations and different perspectives, which was amazing not only for me, but for them as well, when they read their stories to the class.The students really enjoyed this activity and it has now become a weekly event!
---
Interested in learning how you can implement a comprehensive student-writing program in your classroom? Want to view sample papers, scoring guides and other detailed lessons and activities to use in teaching student writing? Then enroll in Course 608 – The Write Foundation, and learn how teach your elementary students to be good writers through implementation of the 6 Traits of Writing.
Learners Edge is passionately committed to providing you with continuing education coursework, materials, and tools that will help you succeed in your classroom and in your career.
Offering more than 120 online courses for teachers, you can earn the graduate credit you need for salary advancement and meet your professional development needs. Contact us today to get started!