My biggest regret as an educator is that throughout the first half of my career, I continually underestimated the abilities of middle school students. (Slow to learn, I would later underestimate kindergarteners as well.)
It's not that I thought that they were unintelligent. Nor did I think they lacked creativity. I just didn't bother to ask for their input and, since they were fidgety 13 year olds, I assumed that more structure equaled a better learning environment. I thought that if I fed them a nice dose of PowerPoints, lab experiences, and classroom discussions, that they would walk out of room 8c with everything they needed to be successful in their high school science courses and beyond.
When their standardized test scores came back over summer break, my practice was validated. By and large my students were very successful at both filling in the correct bubble and parroting a rehearsed response to a writing prompt. I had become proficient at churning out very good test takers.
At that point, I had ten years under my belt. I was a National Board Certified Teacher teaching a Master's level education course at Wittenberg University, and I was also beginning to be professionally recognized in my area. I thought that I actually knew what I was doing. Then I started working with engineers from my region developing STEM curriculum, and I realized just how much more I had to learn about how people think, work, and develop lasting skill sets. While I was teaching my students the Ohio Science Standards letter, line, and verse, I wasn't really helping them develop practices that would serve them throughout their lifetimes.
It was then that I learned about the engineering design process — a way to facilitate iterative prototyping, testing, and reflection. Incorporating this process into my classroom will likely be the most profound shift that I will ever make as an educator. It transformed my classroom from a place where knowledge was transferred by me to my students, into one in which everyone, including me, was considered a co-learner.
"Lab days" were no longer a special day of the week, they were the norm. Students no longer feared presentation days because now there was the expectation that they would share their thoughts and/or findings with larger groups of students on a daily basis. An unexpected benefit was that the amount of time I spent dealing with discipline issues and disruptions decreased dramatically, as the students now spent a majority of the period actively engaged, trying to work through a problem alongside their peers, rather than goofing around, trying to sneak in a text under the table, or asking to take a restroom break in order to escape the tedium of my class.
The engineering design process as demonstrated in the newly released video below, is my own amalgamation of several engineering design processes that are available for mass consumption. It's the sum of my collective experiences and one that I am continually tweaking. It's not a one-size-fits-all process. But I would argue that all students need to understand and engage in some form of this practice if they are to succeed in not only STEM fields, but virtually every other career as well.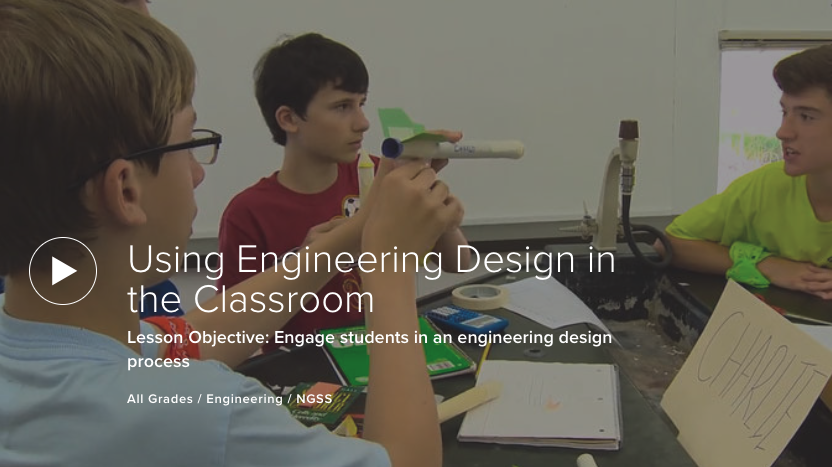 VIDEO: Using Engineering Design in the Classroom
Below is a graphic representation of the process that I helped create for the Science and Innovation curriculum series co-developed by Teaching Channel and The Boeing Company. This graphic was highlighted in Rube Goldberg Machines and the Engineering Design Process. In fact, there was so much positive feedback from the Rube Goldberg blog, as well as the video of students working through the engineering design process in To the Moon!, that we made Using Engineering Design in the Classroom to make clear how I map out a unit of instruction to utilize the engineering design process.
Please feel free to comment below concerning this blog or the associated video. I'm always looking for ways to improve my practice. And if you'd like to showcase your students' engineering prowess, please post pictures and short videos of your students' work to Instagram, using the #TchFutureEngineers hashtag. Make sure to include @TeachingChannel in your post so we can reshare. Let's show the world what's possible when we unleash the creativity and imagination of our young engineers-to-be!