School Nurses! Paraprofessionals! Speech-Language-Pathologists! Counselors! Media Specialists! All Educational Professionals who are not classroom teachers!
We love you! We see you!
We know you need continuing education too, and Learners Edge is here to help. We have hundreds of professionals who work in education who are not classroom teachers who take courses from Learners Edge for re-licensure and salary advancement. While the bulk of our courses are largely focused on classroom teaching, there are a host of courses focusing on more general topics: wellness, mental health challenges, and even tech tools. We've brought those general topics together into a list we've cleverly called:
"Not a classroom teacher?"
We'll have to get the Marketing folks to give us a catchier title, but the courses on this list have assignments that are more easily adjustable than other courses in our catalog. That means you have great choices when it comes to course topics, and we can help you modify assignments to fit your role. Win-win!!
Here's what you'll do:
Visit our Courses page on LearnersEdge.com and navigate to the "Content" box.
Click "Content Areas," and choose "Not a Classroom Teacher," click, "Apply."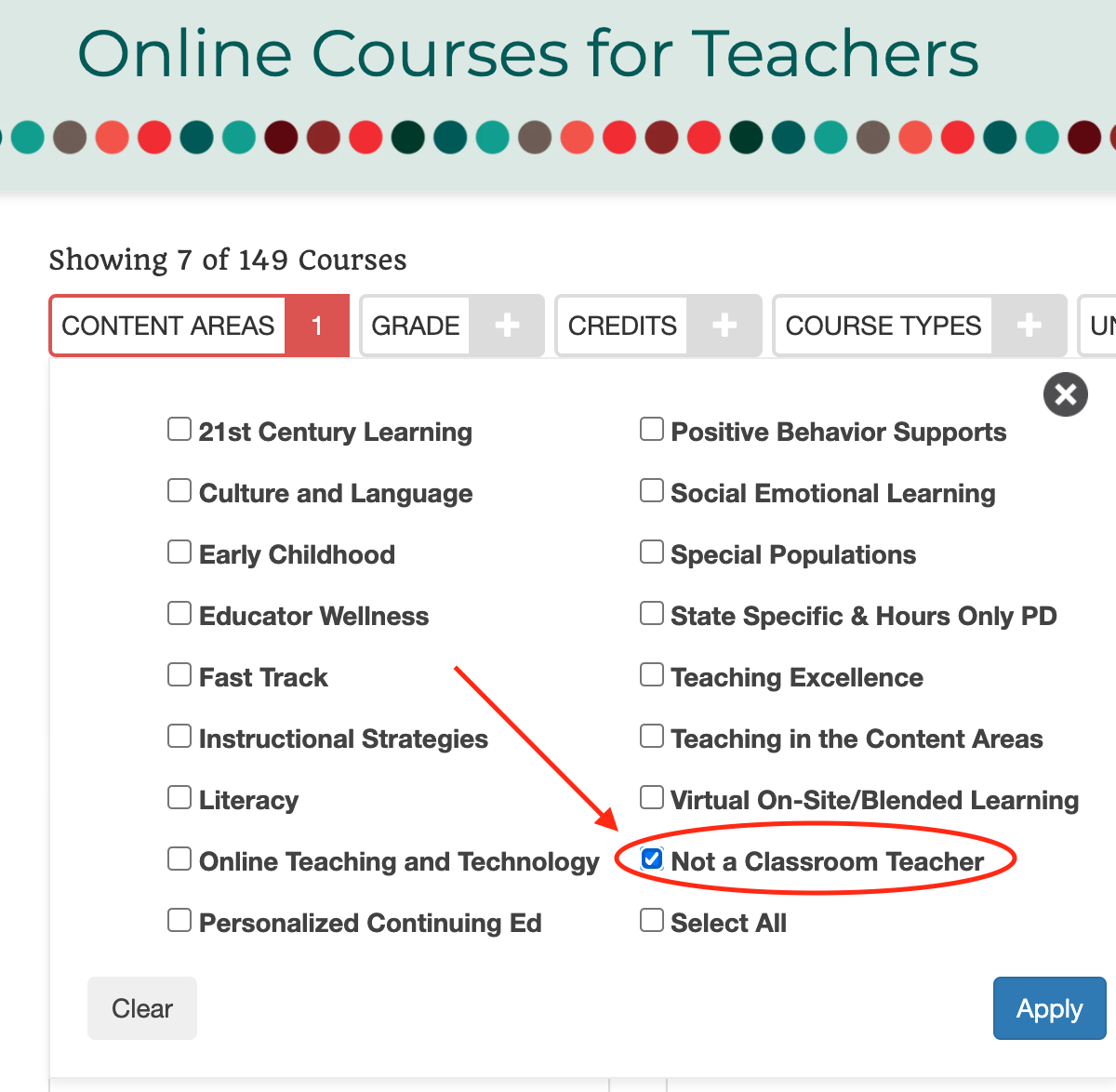 This will bring you to a page just for you: courses that will meet CE requirements, but with modifiable assignments to suit your needs. Choose a course you'd like to learn more about, then download the syllabus to review the potential course assignments. Remember to reach out to [email protected] for assistance—we are here to help!
But wait! There's more!
Our Personal Continuing Education (PCE) courses (also included on the Not a Classroom Teacher list) are designed to accommodate chosen texts, experiences, travel, and even technology goals- all driven by you. We've included examples of the creative ways educators have used our personalized courses to earn graduate credit, below.