"What gets measured is what gets done."
I hear this mantra often in the educational world. While some people might read it and sigh, thinking about all the testing our kids have to go through, I see it differently.
Why accept the current frame, that assessment is a tool merely for evaluation? What if assessment were a process that is fulfilling for students and teachers instead of draining?
How might we rethink "What gets measured is what gets done," and shift our focus toward documenting students' potential instead of merely passing a test?
One approach I find effective for this work is digital portfolio assessment.
Digital portfolios are dynamic, digital collections of authentic information from different media, in many forms, and with multiple purposes.
Using digital tools, teachers and students capture, curate, and celebrate learning in school.
Audio, video, images, and text are all considered "data" that can be used in determining the progress a student is making toward important goals.
Original, multimedia creations can serve as performance tasks for a summative assessment.
Through digital portfolio assessment, we can better educate the whole child instead of relying only on a number or level to inform our instruction.
There are three shifts I've observed in a teacher's focus when they implement digital portfolio assessment in the classroom.
From Deficits to Strengths
When an assessment result is more than a score or level, we start to see our students as capable people with a lot of potential. As an example, student and teacher can upload an image of a student's best writing into a digital portfolio tool, accompanied with a thoughtful reflection on the work. If students prefer, the reflection can be captured through an audio or video recording. Student work that is curated during set windows of time can document growth in more authentic ways throughout the school year. We are no longer relying on a number. In its place is a process for celebrating and reflecting upon actual learning artifacts.
VIDEO: Using Technology to Collect Classroom Data
Karen Fadum, a teacher in British Columbia, Canada, observed this shift first hand. She used FreshGrade to capture her reading conferences with students. Her primary goal was not to evaluate their reading abilities, but to celebrate where they were at as readers. Focusing on success first, using more modalities such as speaking to document this work, increased student engagement. "We saw a specific increase in reading confidence," notes Karen. "Reading levels are not always accurate for younger students. When we were able to engage with them where they were and where they were going, they started to more regularly recognize their strengths – and not just in reading."

From Competition to Collaboration
Digital portfolios are more than a collection of student work. Images of student writing, audio of a running record, and video of a science lab can be examples of artifacts carefully curated within an online space. The purpose should be clear: to document student goals, effort, and successes with reflection. Popular technologies for digital portfolios include Edublogs, FreshGrade, Google Sites, Kidblog, Seesaw, and Weebly. While the technology selected for this work is important, a higher priority is in how it's used to foster communication of student learning.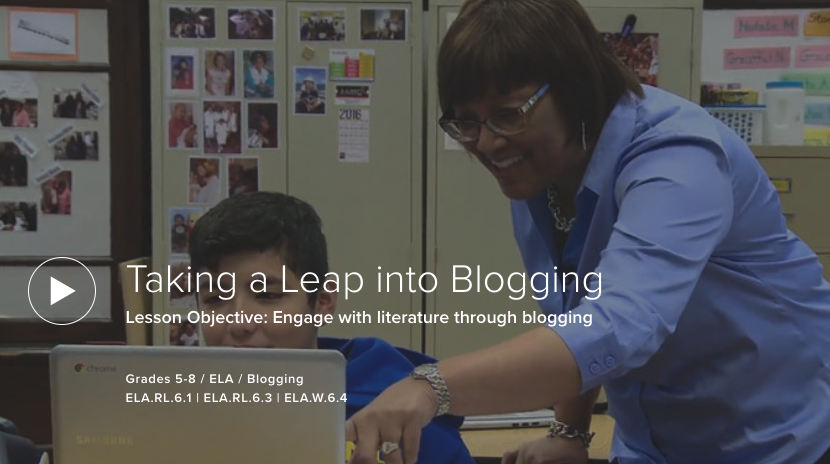 VIDEO: Taking a Leap into Blogging
Jon Spencer, a university professor, noticed that the use of digital portfolios helped develop better collaboration with colleagues while serving as a high school English teacher. Jon and his team guided their students to use Weebly to showcase artifacts of their learning. The students' work served as clear evidence of their understanding of the core concepts in all areas of learning. As Jon shares, "The positive outcomes of a portfolio assessment culture are not reserved just for students. Professionalism was also increased when we, as teachers, collaborated on this initiative. I would not have worked as closely with my colleagues on my team if portfolio assessment were not a part of our work."
From One Outcome to Many Possibilities
One of the more frequent concerns I hear from teachers about their jobs is student grades. It's a time-consuming process that communicates little about the growth a student made or the learning that actually transpired in class. Also, this activity is typically teacher-directed with little student involvement. In addition, the inspiration for learning can be subdued when students know they have to be right in order to get a high mark. Mistake-making is not seen as a strength, but instead as a failure to come up with the expected outcome.
Digital portfolio assessment has the potential to counter the curse of grades and maybe even replace them. In Lisa Snider's high school English class, she teaches her students how to organize their writing within Google Drive. They use folders to house their drafts, published pieces, and any media such as images and video. Writing that is ready to be published goes up on their WordPress blog for an authentic audience.
At the end of the school year, Lisa asks each of her students to propose what grade they feel they earned for the course. This exercise positions the student as lead assessor. "Reflection has been a key to student success. When I ask students to justify the grade they feel they earned, they have to pour through all of the past work they have put together and published. They look at the entire process and reread work samples of their writing. What they come to realize is that they have had control of the outcomes (and their grades) the entire time." The results reveal more than a single outcome.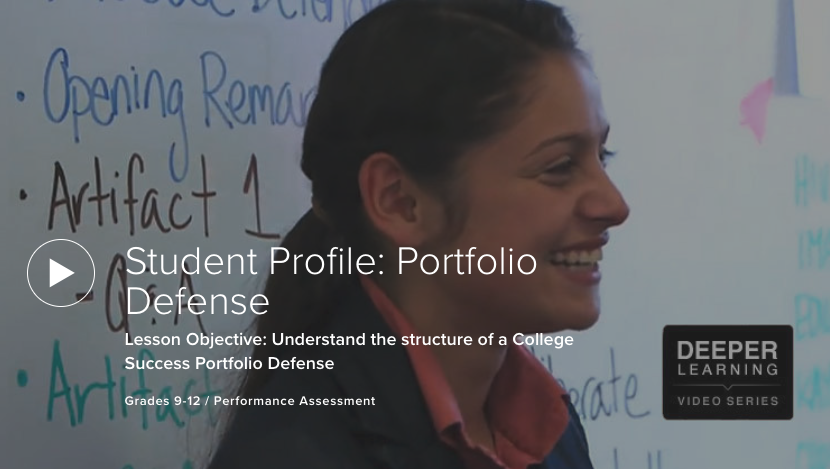 VIDEO: Student Profile: Portfolio Defense
So What?
If you can make just one change starting tomorrow, I suggest incorporating digital portfolios into your instruction. This can be as simple as having students maintain a blog of their reflections in math or science class using Kidblog, or having students post a monthly book review on Seesaw. Families and peers can serve as an authentic audience. If we can shift our focus from a classroom that prizes excellence at the expense of engagement, to a community where each person sees learning as an ongoing process, we create an environment where every student can be successful on their own terms.