---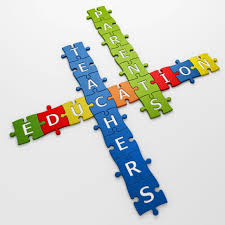 With the school year now in full swing, that means only one thing…parent-teacher conferences are just around the corner. As you approach your first parent-teacher conference of this school year, we've compiled the ABC's for leading successful parent-teacher conferences from our favorite resources and personal insights. Use this list to help ensure your conferences are a success.
ABC's for Successful Parent-Teacher Conferences:
A-Address just one or two concerns: Listing too many problems can make parents feel overwhelmed and discouraged. Mention that you'd like to help the student with several things, but for now, you'd like to just concentrate on one or two.
B-Be courteous; don't talk negatively about other students or teachers.
C-Collaborate: Emphasize how "we" can work together to resolve any problems.
D- Discuss progress & growth. Let families know about their child's ability level in different subjects and in relationship to his or her peers.
E- Establish lines of communication: Describe how you will communicate with families (i.e., through notes, home, phone calls, email, etc.) and how they can contact you.
F- Follow up and follow through. After each parent-teacher conference, send a note thanking parents for sharing time with you. If you offered to find resources, gather information, and so forth, make sure you do so—and share the results with parents.
G- Greet parents cordially at the door when they arrive. Be sure to verify their names immediately and thank them for coming to see you.
H- Highlight the positives: Recognize a child's strengths before discussing his or her struggles. You'll give parents some perspective while encouraging them to work productively with you.
I- Invite parents to share their thoughts. As experts on their children, parents can share valuable insights and they'll appreciate your respectful recognition of their role in helping their children.
J- Jump into the conference with a positive comment. "How is ____ liking school?" "I really enjoy ____'s sense of humor." This allows the parent to see that you are very much interested in their child, and it diffuses tension.
K- Keep Your Cool: It is best to avoid getting emotional in discussing problems you may be having with the student. Remember, your goal is to enlist the parent's cooperation in resolving any difficulties the student may be experiencing in class.
L- Listen: Actively listen to the parent and respond empathically to feelings expressed by the parent. This communicates that you really are trying to understand the parent's perspective.
M- Make an Action Plan: Spend the last few minutes discussing how you and the family will support the student. Be specific about the kinds of things you will do.
N- Notes: Keep a note card for each student, recording points to discuss at the parent-teacher conference. Try to anticipate any questions a parent might ask and not your thoughts related to that issue.
O- Offer suggestions: Try to offer two or three specific suggestions for the parent to implement at home that might help the student. Offer them as ideas that have worked for other students.
P- Portfolios- Assemble samples of students work into a portfolio to use at conferences. Samples of student work can help provide examples of pride, progress and possibilities for growth.
Q- Questions: Ask questions! Solicit family input into student strengths and needs, learning styles, and non-school learning opportunities. Ask parents about their hopes and dreams for their child.
R- Reminders: Send reminders the week before the conferences, for when and where the conferences will be held. You may also want to include an outline of your agenda to prepare parents for the conferences.
S- Style: Think about what do you want your conferences to look like, and how do you want them to run. Because each teacher has her or his own style, there are numerous ways to conduct a conference. One teacher used to put a linen tablecloth on the table, and light candles in a candelabra, for ambiance! Let your conferences reflect a bit of who you are.
T- Time: Make an outline and organize a plan for how you'll divide up the time
to help you stay on track. Here is a general outline for a 30-minute conversation.
5 minutes: Opening Conversations
10 minutes: Report on academic progress and concerns
10 minutes: report on social progress and concerns
5 minutes: summing up
U- Use Examples: Have student examples ready to show to parents to illustrate areas of strengths and areas where there is room for improvement. It's always good to back up statements about student's strengths and areas for improvement with work samples.
V- Validate Parent Concerns. You may not agree with what a parent feels, but you can honor those feelings. If you are able to show respect for the parent, he or she will likely be more supportive of you. Plus, any insights you gain from a respectful and productive conversation with a parent will help you better understand the child in your class.
W- Welcoming Environment: Make your classroom comfortable for families by displaying student work, arranging seating in circles, and making private space for the conferences. Some teachers set up coffee, juice or snacks for parents, especially if they might have to wait in the hallway while you finish a prior conference.
X- X-tend: Extend the invitation for parents to come and visit or volunteer in your classroom. The invitation lets parentsfeel like they are a part of the classroom andhelps to establish or improve the rapport you have with your parents.
Y- Yes I Can! There's something about a "can-do" attitude that is attractive to everyone. Be sure to carry this over to yourparent-teacher conferencesso that you are all in that "Yes I Can" mindset.
Z- Za-za-zoo! That feeling we have inside when something is special or dear to us. Take notes of you "za-za-zoos" that students do in class by writing them down so you can read them at the conferences or ask your students to share their "za-za-zoos" with their parents at conference time.
Each parent-teacher conference can be a powerful occasion for meaningful communication with families. Thinking ahead and following some simple guidelines will help ensure that conferences are positive and productive for everyone.
---
Learners Edge is passionately committed to providing you with continuing education coursework, materials, and tools that will help you succeed in your classroom and in your career.
Offering more than 120 online courses for teachers, you can earn the graduate credit you need for salary advancement and meet your professional development needs. Contact us today to get started!