What a week! The Tch Next Gen Science Squadsters learned so much from all the different sessions at the National Science Teachers Association conference. Were you unable to make it? If so don't worry, because we're sharing our takeaways and relaying the tips and resources we came across.
Each Squadster has written up her or his most exciting and useful experience from NSTA. Feel free to contact us directly (we've included our Twitter handles) if you want to learn more.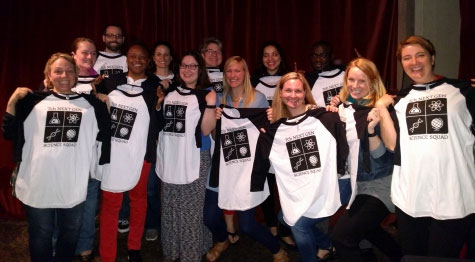 Definitely look at Five Tools and Processes, created jointly by the American Museum of Natural History, BSCS, and WestEd. There are parts that are really helpful in designing NGSS lessons, as well as creating PD to help others create lessons and better understand how NGSS alters the way a unit is developed. Also look at this very detailed unit plan that shows how a well-planned NGSS unit may look. This particular unit focuses on the urinary system for anatomy, but does a great job of showing what a lesson template would look like, how to tie in the three dimensions, and shows what a storyline for a lesson looks like.
Kyla Burns, Iowa (@burnskyla13) & Susan Lyons, Iowa (@mslyons7207)
Start with a phenomenon and let students figure the phenomenon out. The storyline is driven by students' questions. To think students can't ask the RIGHT question is wrong. This is a shift from "learning about" to "figuring out."
Olukayode Banmeke, Prince George's County, Maryland @kaybanms
After attending a training on discrepant events, I plan to integrate this information into a professional development NGSS module that I facilitate in Rhode Island. Discrepant events encourage students to search for answers and confront misconceptions.
Sandy Cappelli, Rhode Island (@scappelli3)
After attending the NGSS Forum on assessment, I'm eager to begin creating smaller, formative performance tasks that will build toward more comprehensive summative tasks.
Isaac Raymond, California (@angrrybuddha)
A session about farms and farming really ignited my desire to create a unit that allows for elementary age students to think about what resources we use to make food such as a pizza. Teaching children about agriculture and where our food comes from has great potential to link students' prior experiences with food to present learning about resources.
Jennifer Munoz, California (@pettaluma)
After listening to Bill Nye speak at NSTA16, I feel empowered to help my students learn that it's OK to "fail forward." Bill suggests, "Some people fear that we don't know everything; others celebrate that fact and have an adventure." I can't wait for us to learn from our mistakes and then create/innovate!
Meg Richard, Kansas (@frizzlerichard)
After attending a session about the Science Olympiad Urban Schools Initiative, I've begun a conversation with my school leaders and have started to review the application process to create a team!
Surinder Kaur, NJ (@SKGEducator)
The KLEWS chart created by Carla Zembal-Saul, Katherine L. McNeill, and Kimber Hershberger (2006) can be a valuable tool to help students present their thinking and understanding of phenomena publicly. I also highly recommend What's Your Evidence?: Engaging K-5 Children in Constructing Explanations in Science by the same authors.
Kathy Renfrew, Vermont (@krsciencelady)
After attending the Elementary Extravaganza, I will create a Google Form to share all of the resources, ideas, and lessons with the elementary teachers across our district. One in particular: Concord Consortium breaks Performance Expectations into LPs (learning performances). It makes the complexity of each PE into something much more tangible and understandable.
Shelly Hammons, Kentucky (@shellyhammons)
I went to multiple elementary engineering sessions, and now I'm designing a summer PD session to integrate engineering practices for ANY elementary grade and unit in my district! Here's a great site to get inspired for design and engineering ideas.
Liza Rickey, Washington (@lizarickey)
After attending a training on using sound and vibration of matter phenomena in vertically articulated first and fourth grade lessons, I will model both lessons to the first and fourth grade classroom teachers in the four elementary schools in my district.
Patti White, Connecticut (@pwhite_diane)
A workshop titled "Bringing New Life to the GeoSciences" highlighted connections between current scientific research and topics such as climate change, the water cycle, and the rock cycle using models to engage students.
Kathryn Davis, Oregon (@biokathryn)
I found lots of new ideas, including a "quote pass" as a way to integrate chapters of trade paperbacks that relate to Environmental Science. This has been a goal of mine for awhile, so I'm excited to have a new strategy to try! I also found a great resource for using scientific papers – focusing on not just the content, but also the date of publication, funders, and authors/institutions. This came from someone who is working with the Concorde Consortium.
Lauren Levites, Illinois (@lelteach)
And here are a few additional resources that we wanted to share:
Amplify Lawrence Hall of Science – Curriculum created in partnership with the Lawrence Hall of Science.
BioEdOnline – The Baylor College of Medicine, Bio Ed Department, provides great multidisciplinary PBL units.
Hand2Mind – A site that focuses on hands-on learning.
HHMI Biointeractive – Multimedia resources, including apps, animations, videos, interactives, and virtual labs.
NGSS Starter Activity – A tool to help you align current curriculum to NGSS.
Penguin Random House Academic – Presents, by discipline, books published by Random House's various imprints.
TeacherSource – An online catalog of science supplies.