In my role as a facilitator of professional learning for science teachers, I'm often asked "What do the Next Generation Science Standards (NGSS) look like when they're translated into classroom practice, and how do we help teachers get there?" Along with some innovative collaborative partner institutions and generous funders, we at the American Museum of Natural History (AMNH) have been working on two projects to answer these questions. Thanks to Teaching Channel, we captured some of this work on video to share with the larger science education community.
Instructional Materials Designed for NGSS
AMNH, in collaboration with curriculum development experts from the SEPUP team (Science Education for Public Understanding Program) at the Lawrence Hall of Science (University of California, Berkeley), has developed a middle school ecosystems unit, designed to meet a bundle of PEs from LS2 and ESS3.
With funding from the National Science Foundation, we're just beginning our third and final year of field testing the curriculum. Our teachers are trying to help us understand how high quality instructional materials designed for NGSS, coupled with professional learning, can support teachers with shifting their practice. At the time we made these videos, New York State had not adopted the new standards yet (they finally did in December 2016), and it was interesting to see brave teachers taking the risk to use a curriculum with their students unlike anything they had used before.
What you see in Lauren DeFino and William Leou's classrooms are New York City students experiencing three-dimensional learning for the first time. We wanted to capture what this process looks like for both children and teachers.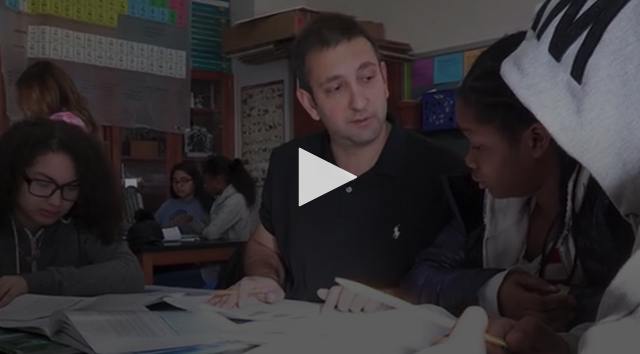 VIDEO: Engaging in Argument from Evidence
William's Classroom
The lesson you're seeing in the videos of William's classroom comes from Chapter 4 of the curriculum. At this point in the unit, students have already learned about relationships in ecosystems, how to use models to explain how matter and energy flow in them, and how limiting resources can affect the ecosystem.
In Chapter 4, students learn about an invasive species, the zebra mussel, that has affected the Hudson River ecosystem. They engage in modeling and data analysis to better understand the impact this invasive species has had on the larger system. Students have already been introduced to the argument scaffold at this point and will now, in Engaging in Argument From Evidence, create an argument about the ecosystem.
William noticed his students struggling with using the Argument Tool, along with making sense of their data, so what we're seeing in Using the Argument Tool is how he's coaching and supporting students to help them understand their graphs and how to use that information to support or refute an argument.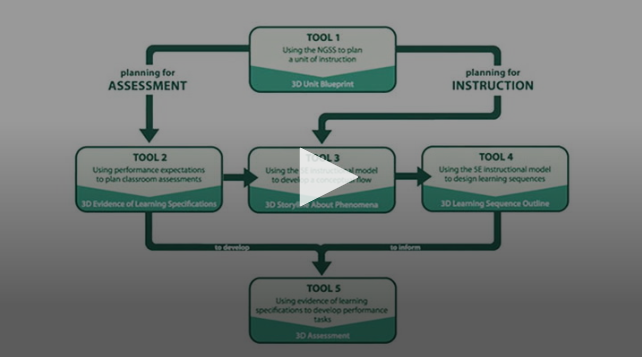 Lauren's Classroom
The two videos from Lauren's classroom show the first lesson in the final chapter of the ecosystems unit. This involves students applying the scientific principles they learned about in previous chapters to design solutions to problems (MS-ESS3-3). In Supporting the NGSS: The "Engage" Model, students are presented with a scenario in order to activate prior knowledge and pique curiosity through discourse.
In Engineering in an NGSS Classroom, students design solutions for dealing with a beetle infestation. They also engage in evaluating competing solutions based on criteria and constraints related to environmental, social, and economic concerns (MS-LS2-5). Research on how students learn science shows the importance of surfacing students' current conceptions, so what we see in the videos is how Lauren elicits her students' ideas about engineering and design solutions. Instead of an anchor phenomenon for the sequence of lessons, she presents them with an engaging, relatable, real-world problem and students revisit this problem, a design challenge, throughout the chapter.
Developing NGSS-Designed Curriculum
After participating in the curriculum field test, Lauren and William also participated in a professional learning institute to support them with developing their own rigorous and coherent units designed for the NGSS. With funding from the Carnegie Corporation of New York, AMNH along with BSCS and WestEd's K-12 Alliance, developed a set of resources called the Five Tools and Processes for Translating the NGSS into Instruction and Classroom Assessment. The Five Tools include facilitation guides, slides, digital templates, and handouts for professional learning leaders to support teachers in helping the vision for the standards come to life in the classroom.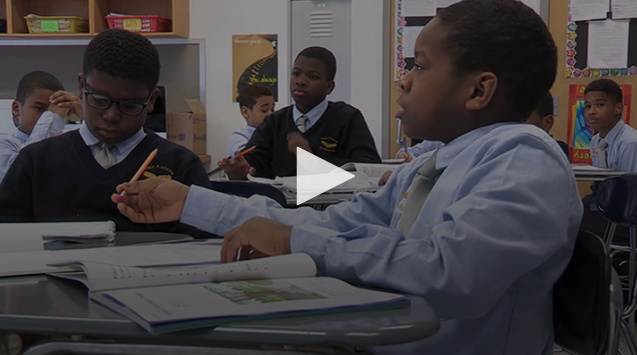 VIDEO: Engineering in an NGSS Classroom
Tom Jenkins and I wrote a blog post last year about the Tool 1 card decks and the Tool 3 classroom scenarios. In the new Tool 4 video on Learning Sequences above, and in this new video on Analysis Guides, Jody Bintz and I are working with our NYC teachers on analyzing the same Tool 3 "Ms. Rivera" classroom scenario for the three dimensions of the NGSS.
The Tool 4 digital template and Tool 4 Analysis Guides help teachers use the BSCS 5E Instructional Model to develop phenomena-based sequences of three-dimensional lessons. All of the resources and professional learning tools are available freely online.
The six videos in this series can be used by both teachers and professional learning facilitators to help develop a shared vision of how to move the new standards into practice.