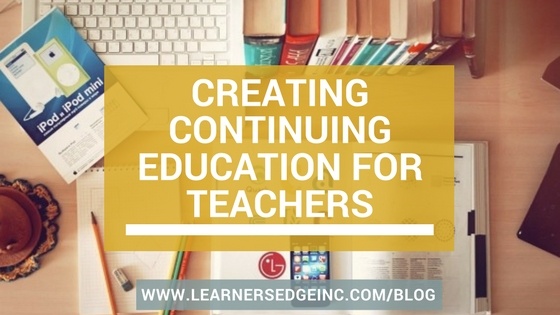 In June of this year, I will have been at Learners Edge for 7 years, and I STILL geek out at how much fun I have doing what I do.
My team, Curriculum and Instruction (C&I), writes all the courses Learners Edge offers for professional development. We search for and review countless texts to choose the best fit, and create courses that help you (and us!) grow.
As the Lead Course Specialist on the Curriculum and Instruction team, I am responsible for organizing and helping to guide new courses through the writing process of being "born" (yes, we really do say that). I also get to go through our courses to make sure they are up to date, relevant, and that they look as good as possible to provide top notch continuing education for teachers.
This time, as we work on our new courses for you, I can easily say this is the most fun I've had. And that idea -the idea that learning can, and should be, fun-is what we hope translates into our Learners Edge courses. We brainstorm, collaborate and write to ensure your experience is the best it can be. 
We also laugh a lot, enjoy each other's company, and are a close-knit team who cares about each other. We love animals, our kids, our friends, books, beer and wine, and Stranger Things (not necessarily in that order).
In just over a year, our team has doubled, increasing our ability to respond to questions, concerns, and course needs. Included now on our staff are specialists in adult learning, special education, early childhood education, and ELA.
We increased our annual course offerings by adding just over 10 courses in the past year, with plans for 10 additional courses to be launched in March. We have updated texts in 7 existing courses, are offering webinars every month, and are writing blogs on issues we, and we hope you, are passionate about. We are adding additional free professional development for teachers through our Edge Express workshops on timely education trends. And, we are offering on-site courses this summer.
WE LOVE ALL OF IT.
Above all, we are all former teachers who are passionate about education and serving teachers. We love hearing from you about what you need from us, and how we can help you.
Thanks for helping us love our careers.
We can't wait to show you what we will create for you this year!
***