I've always had students who could not wait to find out what classroom job they would be picked for that week. It still makes me smile to see the excitement on a child's face when they find out they were selected to be the "line caboose."
Classroom jobs are used with the intention of giving students a role or responsibility, but they can be used for much more. Incorporating larger jobs that keep students engaged and match with their interests gives teachers an opportunity to build strong partnerships with them throughout the school year.
Give your Classroom Jobs poster a makeover this year by adding in some of these Classroom Careers! (Or Internships if you're planning to rotate throughout the year.)
Personal Trainers: Responsible for helping select movement activities, brain breaks, and outdoor games to keep everyone moving throughout the day. Stuck inside on a rainy day? These kids are the ones to go to when you're looking for positive ways to use that energy!
Paparazzi & Media Specialists: If you have tablets or cameras available, allow students to use them to capture the important moments in your classroom. Students will love taking photos and videos of trips, special events, or an exciting engineering project your class is tackling. Use the images to create a class scrapbook and look back on your adventures throughout the year.
Interior Designers: These students can assist with anything from helping select bulletin board designs, furniture arrangements, ideas for flexible seating, and much more. Classrooms are often more suitable for an adult than the children they're intended for. Let students take the lead in telling you what they need and desire for learning.
Innovation and Creativity Team: This team can help come up with activities, lessons, and projects that link to the interests of your class. Use these students to keep your classroom fresh and relevant. It doesn't need to be completely open-ended, but giving students a choice and a voice pushes instruction to be more student-centered.
Student Teachers: Students on this career path can help select activities to be used for your morning meeting or other transitions throughout the day. After a few weeks, they might be the ones leading parts of the day!
Check our additional tips on how to set your students up for success with their roles.
Looking for ideas on how to set up your Classroom Career Chart? Take a look at these Student Job Charts and a list of other STEM websites for additional resources.
Students on the Paparazzi & Media Specialist team are using tablets to take photographs and videos of their classmates during a nature exploration.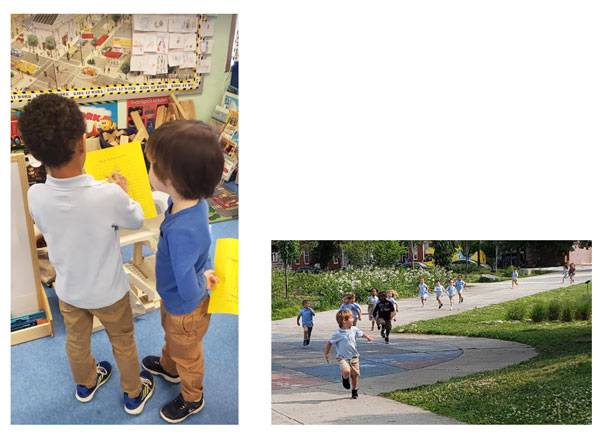 On the left, Interior Designers are sharing their blueprint ideas to negotiate a new arrangement for the block center. On the right, a Personal Trainer is leading his classmates through speed training on Global Run Day.
Student Teachers can help set the tone for the day by greeting their peers and using simple charts to give them reminders of how they can help everyone prepare for that day. One Student Teacher led a morning sculpting activity through the use of a document camera.