After the build-up to winter break (and some much needed time off), many educators are looking for ways to infuse new energy into their units over the long winter months. Whether in person or online, Project-Based Learning (PBL) is the perfect solution to breathe life into your tired lessons! Course 5133: Project-Based Learning for the Digital Age will introduce you to the key elements of designing, implementing, and managing project-based learning experiences that engage and motivate. Using best-practice frameworks, participants will learn strategies to empower students as they explore their passions, collaborate with others, and create projects that answer challenging real-world problems. 
Curious about bringing more project-based learning experiences into your classroom? Well, it's your lucky day because we've got a sneak peek into one of the applications you will dive into when you register for the course. This "Innovate" application provides an overview of the Gold Standard Framework for PBL and some inspiration to jump-start a project idea. Take a look!
---
Application: Innovate
Project-based learning creates an environment that fosters creative thinking and collaboration. It teaches students to use the tools at their disposal to find innovative solutions to problems that are always changing. To make PBL a reality, educators must employ their own innovative, out-of-the-box approaches to planning and teaching. For some guidance on PBL design, read this overview of the Project Foundry Gold Standard Design Elements which are the foundation of project-based learning.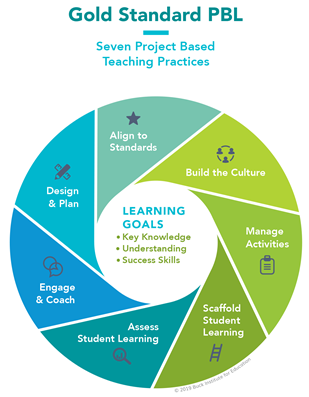 Now that you have an overview of the design elements, read through the Gold Standard Seven Essential Teaching Practices that provide instructional guidance for delivering project-based learning.
Then, watch the following videos to see how to get started planning your project:
Now comes the fun part! You are ready to begin brainstorming and developing your project plan. Let's start by designing the main focus of your project. First, consider your curriculum, and choose an idea that you have for a PBL experience that you would like to develop.
Here are some resources full of ideas to get you thinking:
Use this free Project Template to organize your project plan!
---
We'd like you to select a unit you currently teach in your classroom that you can adapt into a project-based learning experience for your students. In two paragraphs or more, summarize the project and provide an overview of possible ideas you have.
Be sure to include:
The big ideas and goals you have for this project,
Key knowledge and skills you want students to develop (including any content standards you might address), and
Initial ideas you have around potential questions, activities, research, and products.
In order to make the transition from traditional instruction to more innovative and collaborative work, you'll need to be intentional about design and planning. Throughout the remainder of the course, we walk you through the steps you'll need to take as you plan and implement your PBL experience. Hop over to our course catalog to learn more about course 5133: Project-Based Learning for the Digital Age.