If you've been to any educator conference – the real, in-person kind of yesteryear—you know it's as much about the interactions between attendees as it is about the sessions or the presenters. This phenomenon intensifies when you bring together world language teachers who thrive on sharing culture, history, geography, and more as part of their language courses. The conversation is non-stop, the laughter is loud, and there is a certain intensity that accompanies the exchange of ideas and strategies.
When I began teaching in 1991 at a University in Central France, I did not have teacher education preparation, let alone language methodology. My students were all French, learning English for a variety of reasons – from graduation requirements to casual interests to professional aspirations. As they learned English, I improved my French. The most significant leaps and bounds of progress did not occur in the classroom. Instead, the meaningful lessons happened over coffee (so much coffee!) or at a local event, or just taking a walk around town. That's when words and meanings came together and personal experience connected ideas with expressions. That quest for authentic interactions is why I love world language teachers.
Thirty+ years later (and now with all the educator prep and language methodology formally acquired), my goal is to support world language teachers with strategies that recreate these authentic interactions and purposeful negotiations of meaning. I love sharing resources like the ones available through the Center for Advanced Research on Language Acquisition ("CARLA"). lead the way in promoting language learning through content-based lessons. This approach focuses on comprehensible input and negotiated meaning. Rather than focusing directly on language learning, Lyster's lessons feature a non-linguistic subject like science, geography, art, or history. In fact, ANY subject or topic works in this method!
When it comes to assessment and feedback, many world language teachers have shared with me that they worry about discouraging their students. This care for student SEL is another reason why I love world language teachers. To support them, I recommend the "look for" items for language demonstrations offered by the American Council of Teachers of Foreign Language ("ACTFL") because they are clear AND they work for synchronous, asynchronous, in-person, or remote learning.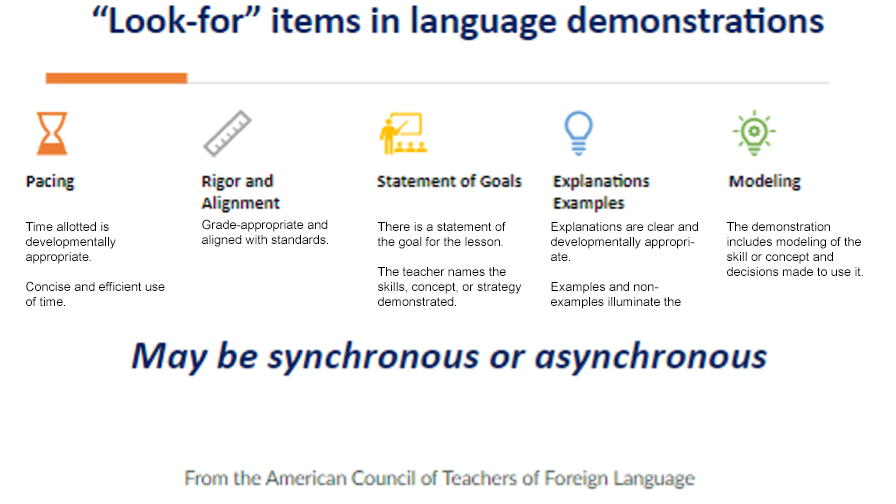 Language demonstration feedback is wildly useful across content areas and contexts. Good communication supports learning and promotes positive interactions. It's like the Rita Mae Brown quote "Language is the road map of a culture. It tells you where its people come from and where they are going."
My colleague, Bob, is the course evaluator for World Language Teaching Methods and he gets as excited as I do about world language teachers. He said, "I find it a real treat to read what teachers are doing and thinking. There are some very gifted language teachers out there!" We have collaborated on the resources for the course and the design of the applications of knowledge so that teachers can show (and develop) their skills.
As for me, I would like to hear what YOU love about world language teachers, what you remember about your own learning experiences, and what you look forward to most when we meet again someday at a conference and enjoy endless discussion, hearty laughter, and lots of collaboration.