"Feel the rhythm, feel the rhyme, get on up it's…" Olympics time!

~ Sanka Coffie, Cool Runnings
The Olympics are full of amazing athletes, but what keeps people watching night after night are the stories.
For two weeks every four years, households around the world tune in to watch. We cheer on Apolo Ohno, Lindsey Vonn, and Shawn White. We're suddenly captivated by otherwise mundane tasks like sweeping (curling anyone?).
The stories of the athletes teach lessons of perseverance in which athletes train, and retrain, and retrain… until they reach their goal and the glory.
How can we provide students with analogous opportunities to embrace a process that leads them to overcome a challenge and improve upon a system?
Using the Olympics as a theme, give students the opportunity to go for the gold or shoot for the moon, which is similar to what professionals accomplish with the engineering design process every day.
This may seem as daunting as staring down a big air slope but, as Yul says in Cool Runnings, "People are always afraid of what's different." Students will quickly become excited about this opportunity to ask questions about the Science of the Winter Olympics, and then examine how these principles can be modified to meet different challenges in the world around us.
5 Engineering Challenges
Figure Skating
Last year it was fidget spinners; this year it's spinning figure skaters that are all the rage. People were and are enamored with the simplicity of the spin, while also spinning their cognitive gears and winding around with a sense of wonder.
For this engineering challenge, students will design/modify a top.
Encourage students to engage their gears by exploring the concepts of torque and angular momentum. While modifying a top may be complex, this engineering challenge allows students to explore both what makes a good top and what makes it spin longer.
Have students design a top that can spin along a table surface for the longest amount of time.
Students may use basic tools like a CD on top of a pencil or pen held in place by playdoh — or challenge students to come up with their own model. Just avoid the "toe picks." (The Cutting Edge)
Ski Jump
Does constructing a better ski jump sound impossible? "Well, you're not going to give up are you?" (Eddie the Eagle)
For this challenge:
Have students use the simple materials of pipe insulation, marbles, and classroom textbooks or ring stands.
To begin, give each student the same length of track (insulation) and have students explore by modifying the angles, ramp size, and starting height. Their goal will be to propel the marble the highest and farthest they can.
To prevent the marbles from rolling all over the classroom and to add ease to data collection, consider using low boxes with sand or kitty litter as your targets.
While this task may lend itself to repetitive trial and error, consider adding a cross-curricular math connection and "charging" students a construction fee per trial. This will add an additional level of competition to the activity and will encourage students to pay increased attention to their variables.
Snowboarding
Though the winter weather may make it difficult for some of us to get outside and "catch" some fresh air, this challenge will have students catching air in no time!
For this challenge:
Have students engineer a snowboard cross course (this may look very similar to a roller coaster track). Their "rider" (a matchbox car, marble, etc.) is trying to transverse the course the fastest.
Provide students with common materials (recycled pipe insulation from their ski jump, PVC, cardboard, etc.).
Looking for a fun twist? Have students do a 360 and a bonk (check out this

snowboarding dictionary

for ways to modify the course) — or have them build a "rider" that takes the longest time to travel the course.
Bobsled / Bobsleigh
As the movie Cool Runnings taught many of us in the early 90s, building a bobsled (or bobsleigh team) is not easy. Often times when training bobsledders will hit the wall, yet with perseverance and properly designed equipment, they go on to train another day.
For this challenge:
Have students build a better bobsled that keeps their athlete safe along the track. To construct a track for your room, consider using a piece of wood angled from desks or a bookcase.
If the hardware isn't in your budget, you can use cardboard or textbooks as the track; however, the key is to keep the track constant for all tests and trials.
The athlete for this activity will be an egg.
Have students use common items (bubble wrap, tissue, etc.) to construct their car.
Remember that one of the tricky parts of the bobsled challenge is that the sled is modified — not the athlete! Discourage students from attaching anything directly to the egg. This leads to great conversations about gravity and Newton's laws of motion.
Curling
The New York Times recently called the Curling Broom the Engineering Marvel of the Winter Olympics, which makes this event perfect as an engineering challenge in any classroom. While there are many ways to approach this sport, the main idea is launching an item and having it stop as close to a target as possible (similar to my other favorite Olympics, the Science Olympiad, and their Scrambler event).
For this challenge:
Have students examine the impact of frictional forces at work by varying the properties of the launched item.
Many students enjoy the game of paper football. For this task, students can combine that sport (paper football), with the objective of curling. Have students fold, shape, and create their "stone" to hit a common target. The student who is closest to the target "wins." But also allow students the opportunity to redesign their object and increase or decrease frictional forces where necessary.
You can also build a common

launcher

to prevent experimental bias.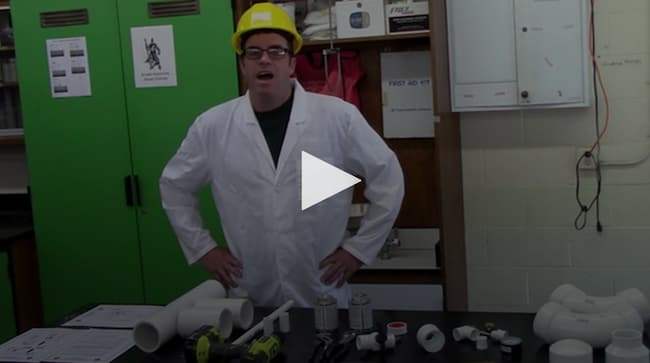 VIDEO: Build a Rocket Launcher
While sweeping is the most recognizable component of curling, it's also a challenge to replicate in a classroom setting. So after the challenge is complete, bring out the brooms for clean up and enjoy.
Are you incorporating the Winter Olympics into your lessons this year? We'd love to hear from you. Share your ideas in the comments below.
---
Just getting started with NGSS?
Check out this short informational guide and watch Tch Laureate Tom Jenkins engage his class in the engineering design process.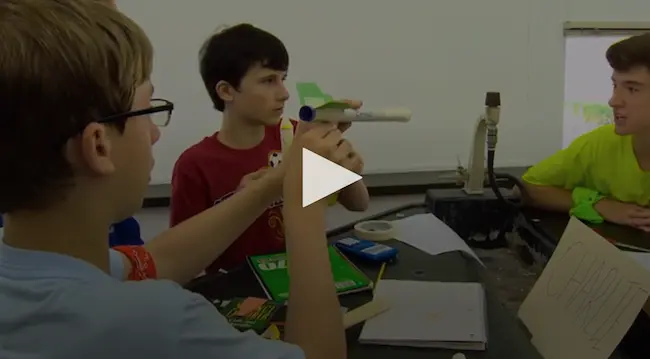 VIDEO: Using Engineering Design in the Classroom
Looking for more ways to incorporate engineering into your classroom year round? Check out these lessons created through a partnership between Teaching Channel and Boeing. And for help incorporating ideas into your class, sign up to get support from the Tch NextGen Science Squad and let us know how we can help.