The flip of the calendar to 2015 gives us the opportunity to start fresh. If you are looking for an opportunity to reset expectations with your students, read through a simple strategy implemented byDawn Kozlicki a teacherat Lake Zurich High School in Palatine, Illinois.
Dawn shares her ideas for keeping a positive environment in her classroom, and describes how she sets expectations with students. From a respected teaching colleague, Dawn learned "it is best to establish a positive environment rather than (to) focus on what students should not be doing in the classroom." Read more about Dawn's classroom management ideas highlighted in one of Learners Edge continuing education courses for teachers called 855: What Great Teachers Do.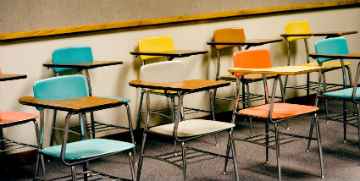 When clear expectations are set at the beginning of the year, it creates a better environment for students. After a teacher communicates these expectations with her class, she is then able to develop strong relationships with students. Expectations are more important than rules because "rules…often focus on undesirable behaviors with predictable results" (Whitaker 14). Instead, stating the positive expectations in a classroom will focus on the positive behaviors the teacher expects. When these are clear, students often meet the expectations. It is more effective to say, "Be respectful" rather than "If you are not respectful, you will go to the Dean's office." Therefore, positive expectations need to be set at the start of the year.
I have been teaching for eight years, and in my second year, I started teaching a co-curricular class with a very experienced history teacher. I was able to learn so much from her, especially with classroom management. I learned that it is best to establish a positive environment rather than focus on what students should not be doing in the classroom. So from that moment, my expectations have been very clear and positive. At the start of the year, my students and I establish classroom expectations. The expectations are usually:
stay positive
respect yourselves
respect the classroom
respect your peers
respect your teacher
My students know what I expect, and they generally meet these expectations on a daily basis.
If you're a new teacher and are looking for additional Classroom Management strategies or tips to help you in your classroom, explore our New Teacher Resources!
Learners Edge is passionately committed to providing you with continuing education coursework, materials, and tools that will help you succeed in your classroom and in your career.
Offering more than 100 print-based or online courses for teachers, you can earn the graduate credit you need for salary advancement and meet your professional development needs. Contact us today to get started!