It's that time of year again: time for our annual list of tech tools and tips to launch you into the new year with renewed inspiration for teaching and learning. This year's round up provides time-saving tools, innovative apps for artificial intelligence (AI), and a reintroduction to some "old" favorites. Get ready to dive into our Top Tech Tools for 2023!
1. Google Sheets for Interactive Timelines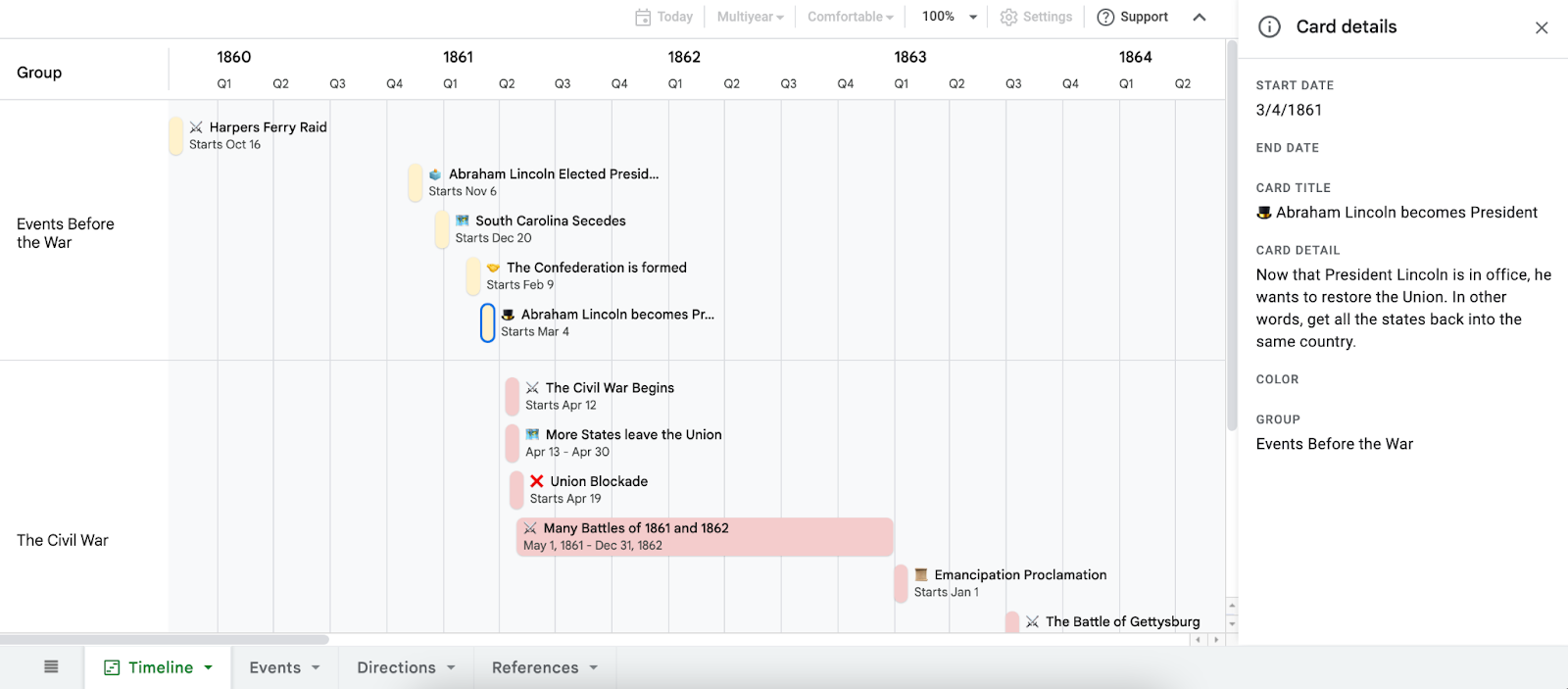 Good news, Google fans! You can now use Sheets to create interactive timelines that include dates, descriptions, links, colors, and more. Just add the appropriate information to a Sheet using specific column headings, then convert the data with one click! This new timeline feature is great for teaching about historical events, making ELA connections, and even scheduling and logistical needs. Watch this video explanation or follow along with the step-by-step directions from Eric Curts.
2. Image Candy for Easy Image Editing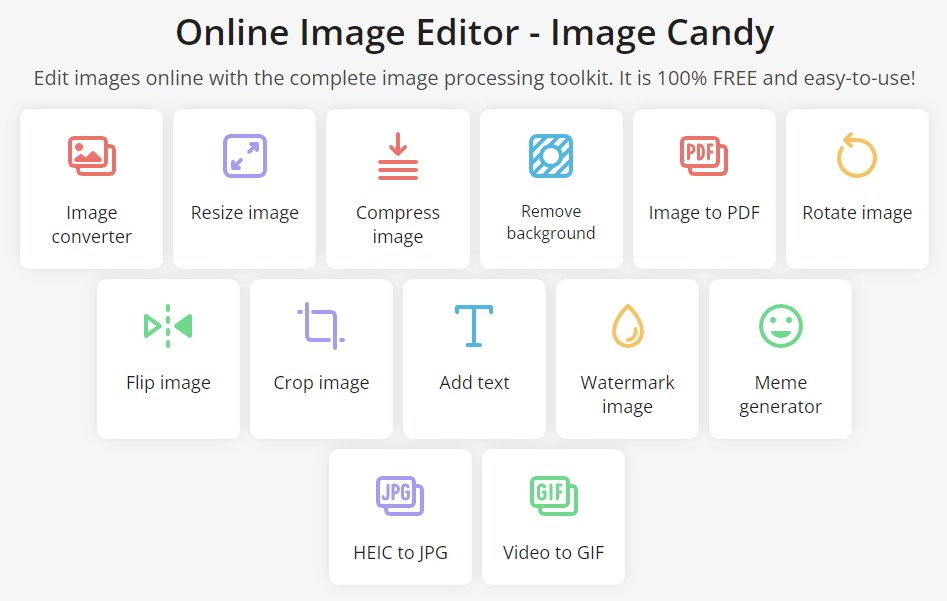 Image Candy is a free site that makes modifying your images a cinch! With over 10 options to choose from, and no registration required, you'll want to bookmark this page as your new go-to editor. From the meme generator, background remover, and video to GIF tool, you'll find everything you need to add a bit of creativity to your content. Better yet, invite your students to create images that represent concepts they're learning. Image Candy is a perfect one stop shop for both teacher tasks and student projects.
3. Adobe Express for Creative Projects
Take advantage of Adobe's decades-long history of software innovation with their free Express app. Available on mobile and desktop devices, your students can access professional tools from their Chromebook, iPad or smartphone. In addition to beautiful templates, Adobe Express offers image and video editing capabilities. And for great student project ideas, visit the Education Exchange where you'll find lessons and activities with editable templates that will get your students' creativity flowing! We love the monthly Creative Challenges that provide an opportunity for students to build digital skills while reflecting on their individual identity and learning progress.
4. Flip for Engaging Video Responses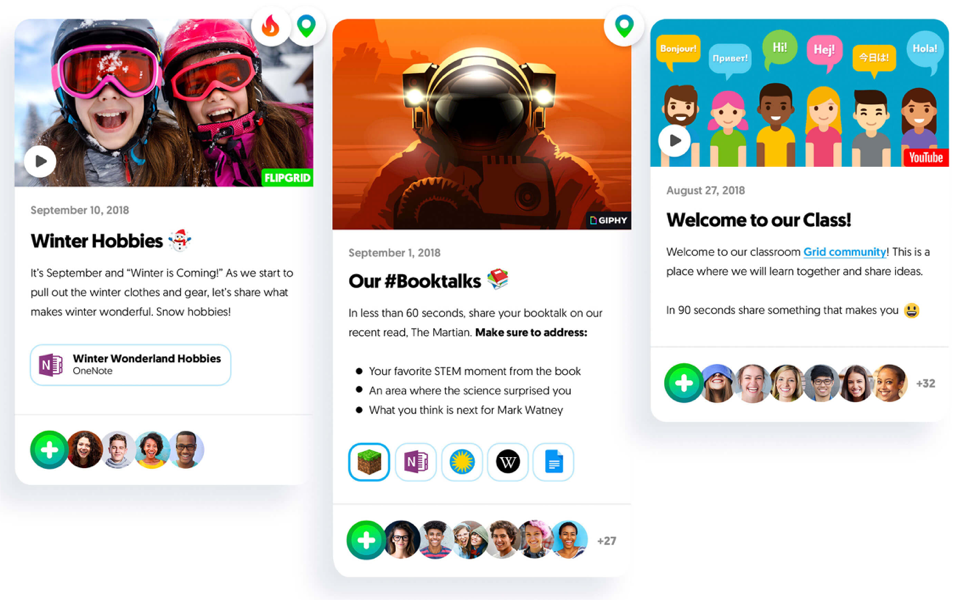 If you haven't revisited Flipgrid in a while, it's time to give it a look. This year Flip reintroduced itself with a new name (formerly Flipgrid), new aesthetics and new features. This video response platform makes student creation, expression, and connection, not only easy, but also fun! Take a look at what Flip now offers:
A better Flip-camera with more tools and effects that mimic your students' favorite social media apps
Improved accessibility features like captioning and an ASL lens
Edit and delete capabilities
New moderation features for student safety
New Uses for the PreK-8 Classroom
New Ways to Use Flip in the High School Classroom
5. Google Practice Sets for Adaptive Learning
This spring Google announced a new adaptive learning feature called Practice Sets. These innovative assignments are autograded like a Google Form, but go a step further with answer hints, real-time feedback, and a fun confetti celebration for correct responses. Practice Sets are changing the game with their robust reporting on student progress and ability to target learning to student needs. Note: Practice Sets are available within Google Classroom for any educator using the Teaching and Learning Upgrade, or any institution using Google Workspace for Education Plus. For a more detailed tutorial, watch this Practice Sets Introduction video explaining how to get started.
6. Classroom Screen for Better Classroom Management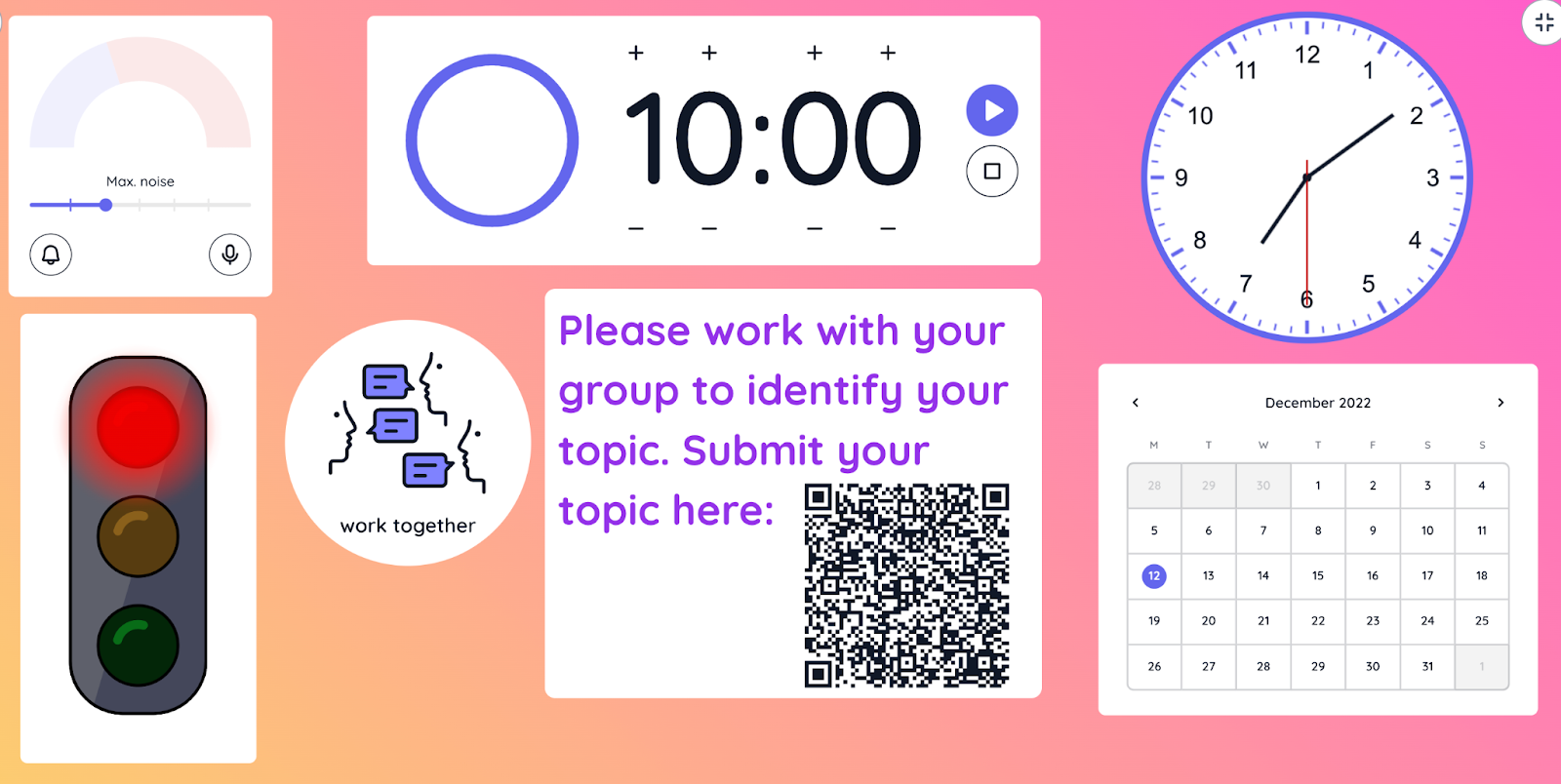 Busy teachers can use all the help they can get in providing organization and structure in the classroom. Classroom Screen is a simple, but impactful solution! Teachers can build an interactive display of helpful widgets like a timer, noise meter, calendar, and random name picker, in addition to text, images, video, and more. Once your layout is built you can enlarge and rearrange each widget, then project the display on a screen or whiteboard for students to reference. This helpful web tool can be your teaching assistant throughout the day, enabling smooth classroom routines and providing student supports for independent work time.
7. Scribe for Creating Step-by-Step "How to" Directions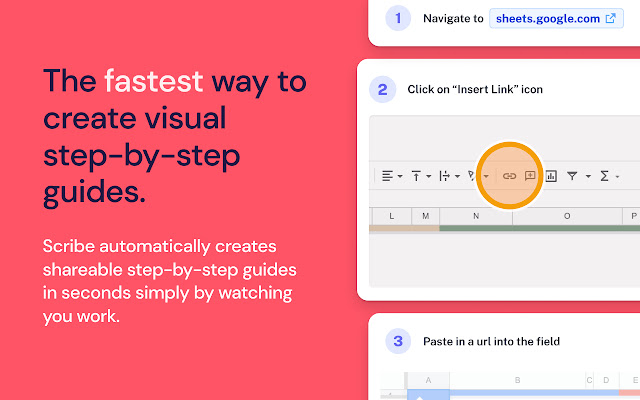 Do you give a lot of step-by-step directions to your students, colleagues or caregivers? The Scribe Chrome extension can save you time and help you make beautiful step-by-step guides with just a few clicks. Start by adding the extension from the Google Chrome Store and hit record. As you click through your steps, Scribe captures screenshots and generates directions for your process. You can then edit and share on a class website, or embed in your LMS. The best part about Scribe is that any changes you make to the completed directions are updated in real time so anyone with the link will see the newest version. Check out Scribe for easy peasy directions!
8. One Tab for Browser Tab Organization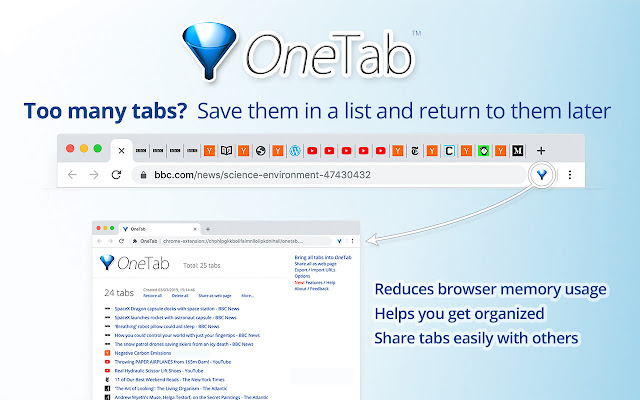 Quick question… How many browser tabs do you have open right now? If you're like me, there are way too many to count! Enter the life-changing extension One Tab. It's my favorite tool for saving a whole slew of tabs that you need access to at a later time. With one click you can condense all open tabs into a single page and open them again when you're ready to continue working. You can even generate a shareable link to your saved tabs. One Tab is a great solution for sharing resource links with students and colleagues.
9. Screen Pal Extension for Quick Video Comments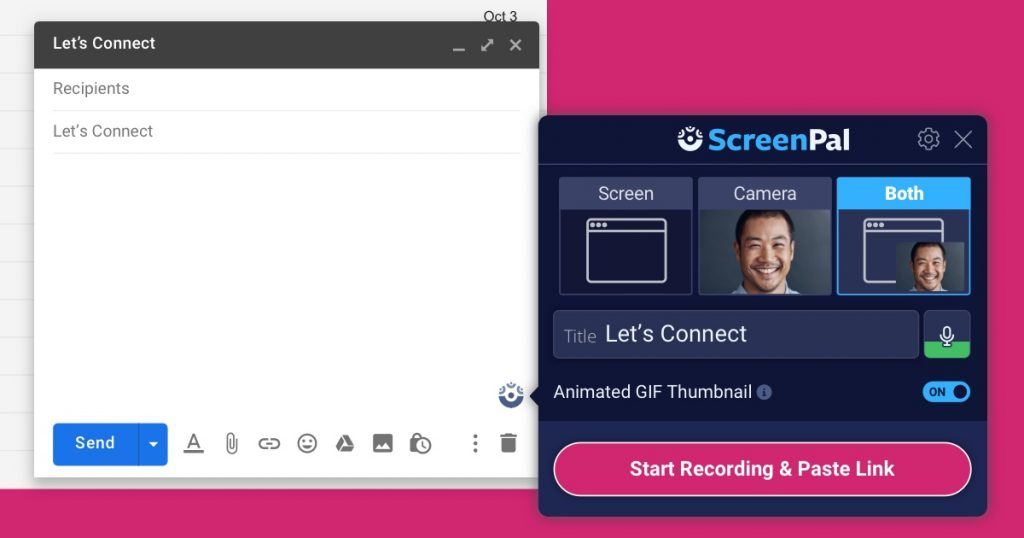 Educators are loving the Screen Pal Chrome extension as a time saving feedback tool. This helpful extension allows you to record and drop quick video messages wherever you type text. Similar to Mote for audio comments, Screen Pal ups the ante with short video or screencast recordings that you can edit, then drop into any text box or comment field. It's a great way to give feedback in Google Docs, Gmail, or an LMS like Google Classroom or Canvas. Save valuable time and give better feedback with Screen Pal!
10. ChatGPT for Creative Learning Solutions
Curious about how artificial intelligence (AI) can help you in the classroom? ChatGPT is an amazing web tool that will blow your mind (they've amassed over 1 million users in only a couple of days)! Just type in a question and Chat GPT will respond with explanations, directions, summaries, and examples. You can even get recipes, original poems, and apparently classroom newsletters as well as engage in conversations with fictitious characters (and more!). With the ability for students to ask follow up questions and explore topics in more detail, ChatGPT opens up a whole new set of opportunities for learning. While AI in the classroom can be a slippery slope, there are also some really great opportunities to re-evaluate our approach to education and engage students in new ways. Check out this list of example interactions and this video discussion, then try it out for yourself!
These great tools and tech-inspired ideas will set you on a path for better tech-infused teaching in 2023!
Featured Courses
For a deeper dive into improved tech integration, check out our top Tech courses from this past year:
5833: One Stop Shop: Online Docs, Spreadsheets, Slides and Forms for your Classroom
5099: Docs, Slides, and Forms in the Classroom: Your Next Level Google Guide
5118: The Keys to a Connected Google Classroom
5835: Create and Captivate: Using Online Presentations to Teach