While every day may feel like Groundhog Day in home quarantine, as the weather heats up we are reminded that summer is just around the corner. And while it is impossible to predict what life will be like in the fall, we do know that "The Covid Slide" is a real concern for many educators and parents alike. So how do we keep kids engaged after a difficult spring season of learning? We keep it light, we keep it personal, and if nothing else we help children fall in love with reading and writing again.
Keep it Lite: "What have you always wanted to learn about?"
When the pandemic first hit and the realities of distance learning settled in, I was bombarded with the question "can't people just do PBL-lite"? For the first few weeks of homeschooling I, like many people, held onto what used to be rather than reimagining how things could be under these new circumstances. I realized that YES! we can shift our ideals of PBL so that we can provide engaging contexts for student learning at home. I started asking my own two children "what have you always wanted to learn about?" and from there we began our journey with PBL-lite. Without realizing it, my children were actively researching, learning digital citizenship, reading, writing, thinking like scientists and sharing their learning with the world in authentic ways. Whether parents are looking to keep children learning in the summer, or teachers are looking to design learning experiences for students-I believe PBL-lite is a viable option.
Another way to keep learning lite is to have "no-tech" learning options in your back-pocket so you can limit screen time in the summer. In keeping with the PBL-lite theme, here are some ideas for ways students can continue learning independently or collaboratively: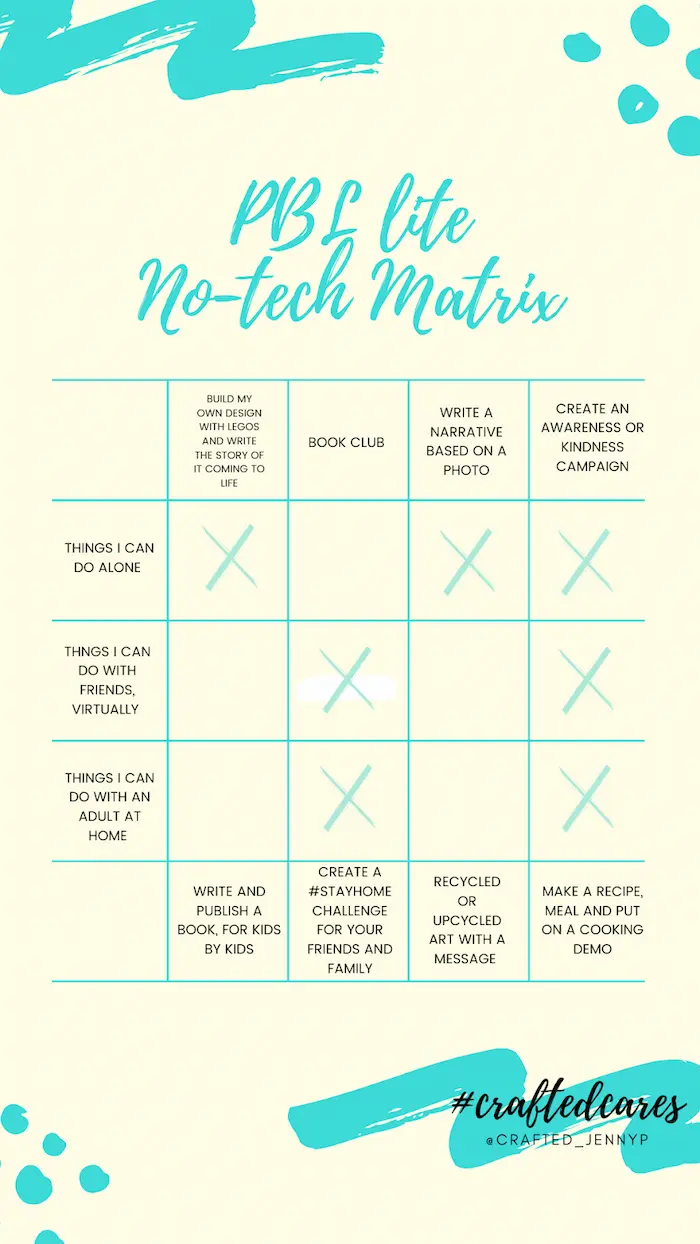 Make It Personal
Differentiation is extremely difficult in distance learning, but best practices in teaching and learning tell us that for learning to be meaningful it has to be personal. I would argue that this is even more important in distance learning than in traditional "brick and mortar" classrooms. Here are a few approaches that can help:
Passion Projects- Allow students to explore topics that interest them, and build their agency by co-developing what the learning will look like. You can use this basic format to guide your process, or this resource to help build out student learning.
Math for every child- There is no shortage of apps and programs for math and I know that schools are leaning on them now more than ever for "teaching" math. I learned that Khan Academy and Prodigy math allow you to see what content standards students have mastered and where the "holes" remain. From there you can decipher what concepts a child is struggling with and pull modules for those standards from Engage NY and aligned videos from Embarc. And if a child is excelling, the teacher can "open up" additional levels and missions in Khan Academy if a child has shown mastery of the current assignments or grade level.
If nothing else, just read and write
Literacy is an incredible life skill that will take a child so far in life. One of the many challenges of an unplanned launch into distance learning was that students may not have been sent home with "just right" books for them. In our neighborhood I hosted a puzzle and book exchange on my porch where I invited other children my own kids' age to bring puzzles and books at their level. This helped get us fresh material to read until we can get back to the library.
Schools can work to educate parents on how to identify a "just right" book for students and encourage activities such as book clubs and read-alouds at home, as well.
The English teacher and author in me feels pretty strongly about this one: kids need to be writing…a lot! And not just silly journal entries that nobody will read. I'm talking about meaningful writing assignments that take kids all the way through the writing process- brainstorming, outlining, drafting, editing, revising. This writing process seems to be a tough one for schools to wrap their minds around right now because providing feedback is particularly challenging. But students can write in any of the following ways and simply reach out to family and friends via email to ask for feedback in a Google Doc, to help close the feedback loop:
Research a topic and write an informative piece
Get creative and write a narrative story
Try to persuade somebody to do something with an opinion or argumentative essay
For each of the projects I have outlined here there is a pretty robust writing component. If you are looking for specific examples, in the running series for the Union Tribune I show how sports events can serve as a context for writing a variety of styles .
Historically summer has always been an exciting time for students to make fun memories and engage in activities they are passionate about. I'm hopeful that we as parents and educators can all work together to find ways to continue to provide joyful summer memories for students, despite the many challenges we are up against, and also close the learning gap the COVID-19 has created in our schools.
Resources: