We can all agree that most young people are frequent and savvy users of digital media and online tools. And we've all seen compelling and impressive examples of youth using these tools to make a change when it comes to issues that matter to them, such as Black Lives Matter, the March for Our Lives, and #MeToo.
However, not all young people know how to use digital media to express their civic and political perspectives. In fact, data from a recent survey indicates that only 15 percent of youth are highly involved in these kinds of online political activities. That means 85 percent of young people are NOT involved or only occasionally involved in online participatory politics. What's more, other studies show that youth (and adults) often struggle with a range of critical civic tasks, such as:
Clearly, new skills and dispositions are needed to help fully leverage new opportunities for effective youth participation in democracy, while navigating new challenges. And youth need and want adult support. For example, a nationally representative group were asked if they and their peers would benefit from learning how to tell whether information online was credible, and 84 percent said "Yes!"
If you want to learn more about how you, as an educator, can support young people to navigate this new landscape and become thoughtful and effective participants in civic and political life, watch this new video about Preparing Youth for Civics & Politics in the Digital Age.
This video draws on research from the MacArthur Research Network on Youth and Participatory Politics (YPP) and illustrates how Web 2.0 tools and digital media have become central to civic and political life, and digital media literacy has become an essential civic competency. The video also outlines four key things educators can do to integrate digital civic learning opportunities into their classrooms:
Have students analyze and evaluate online information to judge its credibility
Provide opportunities for student dialogue about pressing and controversial issues, online and offline
Help students to produce and circulate media that is compelling and impactful
Understand the strategies and tactics for addressing an issue in order to create change
To see examples of what this might look like in the classroom, check out the following videos:
Creating Digital Stories: Civic Expression and the American Creed
This lesson video shows students at New Tech High in Coppell, Texas creating digital stories that illustrate their American identity and reflect on the American creed of today. You can also read a blog post written by Janelle Bence about how her lesson fits into her curriculum.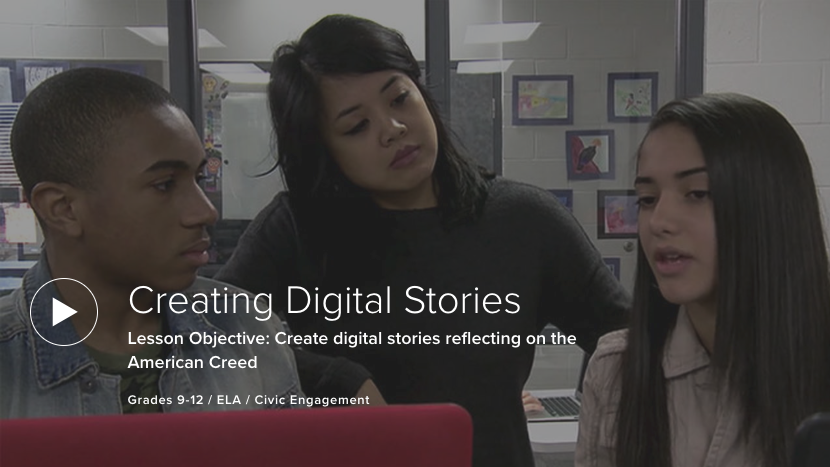 Tweet to Share Your Learning: Twitter as Formative Assessment
Students in this video reflect on what they learned during class by formulating a brief but compelling tweet. This strategy can be used as a means of formative assessment as well as a way for students to practice using Twitter as a tool for sharing their ideas.
Writing Commentaries: The Power of Youth Voice
In this lesson video, students at Youth Radio in Oakland, California, begin to write a first-person commentary about an issue they care about. They will publish their work later via radio and/or social media.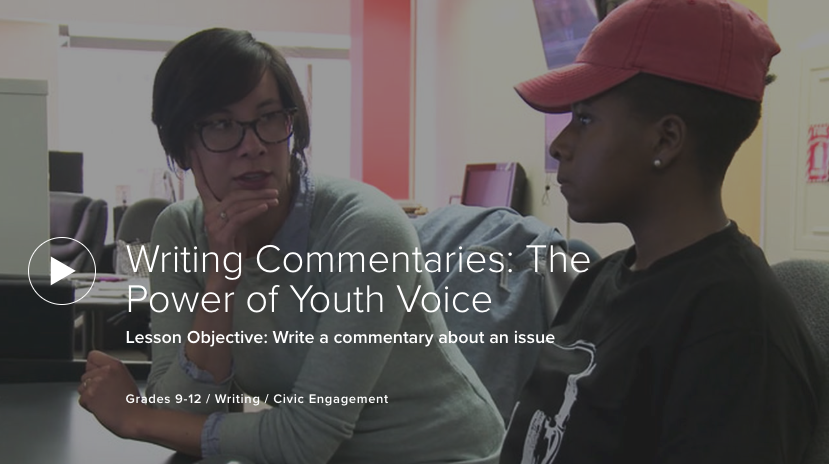 Spark Your Persuasive Writing: 3 Simple Prompts
In order to draw out ideas that students can write about, learn how you can use three simple, guided questions in this strategy video. These questions can lead to persuasive essays, commentary writing, or creative writing.
In short, while your students may know how to text and tweet, they don't all know how to take advantage of the opportunities available in the digital age to learn about issues they care about, to understand a range of perspectives, have their voices heard, and create change. By integrating digital civic learning experiences in your classroom, you can play an important role in supporting your students to be thoughtful and effective participants in our democracy. Start small and give it a try!
For more ideas and resources, check out the Educating for Democracy Deep Dive. And to receive updates on new resources and information about civic learning, follow @Ed4Democracy on Twitter and sign up for the Educating for Democracy newsletter.