As a special education teacher, I know many students have trouble analyzing text and recalling information. General education teachers see students facing similar hurdles; however, many of my students don't even have the vocabulary to share everything they've learned.
I suspect that my students learn much more than they can ever tell me. Many of my students have been nonverbal, and even more have never mastered the skill of writing much else than their names. In my students with higher abilities, I'll find major gaps in information when they attempt to recall what they've learned. I often see my students struggle with the organizational thought processes that allow them to share the information they've received. They might know it, but they just can't communicate it.
When I watch this video, I imagine that the teacher has asked me to step in and observe the lesson to help a student who hasn't been able to communicate his or her learning. The teacher needs a new strategy, and after observing the lesson I have an idea that I think can help.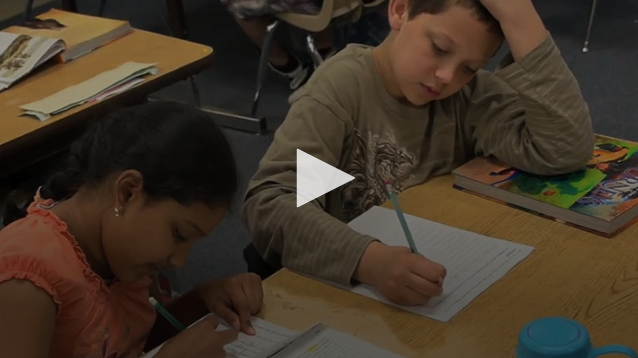 VIDEO: Analyzing Texts: Putting Thoughts on Paper
In Hollywood, directors use storyboards to create a visual image of the script. If you've ever seen one, you know the myriad of details that are packed into every drawing. This isn't just storytelling, it's a precise visual version of the story.
A proper storyboard can take months to create, but in a classroom setting, we can look for easier alternatives. A simple illustration can be much more than just a picture. It can be a way for a student who's struggling with language and recall to get their thoughts down on paper.
So often, we think of a visual as something that goes along with a story — an afterthought to push the narrative along. But for those struggling with language, a visual can be, in a way, the rough draft of what they're trying to share.
For Ms. Brewers' class, I see an opportunity to use a drawing for the planning stage of the written assignment. Adapting assignments can be hit or miss, but this is what I'd do in this classroom.
As a group assignment:
I'd ask students to name the most important characters and I'd list them on the board. I'd do the same for the setting and the important information that needs to be part of the written assignment. The reason I'd do this together is to make sure all the information that's important comes to the surface.
Once this list is made, my assignment would be to draw an illustration that contains all of the important parts of the story. On the surface, we're teaching students how to create a storyboard. But what we're really doing is making sure students make note of all the important parts of the story.
What the students will create is a visual "list" of all the important things about which they need to write. For students who struggle and get lost writing, and aren't sure what to do next, this visual will be a great reference.
From here, students simply need to ask themselves (or teachers can prompt students to ask): Have I included everything in my written version that's in my storyboard?
This will give great insight into how your students' recall abilities work. Some may be able to skip the list making before drawing. Some may need to make the list as they're reading or being read to — be it without help or with prompts from the reader. If the story mentions Carol has a white cat, the teacher can pause and prompt students that this information should be included on the storyboard.
With these supports in place, students who have trouble with recall may be able to cobble together the visual images they saw with the words that they read or heard.
For those who haven't mastered writing skills, the picture becomes their work. Even though they can't write well, they can share what they've learned by drawing a picture of the story and then verbally telling me what's happening in their picture.
To support this storyboard approach to writing, I've created a free worksheet that your students can use to recall the important parts of a story.
For another twist on using storyboards in the classroom, check out how Sarah Brown Wessling encourages her students to think deeply about a text.