The importance of Social and Emotional Learning is evident. 40 years of research show that kids who master core life skills will succeed in the classroom and beyond, and now finally teachers have great tools to help scaffold and mold their students to do so. When a teacher is standing in front of the classroom modeling how to patiently wait your turn to ask a question, they're teaching their little ones a core skill for Social and Emotional Learning — impulse control.
I'm here to guide you to implement SEL in your classroom just as much as any other core subject, and to show you how seamless it can be. You're already most likely taking many of the steps below without even realizing it. But now you can actively look for the progress in your students, identify which students need a little additional support in these core life skills, and take action in a way that's engaging and fun.
Tools and Tips for incorporating Social and Emotional Learning
There are two ways you can incorporate SEL into your classroom: choosing a SEL program to follow or simply printing out the core skills for SEL and making them a part of your conversations and wall decor for the year. The constant reminders on your classroom walls will allow you to keep students accountable and give them quick reminders for the skills they're mastering. Whether you follow a program that walks you through lessons and exercises to strengthen your students, or you have weekly whole class discussions on different core skills and give your students room to explore, you're well on your way to transforming the next generation of "high EQ" kids.
---
Tch Talks 4: Infusing SEL In the Classroom
Tch Talks 6: Social & Emotional Learning as a Dedicated Class
Tch Talks 21: A Student's Perspective on SEL in the Classroom
I Want to Get Better at… Social and Emotional Learning
---
Message saturation is key. In order to ensure your students are learning core skills, you have to commit to modeling, discussing, and practicing social and emotional skills at least once per week. The skills can include empathy, grit, problem solving, knowing yourself, emotions, helping, focus, manners, motivation, friendship, flexibility, responsibility, teamwork, and more. During math, add in a key phrase like "You're all showing me that you can be self-starters and I'm so proud of how well you're working on these math problems." Take the phrase "self-starters" and use it in every lesson that week. Write it on the board. Have one-on-one and whole class discussions about what it means to be a self-starter and why it's important to show motivation inside and outside the classroom. You'll be amazed by what your students come up with, and how just a couple conversations can produce a safe classroom environment and energetic, growth-minded students.

Be proud of your students. Praising your students, highlighting their strengths, and coming alongside them to build up their weaknesses can be the difference between them being at the top of your class to the bottom. If a student knows his teacher is behind him, he is way more likely to be motivated, responsible, and empathetic. The reality is, you might be one of the only people in his life that he feels is on his team. SEL is the key to our students' future success, and we have the opportunity to change their lives, starting today.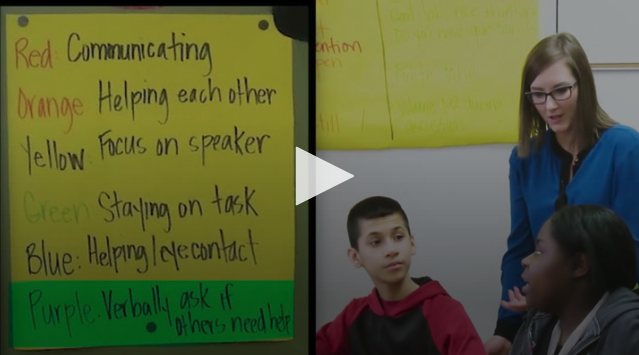 VIDEO: Building Class Culture with Social Skills Goals
My passion for this topic led me to become a curriculum creator for the award-winning Q Wunder program. Based on 50 years of research from the best of the best in education, psychology, and behavioral science, we've created a fun solution for incorporating SEL. Below is a FREE lesson plan, full episode, and two music videos for you to try out.
Q Wunder Resources
Q Wunder is an early learning life skills curriculum based on an award-winning children's show and app, educational pop music, music videos, interactive games, and hands-on classroom teaching tools. Kids help Q Wunder, the genius dusky leaf monkey, navigate social scenarios and learn about life through his adventures. With 48 easy-to-follow lesson plans (grades Pre K-4) covering 15 core skills, teachers are able to bring concepts like focus, patience, and grit to life through music, games, discussion, and discovery. This carefully thought-out curriculum was designed to make it easy for you — and is abundantly rewarding for you and your students.
You and I Music Video (Reinforces lessons on teamwork)