National Read Across America day is Thursday, March 2, and it celebrates Dr. Seuss' birthday and his contributions to the world of children's literacy.
So, in honor of Dr. Seuss, we say…
"Books galore
To celebrate me?
Just the thought
Fills me with glee!
What a gift to read!
Start planting the seeds!
Just one good book
We'll get 'em hooked!
Good books about cats
Like The Cat in the Hat!
Great books that dish
Like the one about fish!
So much to do
Horton Hears a Who!
So much to know
Oh, The Places You'll Go!
You won't want to stop
Hop on Pop!
If I Ran the Zoo
It's all really true!
Honor Dr. Seuss and take a look!
Celebrate Dr. Seuss—read a goodbook!"
-Written by blog's author, Learners Edge's very own Susanne Leslie.
We celebrate you, Theodor Seuss Geisel, with these Read Across America Day activities and resources!
Dr. Seuss left his mark on the world of literacy,and we believe he would be thrilled America honors his March 2nd birthday by celebrating National Read Across America Day!To help celebrate National Read Across America Day, we compiled a list of our favorite resources to help honor Dr. Suess and celebratethis literacy holiday.
But enough about our favorite resources, we would like to know more about you and your thoughts!
Will you celebrate National Read Across America Day on March 2nd, and if so, how will you celebrate?
Tell us how you use Dr. Seuss' books in your classroom and with your students!
Who are some of your favorite children's authors, and why?
What are some of the books your students are currently reading?
Do you recall reading any of Dr. Seuss' books when you were growing up, and if so, which one was your favorite, and why?
Besides National Read Across America Day, are there any other literacy celebrations you celebrate with your students?
If you wrote a children's book, what type of book would you write?
If you could tell Dr. Seuss something about the books he wrote and the legacy he left behind, what would you say?
Today you are you! That is truer than true! There is no one alive who is you-er than you!
You have brains in your head. You have feet in your shoes. You can steer yourself any direction you choose.
The more that you read, the more things you will know. The more that you learn, the more places you'll go."-From the book "Oh, the Places You'll Go" (a popular graduation gift!) by Dr. Seuss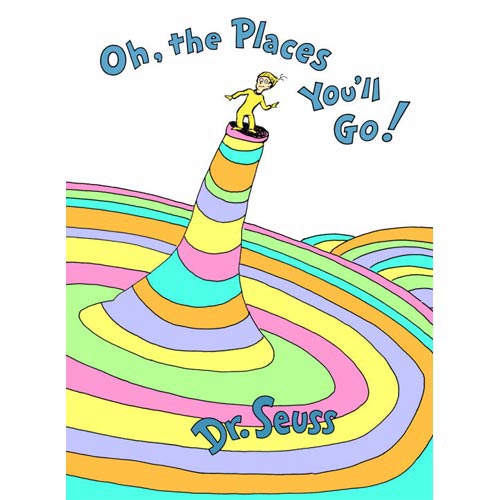 Image credit: Illustration by Dr. Seuss from the book Oh the Places You'll Go
Looking for other ways to get students exciting about literacy? Learners Edge offers over a dozen Literacy courses designed to help you foster your students love and passion for reading and writing.
***
Learners Edge is passionately committed to providing you with continuing education coursework, materials, and tools that will help you succeed in your classroom and in your career.
Offering more than 100 print-based or online courses for teachers, you can earn the graduate credit you need for salary advancement and meet your professional development needs. Contact us today to get started!