Teachers and parents team-up for education outcomes each year and play to win for the sake of their child, our student. Just as each student brings a unique set of strengths and challenges, so do the parents. It's our job to inspire and educate all our students based on their individual needs, which means we must also inspire, educate, and tag-team with parents to ensure our combined efforts result in progress and success for their child, our student.
Who are these parents of our students?  They're the human beings who brought a child into this world and are responsible for his/her growth and development. They could be going it alone or navigating a parenting partnership (either cohabitating or living separately). Maybe they were raised by healthy, helpful role-model parents or perhaps absentee parents who neglected their responsibilities. Parents meet up with us at different ages and stages of life, some well-educated, some not. Sometimes we see them "too often" and sadly sometimes we never even meet them. Even though parents aren't present and visible to us daily, they come to class intertwined with the personalities and needs of our students. Despite huge differences, it serves us well to consider this commonality of all parents:  
Virtually every single parent wants us to be successful in our work so their child will grow and learn.
I confess, I haven't formally researched this premise. I claim it as common sense. If we teachers are successful, students will make gains – even thrive – during our school year together. Even though we understand our students academically and developmentally, it's still a daily puzzle of how to engage and motivate maximum learning for each student. Add to that daily hustle, a parent in turmoil or one demanding more of your attention or expertise, and you're on your toes earning every penny of your paycheck!
Blending parent personalities and participation is yet another balancing act we perform daily. In teacher training, we've studied how to engage and instruct our students, but hardly ever do we study and perfect our parent-teacher toolkit. Considering the huge impact that parents have on the learning and life success of their child, we must take our relationships with them very seriously and develop strategies to engage them in the teamwork that will make all the difference.
Here are some simple, sensible tips to improve or inspire your parent-teacher communication. I challenge you to add just one of these ideas to your teaching game-plan:  
Always, always contact parents before there is a problem – positives first and foremost! Engage the elements of surprise and delight, setting a tone of openness and genuine caring for the success of their child. Later, if a problem situation occurs, communication will be easier and effective because it has been established and is growing.
Communicate through texting – it serves in real-time, it's quick, and it's accessible. Yes, the personal phone number can be a concern or question – it may not even be allowed by your district policy. But, in critical cases of students who need more family support, texting could be the one, relevant and successful way to create a flow of contact with a parent.
Be a listener in every connection or communication. Share a little – listen a lot!
Create other communication routines and tools (websites, newsletters, nightly notebooks, phone apps.) Have students document and share classroom and school events and experiences with parents. This can be developed as an ongoing writing or learning reflection activity for students each week or month. Dedicate yourself to adding one more parent communication piece to your lesson planning and professional goals.
Use surveys or letters to collect parent responses – feelings, concerns, hopes, etc. An online survey tool with 5 quick questions could be sent via email or even text! This will demonstrate your dedication to relationship-building and intentions to know and support each child and family in your classroom. For another, more in-depth parent survey example, download our sample parent survey below
Individually invite parents in (text, email, call) – don't expect them to come in or call you based on a generic school newsletter notice. Take the initiative to reach out personally to show that you care and value parent efforts to connect and collaborate for the good of their child.
Try a home visit – they're highly effective in building rapport and trust with parents. School or district policy must be followed, but if there's a protocol in place – grab on to this opportunity to meet parents where they are – at home, or another off-school site like a local coffee shop. From Pre-K through high school, educators are willing to reach beyond their classrooms to parents who can't – or don't show up at school.
As both an educator and a parent – I have sat on both sides of the conference table. I've been on both ends of the phone call, celebrating successes and discussing challenges. I'm humbled by both roles. I share from experience, but mostly from my heart: parents and teachers as teammates will score wins for any child.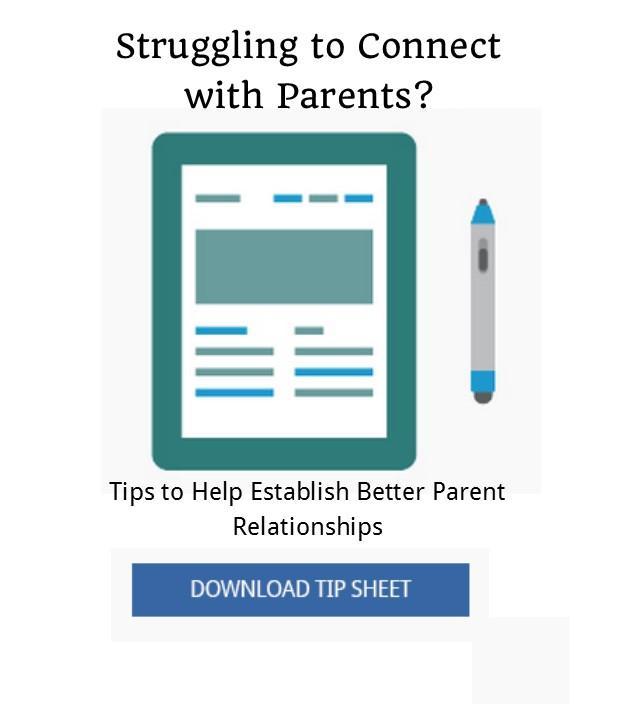 Looking for more recommendations on how to build better relationships with parents of your students? Check out our recommended Learners Edge courses below:
Learners Edge is passionately committed to providing you with continuing education coursework, materials, and tools that will help you succeed in your classroom and in your career.
Offering more than 100 print-based or online courses for teachers, you can earn the graduate credit you need for salary advancement and meet your professional development needs. Contact us today to get started!