High school is a pivotal time for students for many reasons. Youth are entering a new school. They are discovering more about their identities and exploring their beliefs, and it is a time when they become more familiar with current events and civic issues. Teenagers are making sense of important social causes that impact their communities and themselves.
As Texas heats up with 2018 midterm elections, people demonstrate their allegiance to various candidates in a multitude of ways. All eyes are on the Lone Star state and the senate race between the incumbent republican Ted Cruz and democrat Beto O'Rourke. Yard signs championing one candidate over the other have slowly crept across the landscape.
It's natural for high school freshman to be hesitant in engaging in a political discussion. Some may not feel they have enough knowledge. Others may fear being at odds with peers. Still others have families that avoid such talk. It thereby becoming a sort of taboo.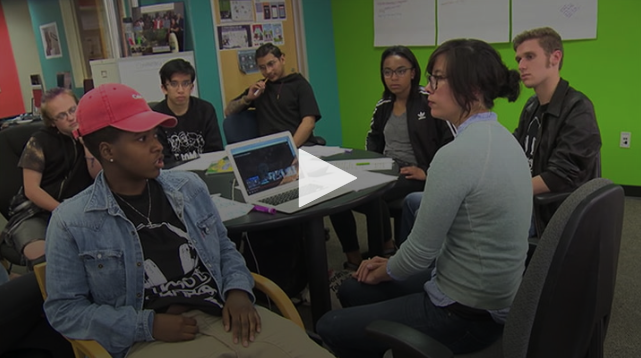 VIDEO: Preparing Youth for Civics & Politics in the Digital Age
But these fourteen and fifteen year-olds will be voting in a few years…. Or not voting as previous elections have indicated. How can we expect young voters to make an informed choice about who should represent us in public office? Certainly, this information doesn't appear magically in their heads. It takes time to create an environment where they feel safe to explore diverse ideology. It takes purposefully designed learning experiences where they feel inspired to take risks. It takes patience to meet them where they are and taking it from there.
Learners were invited to take 30-minute walks around their neighborhoods. They were asked to take pictures of any campaign signs but also to take notice of anything that drew their attention. Seeing political agency around them in nearby yards on the corner of their streets, in front of local establishments, situates learners in an environment that is civically engaged. They begin to question what that means, why certain neighborhoods may demonstrate their political leanings more than others, what urgency exists.
Afterwards, learners reflected on the experience, and a range of engagement became evident. Some were still hesitant and wanting to play it safe in terms of taking sides. Others were actively entertaining questions and internalizing what this political display means to them. Still others, seemed to be waiting for the opportunity to discuss these political topics having been more aware than their peers from the beginning.
Examining political engagement by situating learners in their own neighborhoods encourages youth to internalize that we are all influenced by civic issues. Contextualizing political advocacy as something they encounter on a daily basis during a walkabout through familiar places helps students recognize that these issues are all around them. They live amidst opinions and activity that indicate belonging to a participatory community.
From their walkabouts, youth, too, are able to form their own opinions. They are able to advocate for their own causes. They are able to become informed and make choices based on that information. It can be said a journey…. Even a journey to civic engagement begins with taking one step at a time.
You can read their stories here: