Toss out that lesson plan book, it's time to go digital!
If you're still using one of those lesson plan books, or(*gasp*) sticky notes to plan your weekly lessons, it's time to upgrade. I went digital years ago and haven't turned back since!
Why digital?
You have complete control over the design and layout of your lesson plan page
Formatting tools (color, font, size) allow you to emphasize components of your lesson
You can collaborate on your lessons with others or simply provide access to view
You can embed direct links to supplemental documents, websites, and videos
Changes can be made easily and in real-time so all collaborators are updated
Save time planning daily or weekly routine activities with the copy/paste function
Access from any device or computer by logging into your Google Drive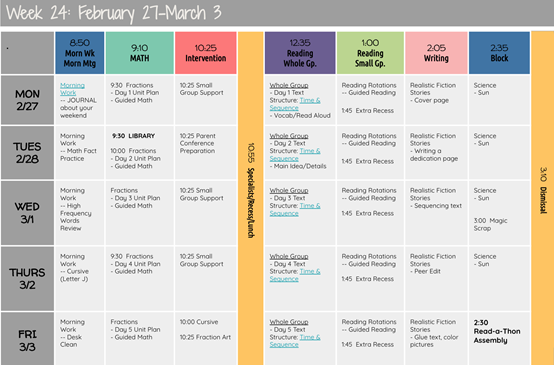 Are you convinced?
Download our custom digital lesson plan template created using the "Swiss Army Knife" of tech tools—Google Slides. We've found the Google platform to be the most versatile, offering the features that make going digital irresistibly easy. Get started by adding our template to your Google Drive and have at it! Use the formatting tools to customize colors, subjects, times, etc. to your liking. Input all of your weekly activities, share with your colleagues, and enable commenting for easy collaboration. If you'd like a little more direction to navigate Google Slides or would like to know how to create your own template from scratch, check out our Digital Lesson Plan Tutorial below. We'll walk you through the process of creating the ideal layout based on your daily schedule, formatting for an organized look, and building in efficiencies with copy/paste, collaboration, and document linking.
Remember: Your newly created digital lesson plans are a work in progress.  Don't be afraid to adjust the components to fit your changing needs throughout the year.  That's the beauty of using a customizable, digital platform for lesson planning!  Now go forth and create!