LOS ANGELES, CA – Insight Education Group, an international education consulting organization, and Insight ADVANCE, a video-based instructional coaching platform, have joined the Learners Edge organization, which includes iteach, Lavinia Group, Teaching Channel, and Learners Edge. The combined organization supports the complete lifecycle of the educator journey from initial certification and licensure, to coaching, professional development, career advancement courses, master's degree attainment, and educator-aligned strategic planning.
Founded in 2000 by Dr. Michael Moody and Jason Stricker, Insight Education Group offers strategic planning and instructional coaching programs designed to increase educational achievement for all students. Insight has worked with over 250,000 educators from more than 100 school districts in the United States and globally in the company's two-decade history. Recently, Insight was awarded a Teacher and School Leader Incentive Grant from the U.S. Department of Education for the organization's Empowering Educators to Excel (E3) program, a partnership that provides 47 schools in Delaware, Indiana, South Carolina, and Texas the opportunity to work together in a networked improvement community (NIC) context.
Insight ADVANCE, also founded by Dr. Moody and Mr. Stricker, is an award-winning video platform that supports educator self-reflection, peer feedback, and instructional coaching. The efficacy of Insight's approach has been documented in prominent studies like the Bill and Melinda Gates Foundation's Measures of Effective Teaching Project and The Best Foot Forward Project from Harvard's Center for Education Policy Research.
Says Dr. Michael Moody, "A guiding principle of our work is to build on the synergy of existing initiatives to support our partner districts in building educators' capacity to accomplish great things with the students they serve. This is complex work that requires both a comprehensive strategy and a focused approach while avoiding unnecessary duplication of efforts. Joining Learners Edge provides us with more tools to support this work."
Adds Jim Hall, CEO, Learners Edge, "COVID has disrupted the mission-critical work of strategic planning, coaching and leadership development for school districts. We are elated to welcome the Insight Education Group and Insight ADVANCE teams to Learners Edge to bolster our capacity to better serve teachers and school leaders."
Welcoming Insight Education Group and Insight ADVANCE to Learners Edge creates additional pathways for the expanded organization to support educators. Learners Edge holds CAEP accreditation for teacher licensure and certification through iteach and has helped more than 25,000 aspiring educators achieve their dream of becoming a teacher. The instructional coaching, educator institutes, and summer RISE programs offered by Lavinia Group have measurably bolstered student outcomes. Districts are increasingly relying on the Teaching Channel and Learners Edge Educator Advancement Courses to better support professional development through online and self-paced formats.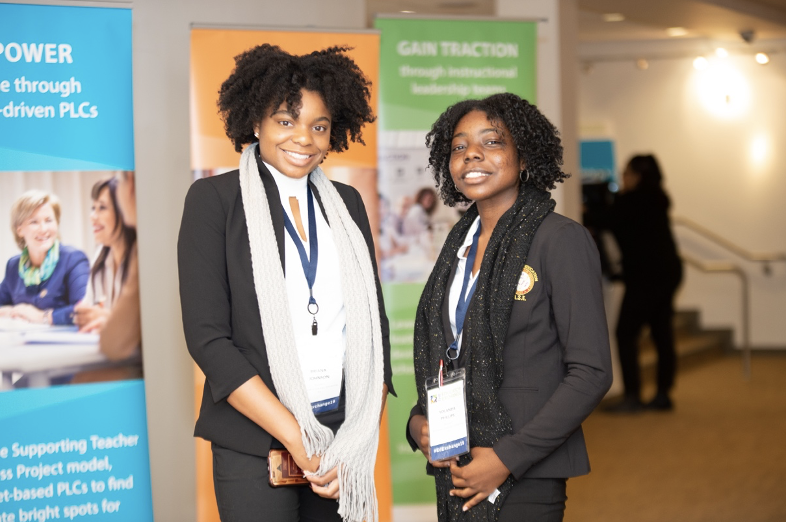 Attendees of the Insight Educator Exchange: Partnering to Recruit More Educators of Color event pose for a photo in November 2019 at the International Civil Rights Center & Museum in Greensboro, North Carolina.
###
About Learners Edge: Founded in 2002, Learners Edge is committed to serving educators throughout their journeys—from initial teacher certification through relicensure, professional development and salary advancement. The team serves districts and educators with unique, best in-class offerings: Learners Edge offers over 120 credit-bearing continuing education and professional development courses for preK-12 educators; iteach is a nationally accredited educator preparation program; Teaching Channel provides video resources and interactive tools for educator development and professional learning; Lavinia Group serves schools in 21 states through school and district-sponsored coaching, educator effectiveness institutes, student curriculum, and summer learning academies. 
About Insight Education Group: Insight Education Group is an international educational consulting organization that partners with education leaders to develop the strategy and confidence to lead bold change. Since 2000, Insight has provided wrap-around supports to K12 teachers, instructional coaches, principals, and district administrators that lead to increased educator effectiveness and ultimately student achievement.
About Insight ADVANCE: Based on years of on-the-ground experience in states, districts, and schools across the country, Insight ADVANCE has developed a suite of products that connects self-reflection, instructional coaching and peer collaboration, and calibration to permanently impact how all educators involved in teacher growth are supported. The ADVANCE Suite of tools breaks new ground in proving how educator observations, whether on video or in-person, can generate data that powerfully drives professional growth.