Strategies for sparking curiosity in the classroom
Curiosity primes the brain for learning. It makes learning more rewarding and helps students learn more, and better. It also improves learning retention and deepens understanding of content. Pretty clear, right? Curiosity is a necessity in our classrooms, and since we are in the business of helping teachers, we thought we would provide you with a list of methods for awakening curiosity in your students.
No-Tech Curiosity Strategies
QUESTIONS: Teach students how to ask quality questions. The Right Question Institute offers resources and training to get students, teachers and even families asking great questions. Their list of FAQ's can provide more answers to your…questions!
FOOD: Use hands-on experiences or food or both. Take a look:
MAKERSPACES: Provide a space where students can "make" or create anything and everything with no-tech or low-tech materials. Curious? Check out our PD course: Making Your Mark with Makerspaces!
OBJECTS: Pique student interest with "things"! Watch as Sarah Brown-Wessling does this with her learners and notice my favorite part of the video…the smiles on the students' faces!
CHOICE: Let them choose! Allowing students to choose what they learn, how they learn it and how they show what they know increases engagement and motivation! It also allows students to follow their curiosities while meeting academic demands. This blog provides a few methods on choice.
---
Technology Based Strategies
TED ED: Ted Ed provides a method for supplementing learning on many topics with video-based lessons and discussion questions! Who wouldn't want to learn about "Aquaculture" or "The Evolution of Teeth"?!Never fear, if "A Brief History of Cheese" is not on your list of standards, you can create your own lessons, too!
VIDEOS: Use video to hook your students. This teacher emphasizes curiosities, questions, and wonders to prime his students' brains for learning.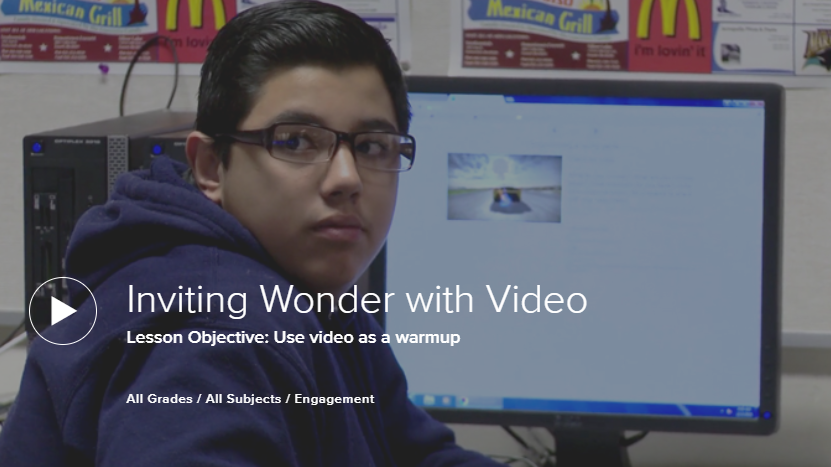 WONDEROPOLIS: Who invented social media? Why do we have nose hair? If a kid can ask it, Wonderopolis can answer it. Beware, it's easy to spend too much time reading informational text on this website! This resource is complete with a Wonder Jar to extend learning to families and a Wonder Ground focused on high quality inquiry-based learning for teachers. I wonder what's next for Wonderopolis!
SMITHSONIAN LEARNING LAB: Teachers can use tons of Smithsonian digital images, recordings, texts, and videos in history, art and culture, and the sciences to create collections for teaching and learning on the Smithsonian Learning Lab! With over 2,000 resources on poems and 200,000 resources on physics, you MIGHT be able to find what you need!
COMMON SENSE MEDIA: Movies that inspire curiosity can be found on the Common Sense Media platform! The list includes age ranges and star ratings! Oh, and if you haven't seen The Goonies, I highly recommend it.
Tell us how you feed minds and awaken curiosity in your classroom!