How does Teaching Channel determine the courses we offer?
Take a peek behind the course writing curtain to learn how we plan our courses for the upcoming year!
We ask you!
At the end of each course, we ask you to let us know what courses you want, need, or think would be helpful for educators using our End of Course Survey. We encourage you to email, call, or live chat with us on our website. You are our best resource!
We invite you!
On our website, we invite you to provide honest feedback about our courses. You have the option of ranking each course with 1-5 stars. We appreciate your honesty, and it helps other educators, too! As a reminder, we are available to guide you through course requirements–or even to change courses–if the situation warrants.
We ask our evaluators!
Our team of 80+ evaluators provide us with insight concerning the things teachers enjoy about our courses along with suggestions for improvement. We especially enjoy when you share how a strategy worked with students to improve learning!
We, too, are always learning!
As course creators, we pride ourselves on our own continuing education. We review textbooks, listen to podcasts (the most recent, "Sold a Story" about the Science of Reading), we follow teachers on Twitter, join teacher Facebook groups, and we read, read, read!
Meet our Curriculum & Instruction team!
With over 60 years of combined teaching experience, and plenty of goodies to keep us nourished (well, as much nourishment as we get from Reese's Peanut Butter Cups and Sour Patch Kids) we meticulously developed our 2023 Master Plan.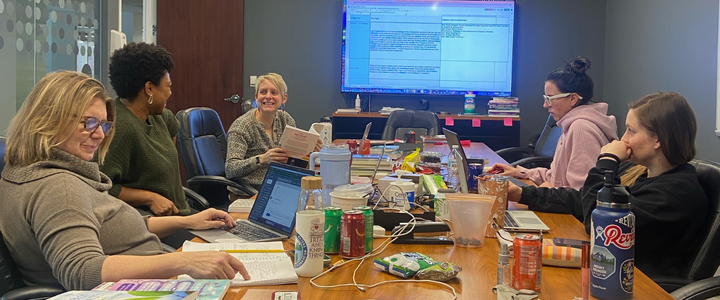 Betsy Butler
When it comes to courses, Betsy (or "BeeBee" as we call her) has a memory like a steel trap! With years of experience managing publisher relationships, book requests, and subject matter contributors, we rely on BB's ability to juxtapose our course history with the forward-thinking needed to plan our docket. As a course writer, Betsy enjoys working with iNDIEFLIX films (now Impactful) when designing courses like 5102: Anxiety Awareness, and 5115: Exploring the Impact of Social Media.
Marcee Harris
Speaking of steel traps, Ms. Harris keeps us all in the know with her knowledge of our company's big picture plans and each of the systems involved. As our Director of Curriculum and Instruction, she does a brilliant job of directing! Remember the Wizard of Oz and "the man behind the curtain?" She is the woman behind the curtain who supports, encourages, and role models hard work. And, Marcee is also our tech leader– learning and exploring the apps, extensions, and tools you see in our courses–especially in our sweet suite of tech courses.
Sarah Murphy
Teachers often tell us how much they appreciate the comprehensive, valuable evaluative feedback provided by Sarah's team of over 80 evaluators. Along with her role as the Evaluation Team Manager, Sarah writes courses as well! Her most recent contributions to our catalog include 5225: Creativity Reboot for the Art Teacher's Classroom, 5242: Physical Education for Fitness and the Future, and 5224: Health Education for Students' Lifelong Wellness. Bravo!
Rebecca Kay-Lewis
Our newest C & I teammate, Becca, brings a depth of knowledge in the areas of math instruction, reading intervention, and very much enjoys responding to your instructor emails! Take a peek at Becca's first K12 Hub blog, "Five Tips to Conserve Your Teacher Energy."
Jessica Price
Another behind-the-scenes stalwart is JP who orchestrates the tech side of the courses, putting them into Canvas–our learning management system, and making them look–dare we say–pretty! This year, Jess wrote 5236: Boosting Classroom Creativity Using Canva, about using the free design tool and her blog, "Our Favorite Things-2022 Teacher Gifts" is going VIRAL!
Susanne Leslie
Whether you call me Susie, Susanne, or Susanne-Rosanna-Danna (long story), I am the woman behind the camera capturing our Docket Day. I've been with Teaching Channel since we were a word-process/print/mail company and helped shepherd our courses into our first LMS. The work we do keeps me learning! Most recently, the courses I created are 5232: Technology for Littles, yet the course I am most proud of creating is course 5233: The Legacy of Racial Injustice based on my trip to the Legacy Museum in Montgomery, Alabama, and the film True Justice: Bryan Stevenson's Fight for Equality.
---
We hope you enjoyed this peek behind the course writing curtain!