Every year at our local middle school, students compete in the Battle of the Books. This is an intense competition testing students on the details of pre-selected adolescent titles. Each team of students divides up the reading of 27-30 grade-level books chosen in October, and they compete in an in-school tournament in February! If you're interested in bringing the Battle of the Books to your school, visit America's Battle of the Books for resources, book lists, and competition styles.
This year, I served as a reader and question creator for the competition, which gave me an opportunity to catch up on reading outstanding, interesting, and culturally diverse adolescent literature. The following titles, in no particular order, represent just a part of the selection available for this year, and I look forward to sharing them with you!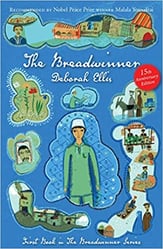 Lexile Measure:
710L
Grade level:
2-12
This book follows 11 year old Parvana as her family suffers loss and desperation at the hands of the Taliban. When her father is taken to prison, Parvana becomes the breadwinner, and re-creates herself as a boy so she can freely shop and move through Kabul without being noticed. As the breadwinner for her family, she claims a place in the market where she reads letters for the illiterate for money as they await information about their father. The Breadwinner is a moving and timely look at what it's like to be a preteen under Taliban rule, and the willpower it takes to survive and keep a family safe.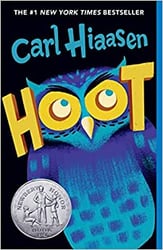 Lexile Measure:
760L
Grade level:
3-8
This book is a fun story of activism that entertains and teaches. When a franchise pancake restaurant begins work on a lot where endangered owls have their burrows, new kid Roy Eberhardt and his new friends do everything in their power to stop the construction, led by a mysterious boy without a name. Adults throughout the book are befuddled and outsmarted with the kids' creative ideas that block progress, as Roy and his friends both do the right thing, and have a good laugh. If you like this story, be sure to check out his related books: Flush; Chomp; Scat; Skink; and Squirm.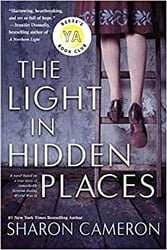 Lexile Measure:
HL650L
Grade level:
7-10
This is a true story of a brave big sister trying to keep her younger sister safe, along with a group of Jewish people who are hiding from the Nazis. Stefania Podgorski learns how to work the system to provide food and shelter for all, even as she hears of the deaths of her family and friends. This is a book that'll keep you on the edge of your seat as Stefania just barely squeaks by, along with plenty of near-misses to evade capture by the Nazis. This is a true testament to courage and the challenges of survival as she walks a tightrope of tests, loyalty, and her own family's safety.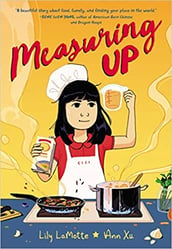 Lexile Measure:
HL360L
Grade level:
3-7
This is the debut graphic novel for Minnesota writer Lily Lamott, who writes about food, family, and friendship. 12 year old Cici just moved to Seattle from Taiwan, leaving her grandmother behind. Her connection to her A-ma eventually ends up leading to a cooking contest, where the winner gets just enough money to fly her A-ma to Seattle to surprise her father. Along the way, Cici finds opportunities to build friendships and learn that everyone's story is unique. You will want to try her recipes, too!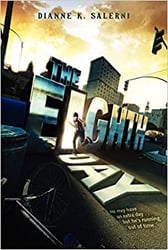 Lexile Measure:
730
Grade level:
3-7
This is a twister of time and tradition! 13 year old Jax Aubrey discovers "Grunsday," an 8th day of the week in which only a certain population can participate. Fearing he is now part of the zombie apocalypse, he questions his guardian, Riley Pendare, who helps him understand how time works, and that he has special powers that are now just being realized. This mix of myth and sci fi moves quickly as it explores loyalty, magic, and doing the right thing – whatever it takes.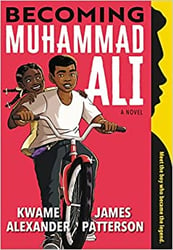 Lexile Measure:
1010L
Grade level:
3-7
Kids seem to love books written with a combination of prose and poetry (see Sharon Creech's Love that Dog and Ron Koertge's Shakespeare Bats Cleanup), which makes Becoming Mohammed Ali particularly appealing to this age group. Through rhythmic stories and poems we learn about the childhood of Mohammed Ali through his own eyes, and the eyes of his family and loved ones. While you follow his story, there are real reminders of what it was like to grow up in 1940's and 50's Louisville, KY in the midst of racism and racial tensions. You'll be blown away by the young Ali's passion and drive as he faced obstacles both in and out of the ring, with just the right amount of humor to keep you laughing.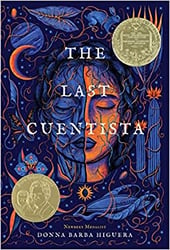 | | |
| --- | --- |
| Lexile Measure:870L | Grade level:5-9 |
This book was one of my favorites, as it prophesied our possible future of settling on hospitable planets. Quickly you learn the values of Petra, her family, and the would-be survivors of an uninhabitable Earth after a direct hit by Halley's Comet. The tenets of Mexican storytelling and the importance of connecting to our ancestors are woven throughout this science fiction tale rich with questions about ethics, values, the responsibilities of the knowledgeable, and the desperate fights to both survive, and to remain ourselves. We cannot exist without our stories to bring us humanity. This one stayed with me for a long time.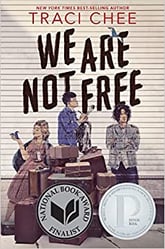 Lexile Measure:
860L
Grade level:
8-12
Written from the perspectives of 14 childhood friends, this book explores the mass incarceration of Japanese-American people beginning in 1942, following the attack of Pearl Harbor. This group of friends share their stories as they are evicted from their homes, and find themselves and their families in the same internment camp. Through their eyes, we learn about the conditions of the camps, the infighting and conflict tension between groups, the duties of citizenship, and the challenges of trying to live in a country that has turned against them. I loved the teenage perspectives on dating, enlisting, and trying to make the best of an untenable situation.
We hope this has inspired you to check out these fantastic titles. We'd love to hear your favorite adolescent lit titles, too!
Note: While we've linked the books to Amazon for convenience, we support purchasing these titles from an independent bookstore, or checking them out at your school or local library.
Learners Edge is passionately committed to providing you with continuing education coursework, materials, and tools that will help you succeed in your classroom and in your career.
Offering more than 120 online courses for teachers, you can earn the graduate credit you need for salary advancement and meet your professional development needs. Contact us today to get started!