Decades of research on the science of learning tells us that if you want an engaged community of learners, build in choice! Your students will be more motivated to learn and actually perform better. An added benefit for teachers– you'll get much more interesting work to grade!

Choice boards are a great way to add variety at the end of a busy school year, providing students with differentiated options for process, product, or content.
But with limited planning time, educators often feel like there's little time to research, plan, and prepare multiple options for assignments and activities. So how can you build in easy options with little prep? Try a choice board! We've gathered some of our favorite templates to build in choice, but save you time. Just grab a template, modify it to fit your curriculum, student grade level, and style, then go!
From @historysandoval | This template provides the perfect guide for students to explore or review a topic, then show what they know.
Famous Scholar of the Week Choice Board
From @venezia_megan | Modify this slide template for biography studies, history units, or cultural explorations.
Famous Scholar of the Week Choice Board
From @MeehanEDU | From "Virtual Reality Museum Creator" to "Tik Tok Video Producer," this comprehensive choice board gives students 25 different ways to demonstrate learning.
Slides Mania offers a TON of choice boards to choose from. We couldn't pick just one! Search for a template that suits your needs.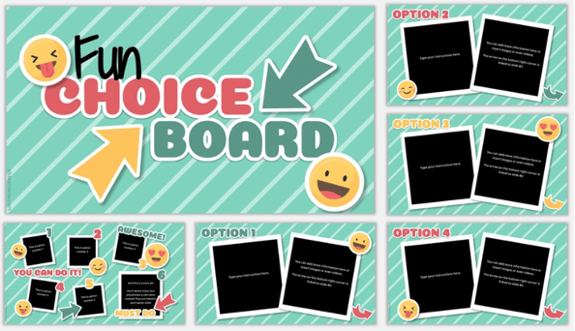 Check out the versatile template collection from SlidesGo, too!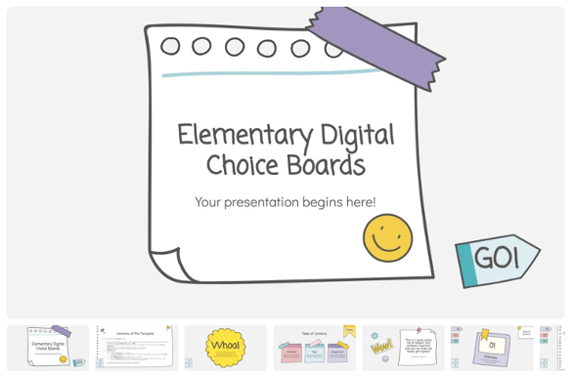 Bonus tip!
Create some fun and motivate your students with a little art to compliment your choice board activities!
Learners Edge is passionately committed to providing you with continuing education coursework, materials, and tools that will help you succeed in your classroom and in your career.
Offering more than 120 online courses for teachers, you can earn the graduate credit you need for salary advancement and meet your professional development needs. Contact us today to get started!