This week's blog post writer, Susanne Leslie, is a Curriculum & Instruction Specialist with Learners Edge. Prior to joining the Edge, Susanne worked as a Parent Educator in Early Childhood Family Education (ECFE) with parents of 0-5 year olds which, we think, gives her special insight into the importance of being little. Susanne is the proud parent of two daughters.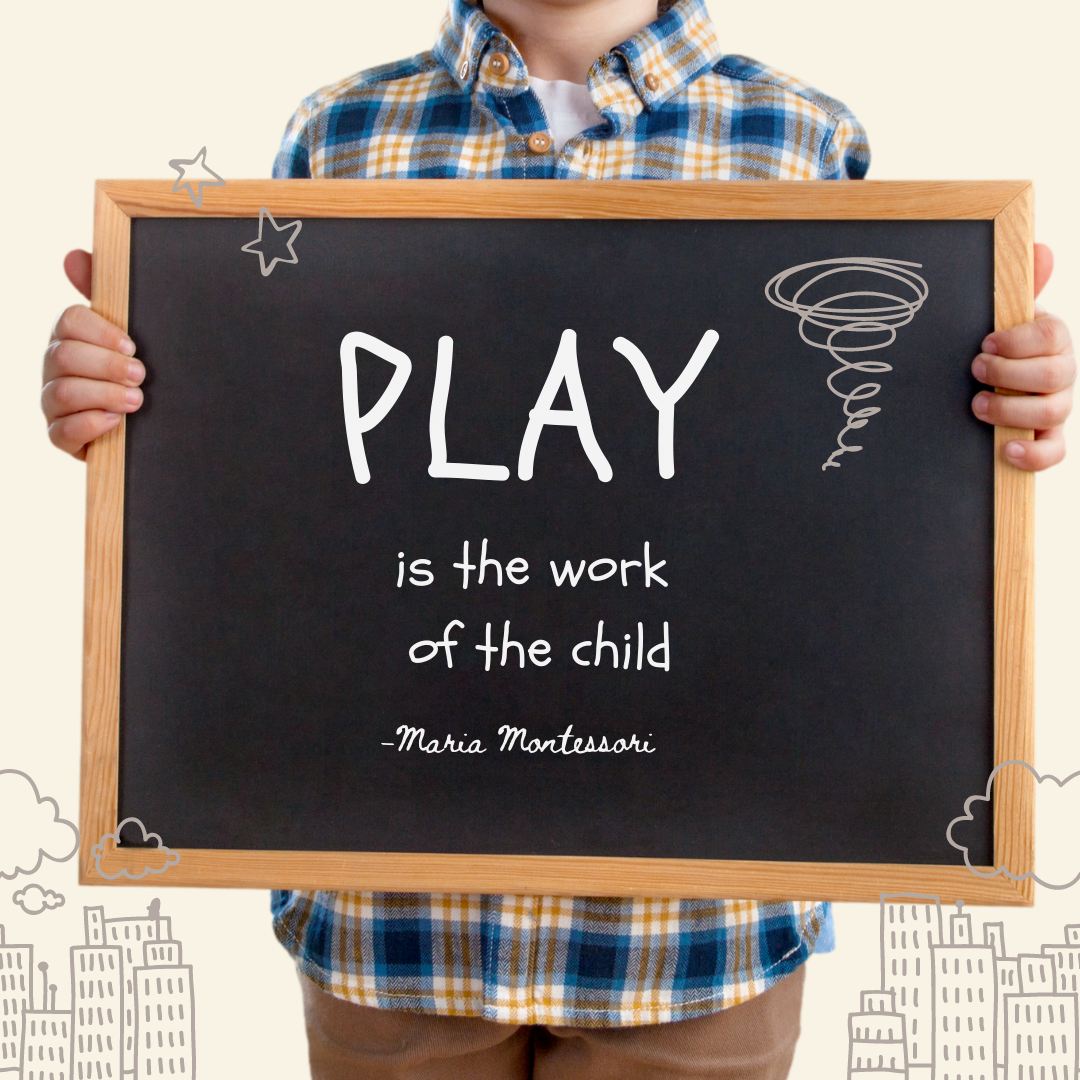 Explored their imaginations in the dramatic play area, dressing up and pretending to be teachers, doctors, fire fighters. Some taking charge and leading, others following
Discovered the "give-and-take" of friendship, like playing cooperatively and practicing giving directions and asking questions
Grew in their understanding about consequences when they were forceful, quiet, boisterous, or if they didn't share, or take turns
Scooped, poured, measured at the sensory table, learning about cause and effect, physics in action
Blew bubbles outside into the cold air, estimating how long the bubbles would take to freeze, science and predictions
Squeezed, rolled, picked up, and sliced the colorful Play-Doh and "goop," designed to develop hand strength needed for grasping and writing
Climbed, reached, ran, and soared- acquiring strength, agility,and dexterity, using their designed-to-move bodies as they made brain and body connections
Paged through books looking at pictures, pretending to read and growing more confident with words and sounds
Combining, taking away, or adding blocks, guessing how many would fit in an area, learning about spatial relationships and math
Swirled and swayed to music, learning kinesthetically, and discovering the mechanics of movement
Play is not more important than science, literacy, physics, and math. ItISscience, literacy, physics, and math.
If playing is happening in my classroom I am looked down upon
I've been told my students should be in their seats doing pencil and paperwork to prepare for first grade
Pressure not to play often came from principals whose background was in high school teaching and had no experience with early childhood education
An administrator told me "You are going to stop singing and start teaching, right?"
Teachers feel pressure to call play centers "developmental centers," "work centers" or to describe play as "active learning"
A teacher suggested that dramatic play centers should be removed from kindergarten classrooms because "there is a time crunch and not enough time for play"
Losing play in the classroom is having detrimental effects on children. One first grade teacher noted that students are arriving in the primary classroom with weak hand control, unable to grasp, which he attributes to the loss of play, specifically, the removal of manipulatives like Play-Doh, used to increase hand strength when children are young. Many teachers are experiencing the burden of ever-increasing sit-still time, particularly in literacy instruction, math instruction, testing, and test prep. Educators are being asked to teach young students things they are not yet developmentally ready to learn (Miller & Almon, 2013).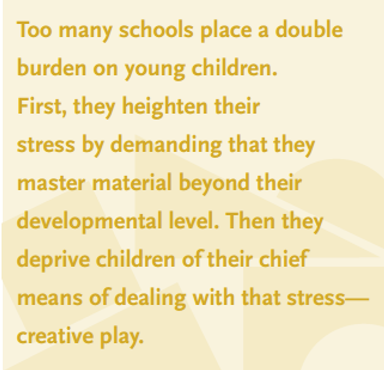 Centers for Disease Control reports 14.4 million children and adolescents are affected by obesity in the U.S.(CDC, 2020).
Want ideas for bringing play back to the classroom? This FREE, on-demand webinar showcases Parent Educator and Teacher of the Year Katy Smith as she shares what the research says about the importance of play, how loss of play affects students, her ideas for getting play back into the classroom, and how you can become a play advocate.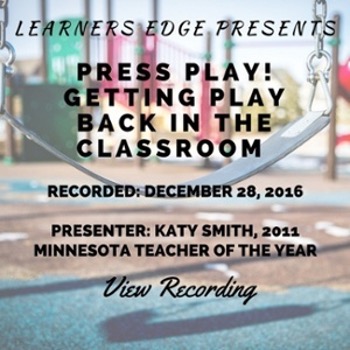 Play can be challenging if one has never played. Self-directed play can feel foreign to young teachers who grew up with cell phones and organized sports. It's important for students, but it is just as important for teachers to play, too.
Whether you're having a good or tough day, remember…play!
---
References:
At Google a Place to Work and Play (2012, March 16). Retrieved from http://www.nytimes.com/2013/03/16/business/at-google-a-place-to-work-and-play.htmlRetrieved 12/2016.
Childhood Obesity Data. Center for Disease Control. Retrieved from https://www.cdc.gov/obesity/data/childhood.htmlRetrieved 12/2016.
Dodge, T. D. (2010). Research Foundation: The Creative Curriculum. teachingstrategies.com
Gray, P. (2011). The Decline of Play and the Rise of Psychopathology in Children and Adolescents. American Journal of Play. journalofplay.org
Lewis, L. (2016). Play: The foundation of children's learning. Red Leaf Press. St. Paul, MN.
Lynch, M. (2015). More Play, Please: The perspective of kindergarten teachers on play in the classroom. American Journal of Play. journalofplay.org
Miller, E. & Almon, J. Alliance for Childhood. Crisis in the Kindergarten: Why children need to play in school. allianceforchildhood.org Retrieved 12/2016.
Pink, D. (2006). A whole new mind: Why right brainers will rule the future. Penguin Group. New York, NY