Editor's Note: This is the first of seven blogs from our friends at the Right Question Institue (RQI), a nonprofit educational organization. RQI makes it possible for all people to learn to ask better questions and participate more effectively in key decisions. Their free, easy to use resources have techniques for formulating and asking questions that will engage your students and increase their curiosity.
Imagine starting your first unit of the year not with what students know, but with what they wonder. What would your students ask?
In classrooms across the country and in different corners of the world, teachers are finding ways to drive learning with questions like these, asked by real-life students:
What would happen to the tides if we woke up one morning and the moon disappeared?
How does the sun's power get into you?
If everyone were the same, would we still have stereotypes?
Is the American Dream a little less true for some people?
Why can't you divide by zero?
What would teaching and learning look like if every student in class was asking questions like these? What else might then be possible?
Take a Look at QFT in Action
QFT in Action from RightQuestion on Vimeo.
Why Spend Time on Student Questioning?
Most people intuitively understand the value of a good question. It can spark new ideas and innovations. It can build understanding and strong relationships. It can challenge and provoke.
Research suggests that questioning can support metacognitive learning, enhance memory recall, build literacy skills, and strengthen interpersonal skills and empathy.
Yet, it is rare that students are deliberately and explicitly taught this skill.
Many educators want their students to ask thoughtful and driving questions, however as soon as children begin formal schooling, question-asking seems to decline. According to Harvard Professor Paul L. Harris, young children ask an estimated 10,000 questions per year at home, but they ask significantly fewer questions at school. Newsweek reported that, "preschool children, on average, ask about 100 questions a day." However, "by middle school they've pretty much stopped asking." A study of college graduates found that only 27 percent believed they had developed their ability to ask questions.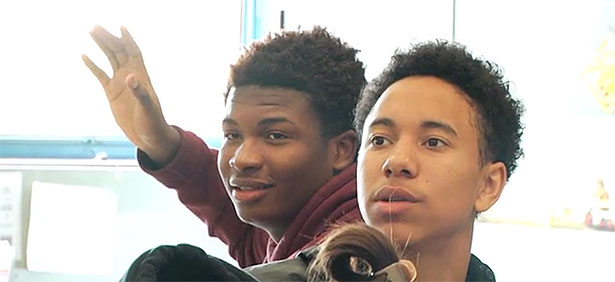 And often, the students who are not asking questions are those who could most benefit from developing this skill. One study found lower-income students asked fewer questions than their moderate-income peers. Another found low-achieving students, as they moved through the grades, asked fewer and fewer questions compared to students of other achievement levels.
How can educators foster a learning environment where all students are able to guide their own learning and feel the greater sense of ownership that student-centered inquiry promotes?
The Right Question Institute
At the Right Question Institute, we've given a lot of thought to questions and curiosity. We believe question-asking is an essential skill for every individual. It's a life skill that people can use to engage in deep learning and participate more effectively in decisions that affect them. By developing this skill, students can hone new democratic habits of mind. Read the full overview here.
We work with educators across the country to advance a simple, powerful method for teaching this skill. It's called the Question Formulation Technique, or QFT for short. This blog series features eight educators from five states who have used the QFT with students of all ages, from first grade through community college, and they share their experiences and advice. These blogs will continue to be published over the next few weeks.
This blog series includes contributions from eight educators working at all grade levels.
We hope you enjoy these educators' insights. To access free classroom resources, instructional videos, and collaborative tools for sharing the QFT with colleagues, we invite you to visit us at rightquestion.org.