Over 10 years ago I first explored the educational benefits of using improvisation in the classroom. Since then, thousands of K-12 teachers and students have been exposed to the educational benefits of improvisational games. What makes improvisation such an engaging and effective learning experience?
The impact that improv in the classroom has on learning can be directly linked to the current thinking on Social Emotional Learning (SEL). As educators, we know that when students feel connected and emotionally involved in their learning experiences, they reach higher levels of learning and understanding. Learning becomes an active and engaging experience, rather than a passive one.
The SEL-Improv Connection
Improvisation is based on the following principles: ensemble building, teamwork/sharing focus, and full commitment to the idea that all ideas are valuable – a principal known in the improv world as "yes…and." During a classroom improv game, the teacher provides feedback and assistance via side coaching, offering insight and positive suggestions while keeping the activity's flow moving. Regular practice with the improv activities results in teams of students who are adept at creative problem solving and emotionally prepared to engage in deep and personal learning experiences. They are comfortable with personal and authentic reactions to content discovery and skill review, both their own reactions and those of their peers.
As illustrated in the chart below, the principles of improv are all linked to SEL Guiding Principles. Let me explain.
In improv, ensemble is about building a community where there is trust and support. As I teach the concept of ensemble to educators and students, I find myself explaining, "In the improv world, it's my job to make my fellow ensemble member look good. I need to take care of my ensemble." Improv practitioners quickly understand that when we have trust and support within our learning community, we can comfortably take greater risks. This opens us up to make more personal connections and results in deeper learning experiences.
The next principle of improv, teamwork/sharing focus, is about sharing the spotlight. There are no "solo performers" in educational improv. Instead, students practice creating and learning as members of a trusted and supportive ensemble. They learn to share the spotlight and also willingly offer it to others.
And finally, the most well-known improvisation principle is Yes..and. Simply put, in improv all suggestions are embraced, accepted as a means to develop and deepen ideas and critical thinking. Improvisers build on each other's contributions; they don't negate or devalue them. Yes…and is the beating heart of improv.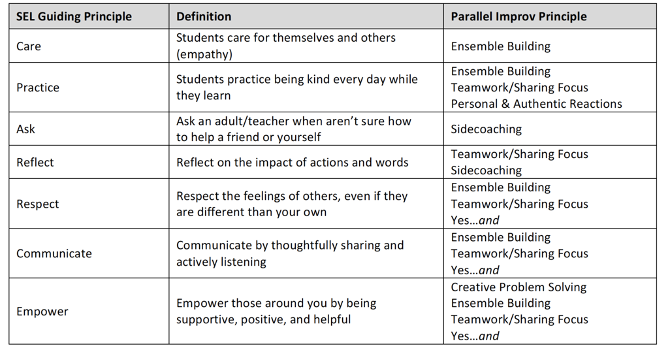 Not only does improvisation develop SEL in our students, but it is also a powerful tool for developing literacy skills and content knowledge. Classroom improvisation activities increase student confidence activities and competence in problem-solving through active and engaging exercises. Improvisation develops self-awareness as students find ways to express their ideas, opinions, and feelings through physical action. During improv exercises, participants are required to analyze and think on their feet. They grow intellectually and emotionally as they speculate, reason, and predict. This is an almost direct parallel to what is today called social-emotional learning – and this is why improvisation absolutely belongs in our 21st-century classrooms.
Teachers quickly note the connections as well. As one teacher reflected (during a pre-COVID workshop in Santa Rosa, FL), "They had us up and moving, experiencing, thinking, doing the improv games. We were actively learning- just like we want our students to learn!"
---
Smith, K., & McKnight, K. S. (2009). Remembering to Laugh and Explore: Improvisational Activities for Literacy Teaching in Urban Classrooms. International Journal of Education & the Arts, 10(12), n12.
Spolin, V., & Sills, P. (1999). Improvisation for the theater: A handbook of teaching and directing techniques. Northwestern University Press.
McKnight, K. S., & Scruggs, M. (2008). The Second City guide to improv in the classroom: Using improvisation to teach skills and boost learning. John Wiley & Sons.
Robinson, K., & Lee, J. R. (2011). Out of our minds. Tantor Media, Incorporated.
Robinson A.H. (2019) Frameworks and Methodologies for Understanding Arts Integration with Culturally Diverse and Struggling Learners. In: Costes-Onishi P. (eds) Artistic Thinking in the Schools. Springer, Singapore. https://doi.org/10.1007/978-981-13-8993-1_12