My grandmother was a janitor at the Minneapolis Public Library. She loved to read and was happiest when surrounded by books. Every day, our loved-to-read-grandma called my brother and me to see how we were and to gently ask, "What are you reading? "She taught us no matter how the day goes, a book is a friend waiting for you when you get home. Grandma Lucille taught us a love of reading.
20 years later and, just like grandma, I too, wanted to instill a love of reading in my children. One day, trailing my 8 and 6-year-old daughters down a jet bridge, we made our way to our seats and I watched as they unzipped their Barbie and Winnie the Pooh roll-aboard bags, found their books, stowed their bags, buckled their belts, and started to read. I celebrated inside!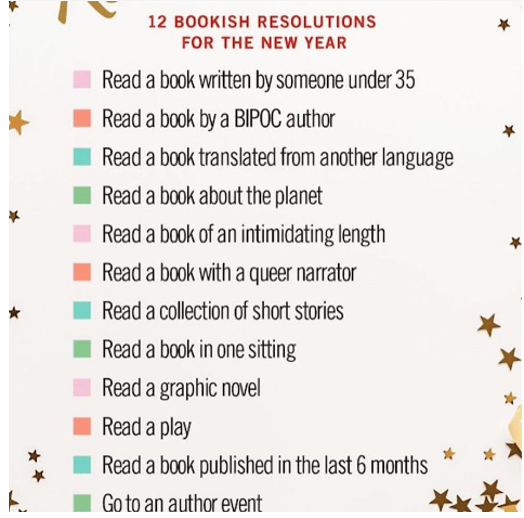 Another 20 years later, and I am meeting with our Curriculum & Instruction team and we are talking about books. Routinely and regularly, we discuss textbooks for courses, and when there is time, we share what we are "reading for fun." Our recent book conversation brought me back to the graphic above, which I'd posted to Instagram on New Year's Day, 2021. I had good intentions, but like many of us when it comes to New Year's resolutions, I didn't meet the mark for all of the books on the list so I am trying again in 2022! Let's give it a go!
Resolution 1: Read a book by someone under 35
Remember 35? Finding authors' ages used to be challenging, but not anymore. A quick search of "Best books by authors under 35" and this article, "Authors Under 35 to Watch," from Penguin Random House pops up. Peek to find one that interests you, read it, then cross Resolution #1 off your list!
Resolution 2: Read a book by a BIPOC author
A favorite task of mine on the Curriculum & Instruction team is to peer review courses written by colleagues. One of our talented writers recently wrote a course that included links about diverse books for children:
This "Best Books Written by BIPOC Authors" includes best-sellers like The Kite Runner and Know My Name (I recommend both!) plus many more. The gorgeous and intriguing covers of these "Books by BIPOC Authors" from Everymom.com, makes me want to crawl under the covers and read, read, read.
Resolution 3: Read a book translated from another language
The first book that came to mind when I saw this resolution was Crime and Punishment—required reading for a college class, then The Diary of Anne Frank—a must read for all humans, the tragic Anna Karenina, the brilliant On Earth We are Briefly Gorgeous and Don Quixote—if for no other reason than to understand what the word "quixotic" means. What books pop into your head when you see Resolution 3?
Resolution 4: Read a book about the planet
Oh, how I loved this light, lofty list of "Books for a Better Planet, 9 Earth-Friendly Reads" for youngsters about the earth! The ideas from Read Brightly, whose tag line is "Raise Kids Who Love to Read" put pep-in-my-step and made me feel like a kid again!
For grown-ups, Re-generation, Ending the Climate Crisis in One Generation, by Paul Hawken gets 5 stars on Amazon, and hurry, there's no time to lose. Also, Atlas of Our National Parks, by Jon Waterman is beautiful, restorative, and may motivate us to head on out and explore them all.
Resolution 5: Read a book of intimidating length
As they say, "Beauty is in the eye of the beholder." Similarly, "intimidating length" is subjective. One long book I loved was The Goldfinch, a Pulitzer Prize winner by Donna Tartt. There is a sense of accomplishment that comes from reading lengthy literature. This list of books from Mind Boggle are considered "long but worth it." Guess which book made the cut?
Resolution 6: Read (or listen) to a book with a queer narrator
IMHO, one of the best podcasts out there is, We Can Do Hard Things with Glennon Doyle, Abby Wambach, and Amanda Doyle. Listen as you walk/clean/cook/work/exercise, or if you'd rather listen to a book, this list of "Best LGBTQIA Books" from Audible should do the trick!
Resolution 7: Read a collection of short stories
On Sunday afternoons, I occasionally travel by car and want entertainment. If I plan my timing right, I get to listen to The Moth Radio Hour. Remember when you were a kiddo and someone would tell you a story and you'd hang on every word? If you want to relive those times, or just have a healthy chuckle, tune in! This link brings you to an aggregate of Moth storytellers. There are even books from The Moth like, All These Wonders: True Stories About Facing the Unknown, and How to Tell a Story, due in April, that may strike your fancy!
Bonus: The Moth offers curriculum and resources for teachers and even a Moth Teacher Institute—because they know storytelling is an art and a powerful teaching strategy.
Resolution 8: Read a book in one sitting
It's been done, but only on vacation, during a snowstorm, or if the book is—short. The books I've read quickly are Eleanor & Park (loved), Gone Girl (rainy weekend) and I Know Why the Caged Bird Sings (must). To help you meet the mark on this "one sitting" resolution, try children's or young adult (YA) books. Guess how Jeopardy champion James Holzhauer learns?
Resolution 9: Read a play
My daughter loves the musical Hamilton. She's seen it, she's sung it, and she's read it. If only we'd grown up learning U.S. history with a production like Hamilton! Although I'm told I get the lyrics all wrong, my favorite song from the musical is, Aaron Burr-Sir—and now I know exactly what happened between the bursar and Alexander. Plays and musicals, such miraculous learning and teaching tools! This list, "Plays to Read in Your Classroom" from The Daring English Teacher, includes 5 recommendations.
Resolution 10: Read a graphic novel
When my Hamilton-loving-daughter (*see Resolution 9, above) was little, she liked to read comic books. Although not exactly the same as graphic novels, there are some similarities. She enjoyed them, and they helped her become the reader she is today. Billed as "graphic novels English teachers love," this list of 20 Graphic Novels from Secondary Sara includes titles like Fahrenheit 451, Beowulf, Maus, and more.
Resolution 11: Read a book published in the last 6 months
If your goal is to accomplish just one of the resolutions of these 12, this is it! Study the New York Times list of best-sellers and go from there. There are best-sellers for hard-cover, paperback, fiction, non-fiction, young adult, and children's books. Hint: If you don't want to subscribe to the virtual or paper Times, you can find their list on the Barnes & Noble website.
We will even give you a little wiggle-room on this one, that is—find a book published in the last 6 months, or a book that has been on the best-seller list for many weeks—tomayto, tomahto. Lesson idea: Discuss New York Times best-selling book lists and authors with students. What are their favorites?
Resolution 12: Go to an author event
Ta-da! Number 12! There are many in-person or virtual events—and it is always interesting to see if the author lives up to our version of who we think they are. One author event that comes to mind is journalist Katie Couric's tour where she promoted her autobiography Going There. Full disclosure, I'm reading it.
Good luck with all 12 of the bookish New Year's resolutions, and Happy 2022!