Get your class ready for February 1st!
What if there were a panacea for all that was broken in the world?
There's one solution that could better our lives, advance our civilization, inspire innovation, and build bridges within our society. World Read-Aloud Day is a gigantic step in that direction.
We can overcome our divisions in a world that is more connected than ever by reading about one another, cultures, and philosophies unlike our own. The information is there. We just need to consume it! There are many layers to this, but truthfully, it can all start with reading.
Allow us to convince you!
"Many people, myself among them, feel better at the mere sight of a book." – Jane Smiley
"Libraries will get you through times of no money better than money will get you through times of no libraries." – Anne Herbert
"If you are going to get anywhere in life you have to read a lot of books." – Roald Dahl
"Show me a family of readers, and I will show you the people who move the world." – Napoléon Bonaparte
"One glance at a book and you hear the voice of another person, perhaps someone dead for 1,000 years. To read is to voyage through time." – Carl Sagan
"Think before you speak. Read before you think." – Fran Lebowitz
"The reading of all good books is like conversation with the finest (people) of the past centuries." – Descartes
I'm relatively certain that the folks who said these amazing things would endorse an event like World Read Aloud Day, so please visit the LitWorld website to learn all you need to know. Check out the number of registrations so far: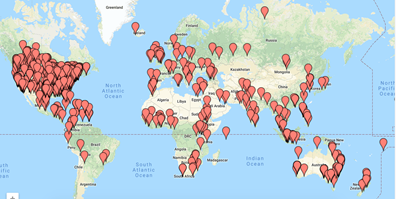 Keep an eye out for posts from Learners Edge too, as we celebrate in our office. Let us know what you will be doing to celebrate!
Take the time during February's 'I Love To Read Month' to check out some of our amazing continuing education courses on Literacy!
---
Learners Edge is passionately committed to providing you with continuing education coursework, materials, and tools that will help you succeed in your classroom and in your career.
Offering more than 100 print-based or online courses for teachers, you can earn the graduate credit you need for salary advancement and meet your professional development needs. Contact us today to get started!