Last spring, as I renewed my National Board Certification, I was struck by how much has changed in the landscape of public education since I was first certified ten years ago. In 2007, I passed the testing center components of the NBPTS process just fine, but I remember being concerned initially about the component related to teaching English Language Learners. As a regular classroom teacher, I taught EL students in my high school English classrooms, but I had no specific training for doing so. I reached out to colleagues for support and dove into any available resources in an era before Teaching Channel and other numerous resources now at our disposal.
The standards for National Board certification for ELA/AYA emphasize equity and fairness, and we understand that equitable and fair situations are those which ensure ALL students receive the support they need to be successful in the classroom. This includes instructional settings that promote rigorous learning for everyone. For me, this was one of the very reasons I pursued the NBCT process in the first place.
I want consistent equitable learning experiences for all students, as do most teachers I know. For those of us without specialized training for teaching ELLs, we rely on colleagues for co-teaching situations or for support in other settings. Jamie Ponce's article about co-teaching led me to a slew of other Tchers' Voice posts about how to meet the needs of EL Learners.
I read Lisa Kwong's and Jacqueline Fix's recent blog posts about how the San Francisco Unified School District (SFUSD) approaches instruction for ELLs with intentionality district-wide, through the Five Essential Practices for teaching ELLs. I also watched a few videos in the accompanying playlists demonstrating elementary and secondary ELL strategies.
Curiosity prompted me to revisit an instructional unit created by colleagues for a project I've been involved with for the past several years to explore if/how the work we created meets the guidelines suggested by SFUSD.
Here's my thinking about how an EQuIP rated Exemplary Instructional Unit, Words Matter, connects to the Five Essential Practices guiding document from SFUSD.
Academic Language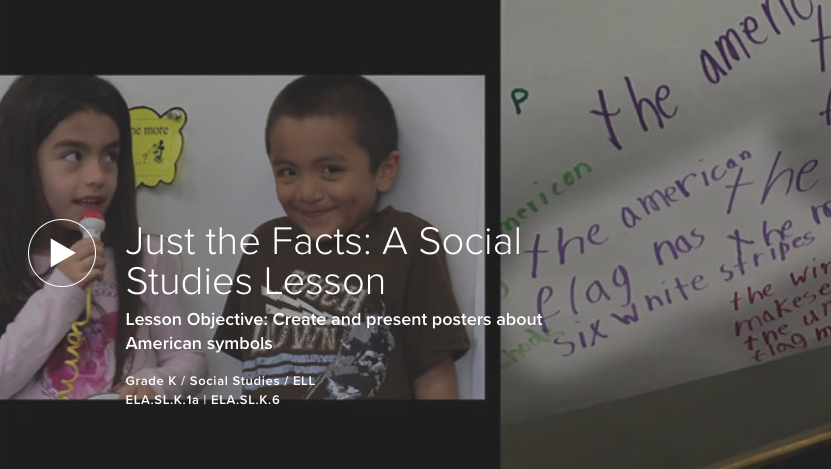 VIDEO: Just the Facts: A Social Studies Lesson
For all students, we know effective language use is necessary to communicate well. The combined lesson plans in the Words Matter unit focus on developing students' understanding of diction, mood, and tone. The unit uses a discovery approach to help them engage with words, and the lessons build on one another to show the power of words and their various connotative and denotative meanings.
A direct instruction approach to vocabulary study provides a foundation, and teachers model opportunities for writing about diction. Students are exposed to a wider range of academic language and various shades of meaning. Words Matter strategically plans and integrates focused academic language embedded throughout the unit.
Complex Text
Students are offered opportunities to analyze, write, and create complex text in Words Matter. Before the CCSS shifts, ELLs and other students who struggled with literacy were often denied opportunities to engage in complex texts as a reader and writer. Words Matter provides all students with the supports needed to access increasingly complex texts. Each text-based lesson in the unit engages students in some sort of productive struggle as they learn about diction and its functions.
Students engage in multiple readings of texts and then participate in a seminar discussion of Sandra Cisneros' Eleven, excerpted from Woman Hollering Creek: And Other Stories. They work to determine the effect words have on the text. The sequence of texts in the unit build in complexity, with students reading George Orwell's Shooting an Elephant before writing a longer explanatory essay about the effect words have on tone and mood.
Variety of Strategies and Modalities
Words Matter presents a study of language and concepts using a variety of strategies and modalities. Teachers model writing, and then provide multiple opportunities for students to write using graphic organizers, sentence stems, and scaffolding. The variety of strategies employed throughout the unit provide the type of support ELLs need. For example, in an activity titled "Bridging the Conversation," the teacher models her thinking about an aspect of the story. Students are then provided sentence starters to support their analysis of the text they read.
Culture of Conversation
Not only is conversation fostered throughout the unit, there's an explicit focus on informal group conversations, classroom debates, and more formal Socratic-style discussions. This approach leads to students talking about their thinking before writing their analysis of the text.
Formative Assessment
An essential element within Words Matter is a focus on the formative assessment process. Students are given a variety of tasks allowing them to demonstrate their understanding and level of mastery. This also provides teachers a chance to collect data so they understand the language learning level of all students. The unit includes opportunities not only for teachers to gather data, but also for students to gather data themselves in the form of self-assessments, guided questions, and rubrics.
School-wide Approaches to Literacy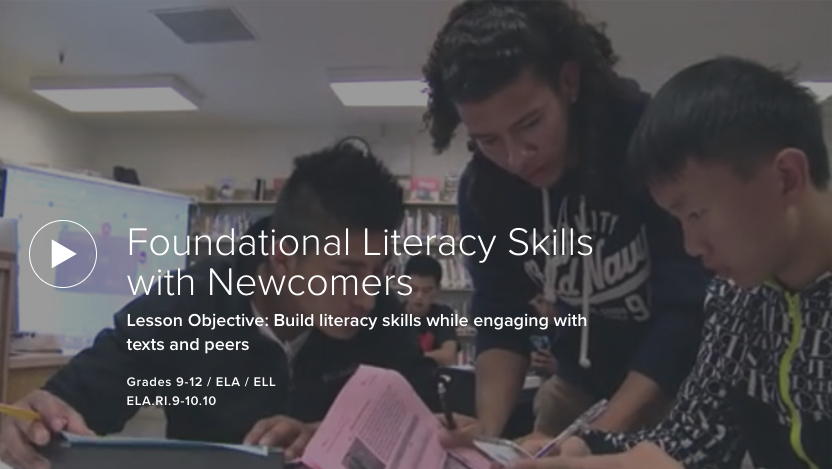 VIDEO: Foundational Literacy Skills with Newcomers
As I delved deeper into Tch resources for meeting the needs of English Language Learners, I discovered how many of the best practices we utilize as literacy coaches are made even stronger when we consider school-wide approaches for common structures. In Using Shared Structures to Build Literacy by Jacqueline Fix, I learned how shared structures across a school allow students to focus on learning content and language with a familiar process. Fix suggests structures such as Reading Guides and Literature Circles, common literacy approaches used in classrooms, but used with more intentionality in a school-wide approach.
School-wide literacy happens to be the theme of one of my four Professional Growth Experiences (PGEs) for National Board renewal. One of my favorite parts about the NBCT renewal process is the ongoing opportunity for professional growth that impacts student learning directly or indirectly.
With all this reflection on the work I've done over the past ten years at the forefront of my mind, I can say — without a doubt — one benefit of the CCSS has been educators across the nation collaborating to improve learning experiences for all students. In these recent ELL posts, the idea of rigorous learning and its overlap between Achieve's EQuIP criteria for quality instruction/unit design and SFUSD's Five Essential practices resonated with me.
Imagine the possibilities as we continue to share resources, collaborate with one another, and support high quality learning experiences for all students!