Learners Edge CEO, Eric Cohen, has paired our top 10 courses with his top 10 favorite beverages. If you're taking any of these classes this summer, be sure to try out his suggested pairing to go with it… we promise you won't be disappointed!

Suggested Pairing: Coffee Martini. What better way to recharge while enjoying a cocktail? Coffee is not just for breakfast anymore. Recipe is 2/3 oz coffee, 2 oz coffee liqueur and 2 oz vodka.
Suggested Pairing: Blue Moon Beer. Programmers in Silicon Valley are drinking craft beer. One of the brands kicking off the craft beer revolution was Blue Moon. For extra style points enjoy this beer with a slice of orange!
Suggested Pairing: Mojito. Ernest Hemingway, who is typically studied in English class, was a literary master as famous for his quirky personality as much as his writings. Hemingway was fond of drinking, and his drinking habits wove their way into his books. One of his favorite drinks was rumored to be a mojito, which inspired his quote, "My mojito in La Bodeguita, my daiquiri in La Floridita." If you like to travel, a visit to Havana, Cuba to try these drinks will help with your literary inspiration. Mojito recipe is muddle in 5 mint leaves, 1 oz lime juice, 2 oz white rum, 1 teaspoon sugar syrup, top with club soda and stir. ¡Salud!
Suggested Pairing: Tequila Sunrise. Welcome to a refreshing new beginning after working through adverse experiences. This bright and optimistic drink will remind you to remember the positive, and to celebrate the breakthroughs of students who struggle. Pour 1 ½ oz tequila and ¾ cup orange juice over a highball glass ½ filled with ice. Slowly pour ¾ oz grenadine over a spoon at the back of the glass, allowing to settle at the bottom to create the look of a warm summer sunrise.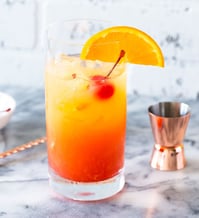 Suggested Pairing: Cabernet Sauvignon Wine. Wine from this widely grown grape varietal can help you shift into a growth mindset. Try 14 Hands Cabernet Sauvignon as a good start. Additionally, the wine is named after the height of wild horses, which are symbols of a pioneering, adventurous spirit.
Suggested Pairing: Beaujolais Nouveau Wine. All over France on Nov 15th, people celebrate the arrival of this wine which is drunk in the early childhood of its wine maturation. This young wine is bottled just weeks after harvesting the grapes. Good bets for wineries are Duboeuf or Louis Jadot.
Suggested Pairing: Sauvignon Blanc Wine. These wines are gritty, dry with a tough mineral finish. A good, fruit-forward summer wine for under $10 is Ferrari-Carano Fume Blanc. Don't let the "Fume Blanc" fool you, this is mostly marketing playing with the sauvignon blanc name!
Suggested Pairing: Layer Cake Red Wines. Research shows that resveratrol, a compound in red wine and dark chocolate enhances short-term recall and concentration. This vineyard makes a variety of red wines, all with a picture of a dark chocolate cake on the label. Drinking enough wine, while looking at the label, should provide maximum benefits!
Suggested Pairing: Champagne. Lift a glass to toast and celebrate the techniques of great teachers. Please, no spraying of the champagne from the podium. As for champagne suggestions, for a value try Korbel and for a special occasion try Veuve Clicquot.
Suggested Pairing: Pinot Noir Wine. This grape varietal is challenging to grow due to its thin skin and temperamental reactions to outside stimuli (temperature fluctuations). However, positive, creative interventions will yield an excellent wine. Meiomi Pinot is always a crowd pleaser.
---
Be sure to check out the rest of our awesome courses, too!
---
Learners Edge is passionately committed to providing you with continuing education coursework, materials, and tools that will help you succeed in your classroom and in your career.
Offering more than 100 print-based or online courses for teachers, you can earn the graduate credit you need for salary advancement and meet your professional development needs. Contact us today to get started!