I'm a big fan of science notebooks for students. My students use notebooks to develop Cornell Notes from content material, record and analyze lab data, and create "interactive notebook" elements like foldables, flashcards, and puzzles.
I'm NOT a big fan of the lengthy process that ensues when attempting to assess student notebooks. What I find most frustrating is collecting notebooks to see what students are thinking. As a high school teacher with multiple sections of students, trying to carry home hundreds of notebooks isn't only logistically difficult, it's time-consuming and inefficient.
I often find myself asking:
What is a more efficient way to get a glimpse of student understanding?
How can we "see" what students are writing and thinking in real time, when it matters most?
I've found the following tools effective for encouraging the use of academic language and making student learning visible, in the moment. I use these tools in science, but they could easily be adapted to other content areas.
Low-Tech: Board Meetings For CER Tasks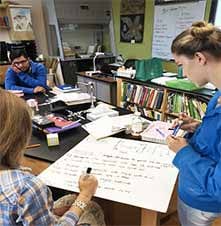 In science, we use "board meetings" as a tool for students to develop two of the NGSS Science and Engineering Practices: Using Mathematics and Computational Thinking and Engaging in Argument from Evidence. Students conduct investigations in class and gather data. They're then asked to support a claim using evidence and reasoning from their investigation. We use the "CER" format for these tasks. Asking students to write a claim, show their evidence and support the claim with scientific reasoning has proven to be the most effective way for my students to "Engage in Argument" from evidence. Though their data analysis and scientific reasoning can be quite complex, there is something appealing about the simplicity of a three-part task (the C-E-R) that makes this activity accessible to all students.
As a group, students evaluate their data and then write their Claim, Evidence, and Reasoning on a team whiteboard. This process provides an opportunity for students to talk about science, use academic vocabulary, and collaborate. After students complete the small group discussion, the boards are shared with the entire class. This is the "board meeting" portion of the activity. We use these meetings to develop another science and engineering practice: Obtaining, Evaluating, and Communicating Ideas. Students are expected to:
Find patterns that can be observed in the data
Describe similarities and differences between claims
Evaluate and critique the accuracy of claims based on evidence and reasoning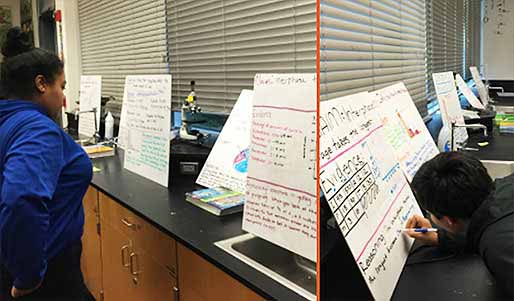 One student evaluates boards looking at cell cycle data, another student revises his reasoning after viewing other boards during a gallery walk before presenting ideas.
Following the board meeting, students are invited to use what they've learned to revise their CER task. This entire process might be completed as a group, or I might ask students to write individual CERs using the most effective evidence and reasoning gathered from the board meeting. I've found working as a group first, before the individual CER, helps to scaffold the activity and facilitates student success.
Working through this process allows me to see student thinking and allows students to evaluate the thinking of others as well. The process also helps me to identify misconceptions during class, rather than waiting to read individual assignments once the lesson is complete and it's too late to provide useful feedback to my students.
This format can be applied to many activities and investigations, but if you're looking for some ideas to get started, Scientific Argumentation in Biology: 30 Classroom Activities from NSTA press has some great tasks, as well as a detailed procedure for producing student boards using the CER format. Another great resource is STEM Teaching Tool #17, "Beyond the Written C-E-R: Supporting Classroom Argumentative Talk about Investigations."
High-Tech: Goformative.com
There are many resources out there where students can interact online and answer questions, which can then be seen by the teacher and/or the class. I want to highlight one resource I've found to be very quick and easy to use: goformative.com.
This website allows teachers to create their own questions, or upload a pre-existing document (such as a Word or PDF file), and then add questions to it. It's as easy as one click to add a question. The questions can be open ended or self-graded (if you provide a key). If you don't want to take the time to make a key or your questions are more open ended, you can score them with a simple click. You can also reply to students in real time to comment on their response and guide them if necessary.
Students can answer using multiple choice responses, short written answers, or even with drawings. In the past, I might have used science journals as a warmup to review information from a previous class; now, goformative allows me to do this and see what every student is thinking in real time. Here's an example of students drawing the structure of a nucleotide: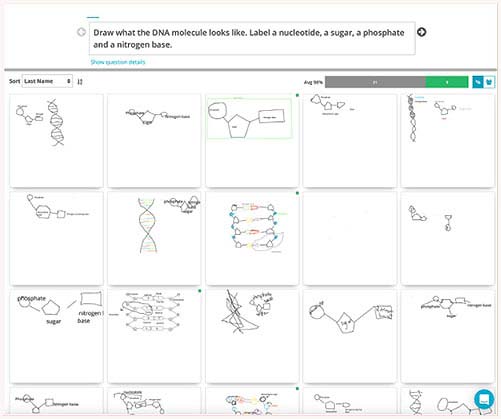 Here I can see what each student has drawn and quickly check for understanding. I project these responses onto our classroom screen so students can see one another's thinking and we can discuss answers as a group. I find this so much more powerful than calling on individual students to share ideas, which only allows the teacher to see/hear a very small subset of student thinking. Students can also evaluate and critique other responses in a similar format to the board meeting. What patterns do we see? What do you agree/disagree with? And don't worry, responses can be anonymous if you don't want to single students out (the example above shows responses without names).
To set up an assignment, you simply need to go to goformative.com and:
Create a teacher account.
Upload a document or write your own questions.
Give students a "quick code" to access the assignment. This code is open to anyone. As an alternative, you can create a "class" and assign tasks to your class.
What ideas do you have for assessing student understanding and giving students meaningful, in the moment feedback?
If you try these tools, or you already use them with some success, I'd love to hear about your experience. Weigh in in the comments below.
Special thanks to the STEM TOSAs of the Beaverton School district, Caitlin Everett and Bradford Hill, for introducing our science department to these two fabulous learning tools!