There are lessons we teach and lessons that teach us. It's especially wonderful when those two maxims intersect.
The request started simply enough: "Sarah, would you be willing to come to our school district and teach our students? We love watching you in your classroom, but our teachers want to see how those lessons would work with our kids." I jumped. What an opportunity to think about teaching from such a unique vantage point. So, the partnership with Tulare County Schools began and we turned this request into an incredibly unique professional learning opportunity for their teachers.
And at the crux of that professional learning were two very different classrooms of students I had just met for the first time. One, an 11th grade literature course. Another, a 4th grade classroom. Two classrooms, one goal: teach students to think critically about what they read. In the lessons that follow, you'll see how I approached the same learning goal by adapting to two divergent groups of learners. There's no doubt, it felt like a welcome exercise of pedagogical dexterity!
Using Anchor Texts to Distill Big Ideas
In this first lesson video, the 11th grade literature students have been reading the complex novel, Heart of Darkness. In order to center our learning, we worked from an essential question for our 90-minute class period: Is evil ever justified? I knew from the onset, answering this question in the context of a complex text like Heart of Darkness would require patience and scaffolding. In this video, you'll see that slow progression towards having students construct their own meaning about the text. There's an anchor text (an advertisement), there's discussion, there's analysis of key moments in the text, and there's a process in which students deepen their understanding of language using paint chips.
What you don't see in this video is perhaps even more important. You don't see that I abandoned ⅔ of my lesson plan in order to focus on what the students needed in that moment. You don't see how often it had to get quiet in order for it to get noisy. You don't see me sometimes worry that 90 minutes wouldn't be long enough to reach our learning goal. But that's the real beauty of this lesson: what you don't see is more powerful than what you do. So as you watch Using Anchor Texts to Distill Big Ideas, consider how the scaffolds lead to learning.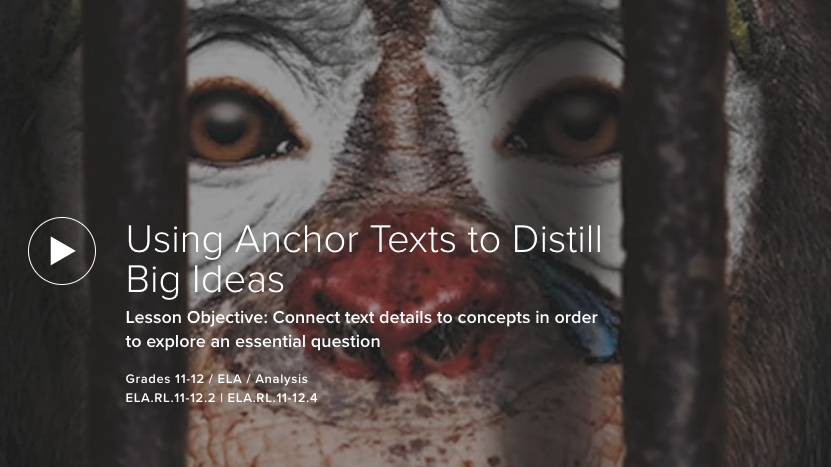 VIDEO: Using Anchor Texts to Distill Big Ideas
Scaffolds for Critical Thinking
In this second lesson video, Scaffolds for Critical Thinking, a 4th grade class is working towards the same skills as the 11th grade: moving from the concrete to the abstract as critical thinkers and readers. What I appreciate about the juxtaposition of these two lessons are the intrinsic similarities. They are both driven by a series of scaffolds, they both begin with something the learners can relate to, they both work to establish vocabulary as concepts to be reapplied throughout the learning.
Let me just say, I'm not a trained elementary teacher. I have spent lots of time in elementaries (and have been a guest teacher in elementary classrooms on many occasions), but I haven't had my own elementary classroom. So, this experience really helped me think about how to reach a younger learner. Yet, I'm not surprised by what I learned: we have to release the responsibility of learning to all our students in gentle, yet deliberate ways. Whether it's framing the lesson as an inquiry, using a concept-attainment mini-lesson at the beginning, or the questioning as part of a read-aloud, teaching thinking requires creating cognitive space for it to breathe.
Conver-Stations: A Discussion Strategy
Within the longer lesson videos on this playlist, there are also a few embedded strategies that I used to help create the cognitive space for thinking to emerge. One of those is Conver-Stations: A Discussion Strategy. This is an interesting riff on a traditional jigsaw or small group discussion. In this strategy, the discussions actually move around the room as a couple of members of each group leave to form new discussion groups. As students rotate in various configurations, the discussion both builds and is recursive. I know our community will have many variations of this one!
The Stand-Up Game
Have you ever been in that moment where you asked a question, gave wait time, reframed the question, gave more wait time (an excruciating amount, even), and still nothing? In those moments, I call upon The Stand-Up Game, a little strategy I created in my first years of teaching. When it feels like we need a little energy, everyone stands up and stays standing until they have a contribution. Suddenly, instead of waiting for hands to go up, they're clamoring to sit down.
I am incredibly grateful to the students, teachers, and staff at Tulare County Schools with whom I had the opportunity to learn with and from. These lessons and videos are a testament to them.