Five years ago, I wrote my first blog for Teaching Channel. I'd just had my first child and was compelled to write a letter to her future teachers. Now she's had two miraculous preschool teachers and I'm continuously thankful for the love and care they've given my daughter. But, even more, I'm heartened by the knowledge there are so many amazing teachers out in the world, performing miracles and loving countless children day after day.
Though you are indeed miracle workers, it's easy to feel unappreciated. Your days are filled with endless requests from students, administrators, and parents. You're tasked with doing what often feels impossible — getting large groups of diverse students to understand abstract and complex ideas, creating a positive society in your classroom — even when the outside world feels chaotic, and doing this all with a smile on your face. You likely come home every day exhausted, not quite sure how you held one billion different details in your brain while still making sure that students were respectful to each other and making progress towards mastering grade level content.
It can feel like no one sees all the work you're doing. It's true — you're doing more than anyone can imagine. You're waking up thinking about your students and going to bed wondering how you can help them. You're pouring your heart and soul into other people's children. These other people are busy too (though likely not as busy as you) and might not tell you how much they appreciate what you're doing. But even if they only knew half of what you're doing, they'd be amazed.
Don't ever forget this: you are a real-life superhero.
I and so many others appreciate you. I'm glad we celebrate Teacher Appreciation Week, but it shouldn't stop here. You deserve to be appreciated every single day.
We'll be here at Teaching Channel celebrating and supporting you all year, but for now I leave you with these resources. Take a second to soak in your powerful impact and know that so many people are in awe of YOU.
Let Taylor Mali inspire you as he answers a question we've all been asked: "What Do Teachers Make?"
We are constantly uplifted by the classrooms we visit.
Get a taste of what Teaching Channel is all about with this video.
Teachers are amazing… and so much more! Watch as a group of educators reflect on the difference that teachers make.
This profile of National Teacher of the Year Sean McComb reminds us of the profound impact teachers can have on the lives of their students.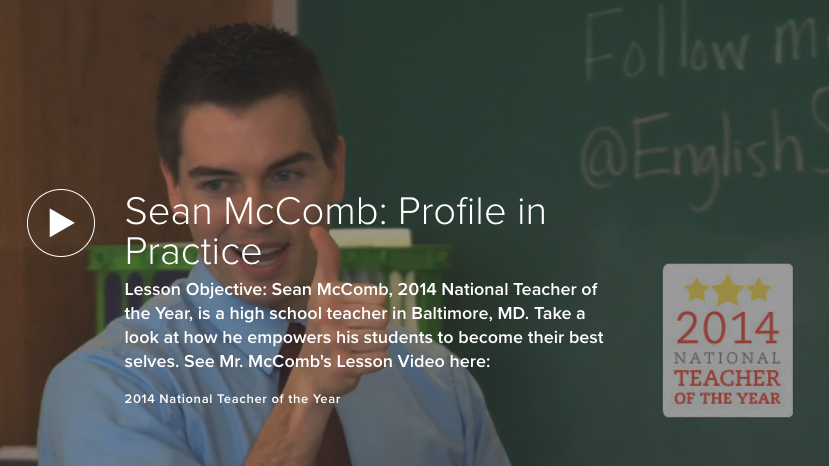 VIDEO: Sean McComb: Profile in Practice
Finally, read Sarah Brown Wessling's exploration of what it really means to be a teacher. As Sarah writes to her children, "teachers could have chosen any profession, but instead they chose to teach you."
Teaching is a calling, and we're so glad you've taken it on. Now onto celebrating you… all year long!