"The only thing necessary for the triumph of evil is for good men to do nothing."

Edmund Burke
This Won't Be Easy
Important conversations never are. But our students — and colleagues — learn as much from what we do (or don't do) as what we say (or don't say). The events that transpired in Charlottesville, Virginia are likely weighing heavy on your students' hearts and minds, just as they are on yours. You haven't had the opportunity to learn their names, set up a structure, or lay the foundation for learning this year, but you can still create a space for your students to begin to unpack race, face history, and grapple with the lasting legacies of the past.
It will be difficult and emotional and uncomfortable. This may be especially true for white teachers who are worried they don't know what to say, don't know how to talk about race, or that they might unintentionally offend with their naiveté.
Yet, we can't and shouldn't avoid conversations like these — teachers need to talk with their students about race. As smart, caring, and thoughtful professionals, it's our responsibility to educate ourselves, to listen more than we speak, and to work to build a culture of honesty, trust, equity, and critical thinking in our classrooms in the hope that our students will carry the same into the world.
Here are a few resources to help you learn some of the basics and a few examples to help you think about how you'll begin:
Are You Prepared To Talk About Race?
Catherine Thompson explores several ways to prepare yourself for engaging in conversations about race in her Tchers' Voice blog post, DO NOW: What is Whiteness?
Begin by examining your own implicit biases. Once you're aware of them and where they originate, you can begin the complex work of reducing them.
As Catherine suggests, "Challenge yourself to be open to the results, as biases form the foundations of stereotypes, prejudice, and discrimination."
Don't stop there — audit your classroom, school, and community. Analyze the climate and assess the ways race and oppression are already operating in your environment.
Culturally Responsive Teaching, Multicultural Education, and Social Justice education, while related, are not interchangeable. Take some time to learn the difference.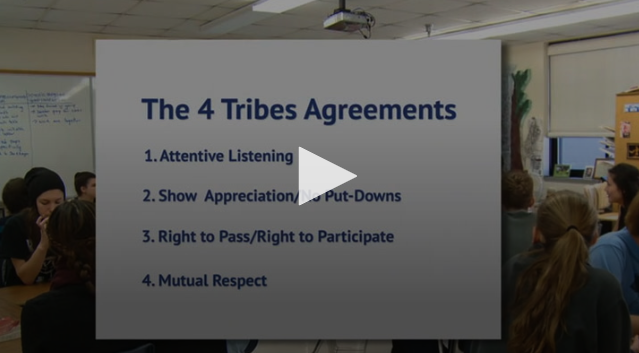 VIDEO: Tribes: Agreements for Learning Together
April Harter recently published a more controversial piece, which defines racism as a mental illness. Included in this post is a "Racism Scale" that can help you measure where you fall on the continuum between "overt racist" and "abolitionist."
If you're a white educator, spend some time unpacking the concept of white privilege. Be sure you understand the meaning of privilege within the context of race and socialization because it may not mean what you think. Try this Buzzfeed quiz to familiarize yourself with examples of privilege and to measure — somewhat unscientifically — where you fall on the scale.
The Role of Social and Emotional Learning
Conversations about current events and personal experiences through an equity lens can be tough, so you'll want to be sure to build your own repertoire of skills to support your students as they grapple with political, social, racial, and economic issues.
So… are you prepared?
You've done a lot of work so far and you've certainly laid the groundwork, but before you charge into your classroom ready to make real change, you'll want to arm yourself with some great ideas and resources for teaching about, for, and with social justice.