"Can I have a play date with my friend?"
"Can we buy a flamethrower?"
We weren't THAT clear, I guess…or it's just such an abstract concept that they can't attach it to something they understand.
But as time wore on, it's obvious that the stress of this time is getting to them. Sure, we have a healthy helping of the standard "I DON'T WANNA DO CHORES," and "UUUUUGH I'M SO BORED…", but we've also had a lot of tears over the loss of so much in their lives. They miss their friends, their classes, their teachers, and playdates. They miss the feel of our neighborhood when we tell them to "go find a friend to play with," and there's always at least a kid or two around to keep them busy well into the evening.
Kirsten Weir, in her Psychology Today article, "Grief and COVID-19: Mourning our Bygone Lives, "quotes an explanation from psychologist and grief specialist Sherry Cormier, PhD: "It's important that we start recognizing that we're in this collective grief, we are all losing something now. "Kids are also grieving the loss of all I've mentioned and more, but their anxiety and stress sometimes come out in different ways: moody, sad, clingy, and overtired.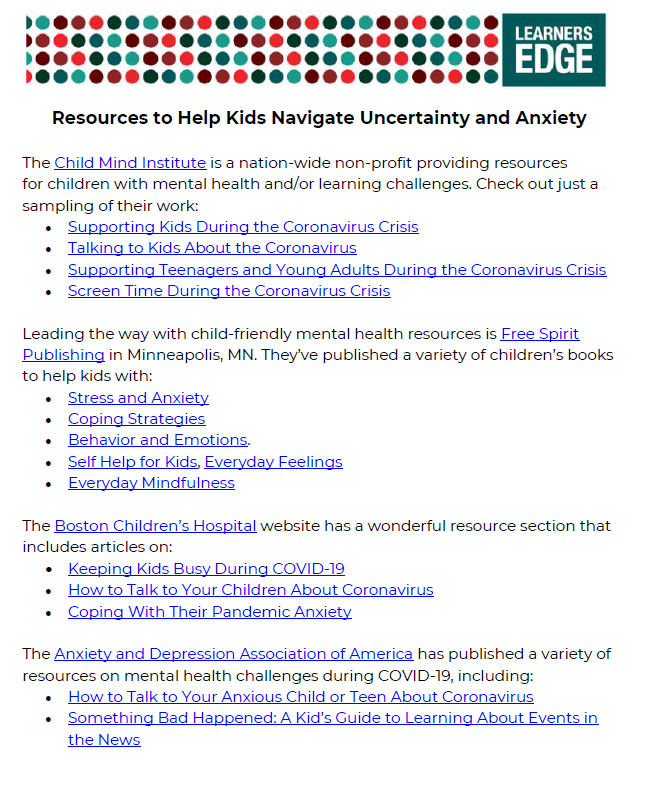 resource list for a sampling of ideas. Otherwise, take good care of yourself, and remember that kids are experiencing mental health challenges too, just like many of us.
Our top selling course of 2020 is 5102: Anxiety Awareness: Empowering Students with Help and Hope, and we understand why. Mental health is so important – check in on your students, your family, your friends, and most importantly, yourself.
Learners Edge offers 100+ Continuing
Education Courses in many different topic areas.