How do we help students to move beyond their own perspectives to understand the lives of others? How do we challenge them to deeply understand another person whose life and experiences differ greatly from their own? How do we cultivate empathy, compassion, and even love across the lines of race, ethnicity, gender, class, sexual orientation, religion, and disability?
These questions lie at the heart of social justice education.
To create a truly equitable society, we must be able to empathize with experiences we may never share. We must break down "empathy walls" to transform our society. But how do we do so?
Theater in the history classroom provides one possible answer.
Drama can promote dialogue and engagement with the content as well as opportunities for discussion and critical inquiry in a way that is fundamentally different from other types of instruction.
The Cruel Hand: Understanding the Prison Label
The Cruel Hand: A Play in Five Acts, from Teaching Tolerance, is based on Chapter 4 of Michelle Alexander's The New Jim Crow: Mass Incarceration in the Age of Colorblindness. It's a powerful opportunity to foster empathy and understanding through narrative and drama. Here's the scenario:
You're Clyde Richardson, a thirty-year-old African-American father of three who was arrested as part of a drug sweep in the public housing apartments where you live. You're innocent. After you've been in jail for two weeks, your wife is struggling to make her shifts at work and take care of your three young children at home without your support. You're eager to get home to your family. Your court-appointed attorney urges you to plead guilty to a drug distribution charge, saying the prosecutor has offered probation. You refuse, steadfastly proclaiming your innocence.
While you're in jail, the foreman at the construction site where you had been working hired someone to replace you. Unable to afford a babysitter, your wife had to cut her hours in half so she could stay home with the kids, and now she is unable to get that shift back. Finally, after eight weeks in jail, you decide to plead guilty so you can return home to be with your wife and children. Unwilling to risk a trial and years of imprisonment, you're sentenced to ten years of probation and ordered to pay $1,000 in fines, as well as court and probation costs. You are also now branded a drug felon.
Is This Appropriate for the Classroom?
After reviewing the assignment, my co-teacher expressed concern about having students engage as "criminals." I appreciated her hesitation, as dramatic re-enactments of historical events are, indeed, potentially fraught. Cautionary tales — like that of African American YMCA campers traumatized by being sold at a slave auction and Nazi re-enactments — abound.
After agreeing that good intentions are not enough, and that we needed to build in time to review scripts to ensure accuracy and appropriateness prior to performance, we proceeded.
I'm so glad we did. My 11th graders empathized and excelled through drama. They understood, in a way that far surpassed reading, discussing, and writing about the text alone, the impacts of being labeled a criminal for individuals and communities.
Shelter From the Storm
In Act 1, the "shelter from the storm," students portrayed Clyde's struggle to find affordable, safe housing. They showed him attempting to reapply for public housing, only to be turned away due to one strike legislation. They showed the caseworker's perfunctory denial of the application and the growing desperation of Clyde and his wife as they attempt to find a place to recreate their lives together after being kicked out of their apartment. The act concluded with the family signing the rental papers on an apartment in serious disrepair — because it was the only one they could afford without assistance.
Earning a Decent Living
In Act 3, "earning a decent living," students enacted the challenges of finding and keeping a job after incarceration. In this scene, Clyde completes and submits a job application. He's feeling hopeful about it given that the company is advertising available positions and he worked in construction before his arrest. Unbeknownst to him, this company has a blanket exclusion policy. Thus, the hiring manager at his potential employer quickly discards the application after seeing that the box indicating a criminal record is checked. No individual consideration is given, nor is any explanation. We return to see Clyde staring at the phone and filling our more applications. The act concludes with Clyde and his wife arguing about money and when he's going to find a job.
Debrief: Actor's Studio Discussion
After the play, we had an actor's studio discussion. Sitting in a circle, students shared their experiences creating the scripts, acting, and watching one another's performances.
"I had never thought about cases like Clyde's before. His innocence didn't matter to anyone…"
"Clyde was wrongfully accused but he might as well have been guilty. It makes no difference. I found that to be really upsetting."
"Shelter and food are basic human needs. There is no justice in a system that denies people such things."
"I now see that the criminal justice system gives people no choices. By depriving ex-convicts of employment, shelter, food, and even the right to vote, ex-convicts are being told they have no place in society."
As we concluded, a student shared a personal story of a family friend's lifelong struggle to find and keep work for a nonviolent crime he committed when he was 19. He struggled to find and keep consistent work throughout his twenties, once lying on an application and being fired when the lie was later discovered. She said he is now in his thirties and has held a job at a fast-food franchise for a few years. He hopes to keep that job.
Incorporating Drama Into Your Classroom
If you're interested in incorporating drama into your classroom, here are some strategies for getting started:
Read Up on Integrating Drama into Your Classroom
If you're hesitant, consider starting with writing in role, a strategy in which students write from a character's perspective. It can be used with any time period, with any type of writing — including journal entries, tweets, letters, texts, emails, etc. I recommend this as an entry point for engaging in drama, as it's non-performative and lower stakes, yet equally authentic and meaningful.
Yes, And…
Improv is another great way to bring drama into your classroom. Read more about integrating improv and social justice education here. And check out Stephen Wei's take on improv in the high school classroom.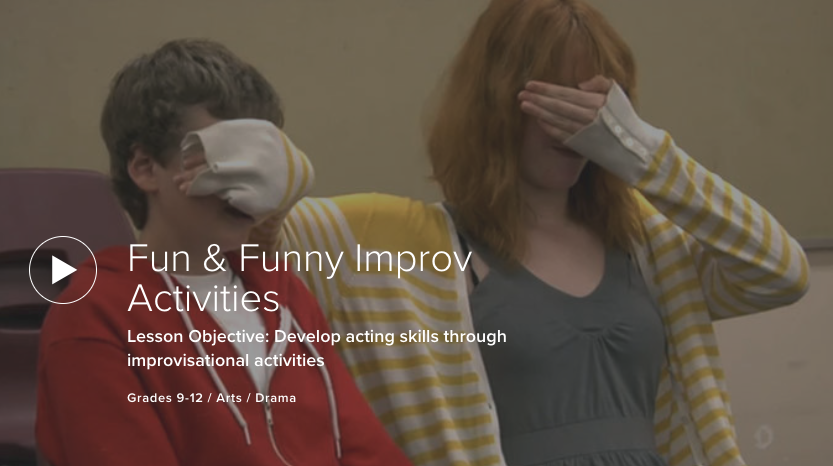 VIDEO: Fun & Funny Improv Activities
Have you tried integrating drama into your classroom? How did it go?